How OfferUp is trying to ride the resale wave in 2021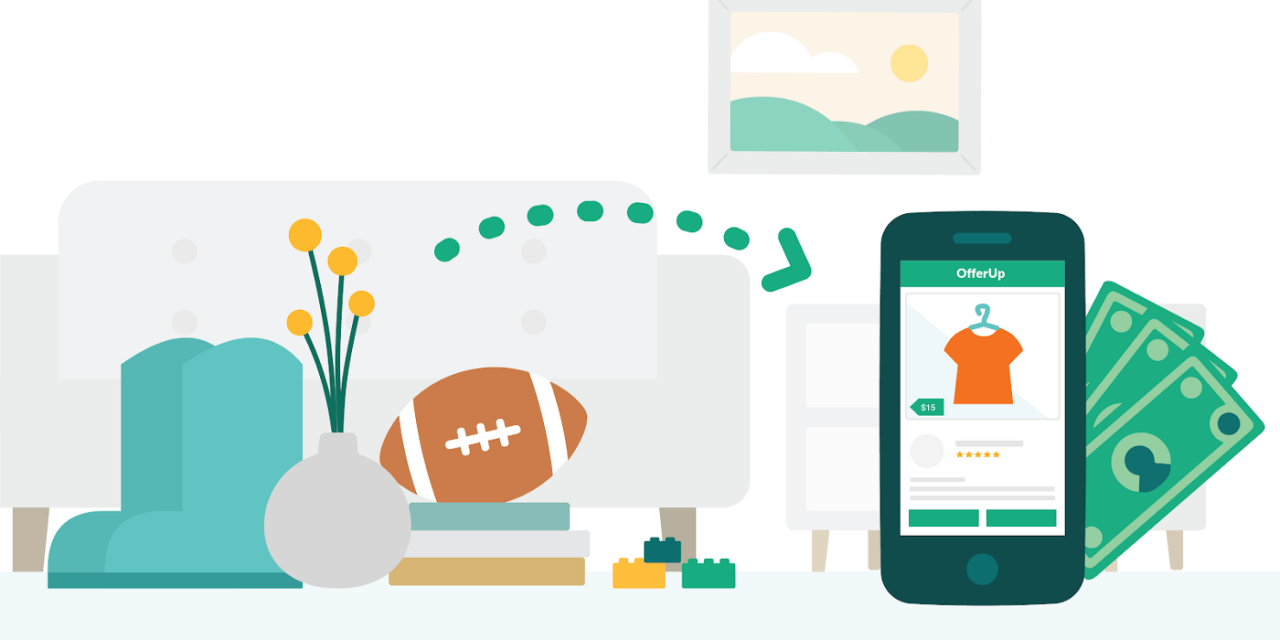 Image via OfferUp
Like other resale platforms, OfferUp saw major growth during the pandemic. Now it's looking to keep the momentum.
OfferUp facilitates localized listing sales by connecting sellers and with nearby shoppers — who use the app's chat to plan item pickup and payment release. Traditionally, clothing was a big driver of the resale company's sales. But despite apparel sales being down, OfferUp was able to grow sales thanks to demand for home decor and furniture, according to the company.
Over the last year, the company has invested in consolidating marketshare. OfferUp acquired competitor LetGo last summer and has since combined marketplaces. Since the acquisition, the platform reached 56 million U.S. users — which includes both sellers and buyers — by the end of 2020. The company declined to break out its individual user base prior to the acquisition. 
The last year brought about big changes in user activity. In 2019, apparel and accessories were one of OfferUp's top segments. In 2020, however, most OfferUp sales came from consumers' shift toward household goods and furniture. Desks were the second most searched item (behind office chairs) on the marketplace for four consecutive months — from July to October. The platform also saw a triple-digit increase in searches for kids' desks during last back-to-school season. 
OfferUp CEO Nick Huzar told Modern Retail that the pandemic has been a tailwind for the company among competitors, especially at the beginning when supplies were scarce. OfferUp is currently available nationwide, but it saw the biggest uptick in usage in major metro areas, according to the company. Throughout 2020 there was a 231% increased demand for weights, followed by dumbbells at 152% and treadmills at 127%. Furthermore, OfferUp's selling and buying activity grew by 151% in New York City year-over-year, along with 68% in Chicago and 55% in Los Angeles. 
All of these changes have helped formulate a new growth plan. OfferUp is planning on apparel sales to increase once again after dropping by 13% in 2020. But the platform is also seeking out new users and making increased technology investments.
Focusing on small businesses and the user experience
The company's mobile app has been a big focus over the last year. To drive downloads, OfferUp promotes the app using digital marketing across a variety of social channels and third party platforms, according to the company.
Last spring, OfferUp raised $120 million in venture capital to accelerate its technology investments — and much of that was focused on its mobile app. This includes improving the iOS and Android apps to make browsing and selling easier. While OfferUp's website features the same listings as mobile, the majority of the tech investment has gone into making the mobile app look and feel like a social media channel, said Huzar.
"We've always focused on investing in a mobile-first experience," Huzar said. He described the platform's app as a differentiator from other resale platforms. According to the company, 10% of all cars in the country are facilitated by OfferUp and a heavy percentage of those come from local auto dealers. OfferUp is also increasingly working with local businesses — namely car dealerships — as a way to target localized audiences. "We can offer local shops an engaged audience for much cheaper than Facebook or Google," he said. OfferUp listings from mom and pop stores are on the rise;
Huzar described that as a "significant" bump from 2019. This led it the platform establish a B-to-B subscription portal for car sellers looking to advertise on OfferUp.
The company has also invested in making its ads more useful for sellers. One of the big problems platforms that focus on smaller vendors face is inventory. OfferUp has been boosting its services so that shoppers are less likely to see an advertisement for something that's no longer available. "We're working to personalize third party stores' ads to better serve customers looking at sold-out listings," Huzar said.
A crowded space
The resale space is becoming ever more crowded, making differentiation crucial to attracting users. Facebook Marketplace, for instance, has been building tools to better facilitate shipping and contactless drop off. Meanwhile, Poshmark and ThredUp have both recently gone public as a way to raise money to scale.
Forrester analyst Sucharita Kodali said that compared to the larger space, OfferUp's marketshare is still a small piece of the pie. Craigslist, for instance, appears to have 10X more traffic, according to SimilarWeb, she said. Kodali also mentioned that platforms that rely predominately on individual sellers and small businesses may run into issues with consistent inventory. 
Despite the increase in competition and pressure to scale, Huzar said there is room for a differentiated approach to the resale space. "With the next generation of consumers showing great enthusiasm for used goods, we think there is a lot of growth to be had still," he said.