How Ocado is building an autonomous tech platform for grocers around the world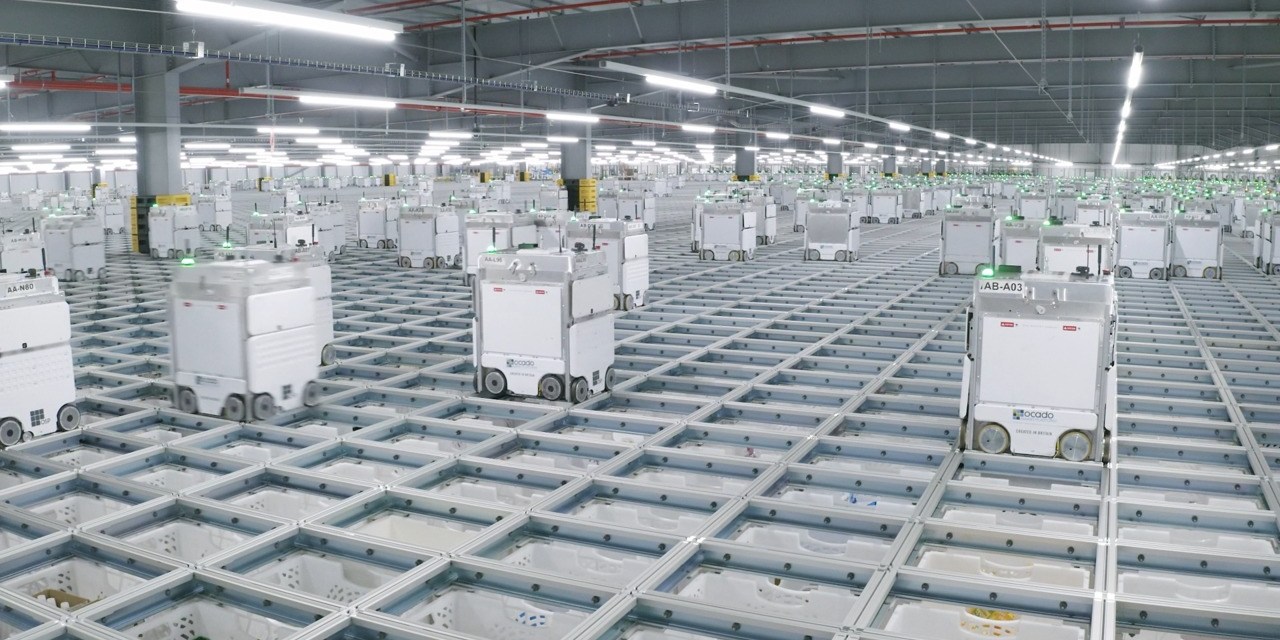 Ocado
Ocado is bolstering its robotic and self-driving technologies, both in-house and through startup investments, in order to fully automate its grocery fulfillment platform. What's more, it is increasingly looking to offer those fulfillment services on a white-label basis to other grocers. 
In recent months, the company — which started out as an online-only grocer — has invested a total of £20 million split equally across two autonomous vehicle software companies from its native U.K., Oxbotica and Wayve. Ocado plans to use their software to enable driverless grocery deliveries in busy urban areas. Last year, it acquired a pair of North America-based robotic specialists, Kindred Systems and Haddington Dynamics, for $287 million. It also purchased a minority stake in automated meals startup Karakuri in November to the tune of £4.75 million. 
According to management, the investments are part of Ocado's mission to make its end-to-end solutions business completely autonomous. The offering is split into three parts: a front-end web store, customer fulfillment centers built on its smart grid for robots and delivery navigation software. Ocado offers clients the same tech, built from scratch and burnished through investments, that has transformed it into a major grocery player in the U.K., despite lacking the scale of its bigger brick and mortar counterparts. 
In the wake of a pandemic that increased online shopping penetration, and continues to create acute labor shortages, Ocado is hoping retailers will be drawn to the tech-driven efficiencies of its platform amid pressure from e-commerce giants like Amazon. But, it still faces a long journey to achieving full automation according to Ioannis Pontikis, an equity analyst who covers the European consumer sector at U.S. financial services company Morningstar.
"Ocado is unique in that it offers an end-to-end service," he said. "In ten years time, the majority of its warehouse product picking could be achieved by robots. But, its driverless last-mile delivery aspirations will take longer to materialize."
Although Ocado has had a warehouse solutions partnership with supermarket chain Morrison's in the U.K. since 2013, the pace of its fulfillment deals took off around 2017. That year, it struck a pact with Casino Group in France, its first international partner, and Bon Preu in Spain; followed by Canada-based Sobey's, Sweden's ICA and U.S. grocer Kroger in 2018; Japan's Aeon and Australia's Coles inked deals with Ocado in 2019, the same year it divested half of its U.K. retail business to Marks & Spencer as part of its pivot to tech; Spanish supermarket Alcampo struck a deal with Ocado in July. That brought its total list of partners to nine, split across four continents.
According to a Morningstar report into Ocado's tech licensing business, the company receives a signing-on fee, payable immediately when a new deal becomes effective. It also receives a fixed fee as a percentage of sales generated in the warehouse. Ocado's deal with Kroger, for instance, includes a commitment to build capacity equivalent to 20 customer fulfillment centers across the U.S., the first of which was introduced in April, and to supply in-store fulfillment to support curbside pickup. 
These types of partnerships have contributed to the growth of Ocado's solutions business. At the half-year stage, Ocado reported £383.9 million in year-over-year revenue from its combined U.K. and international solutions revenue. For now, the unit represents 31% of Ocado's total group revenue, with the lion's share generated by its retail business. 
The division, however, is also causing it to burn through cash. Ocado's capital expenditure rose by roughly £100 million to £319 million during the same period. Ocado said it plans to spend £700 million as expected international technology losses continue to mount and investment is ramped up.
In a sign of the competitive dynamics in the market, some retailers have opted to partner with Ocado's rivals on their respective automation projects. Walmart, for example, has tapped technology providers Alert Innovation, Dematic and Fabric to help it add automated micro-fulfillment centers to dozens of store locations. Meanwhile, ​ Ahold Delhaize USA and Albertsons have struck a similar partnership with Takeoff Technologies, which also counts Woolworths in Australia as a client. 
While these small-scale agreements are being tested as alternatives to manual picking for online orders, they only offer a short-term solution to a long-term problem, according to Pontikis. Since those systems are meant to replace manual store-based picking and are located in the under-utilized space of existing stores, he said, the range available online to consumers is limited by the availability in the store, which can be several times lower than that offered by centralized warehouses (in excess of 50,000 SKUs versus less than 20,000 for stores).
In addition, according to Takeoff Technologies, the system is capable of handling 3,000-4,000 online grocery orders per week per location on a two-hour service policy versus one-hour slots for Ocado, Pontikis explained. 
But, the timeline for Ocado to further improve those innovations and introduce self-driving deliveries to its toolkit remains uncertain. The company is already working on automating more parts of its picking process for the entire range of 55,000 goods it offers online. Self-driving is an even trickier proposition mired by regulatory hurdles linked to public safety concerns. For now, Ocado is continuing to conduct test runs of the tech with its new investment partners Oxbotica and Wayve. 
"The target is to improve efficiencies," Pontikis said, adding "that will require more investment in robotics, artificial intelligence and autonomous driving down the road."