How Maisonette is tapping into the back-to-school boom with its new private label line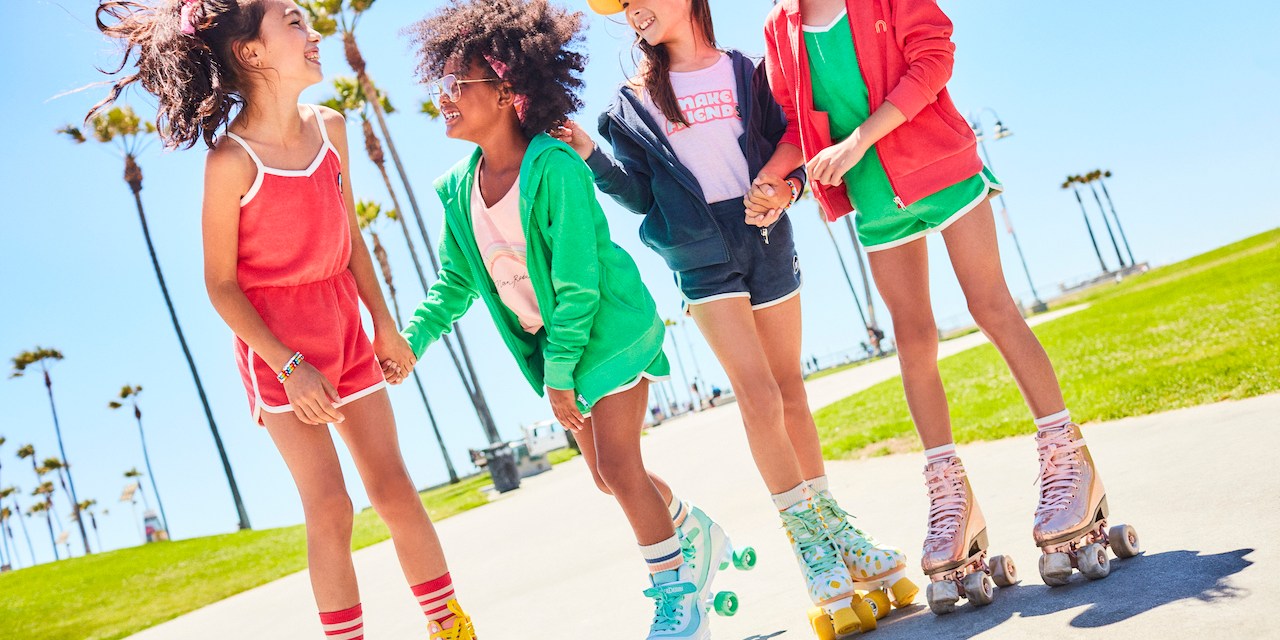 Image via Maisonette
Since launching in 2017, online children's marketplace Maisonette has sought to become a one-stop-shop for busy young parents. The digital marketplace carries both third-party brands and its own in-house labels.
Now, with the back-to-school season set to begin, Maisonette is investing more in apparel. At the end of June, the company launched its third private label, Neon Rebels, a 37-piece collection featuring tanks, tees, shorts, dresses and swim for kids sizes 2T-14. The items range from $12 for biker shorts to $48 for jumpsuits.  
Like other apparel retailers, Maisonette is trying to figure out what its customers want as their kids head back to the classroom. The company is betting on colorful, comfortable items, like colorful kids' jumpsuits and tees to be trendy. And after last year's muted back-to-school season, retailers like Maisonette plan to rebound with greater apparel sales this year.
At the beginning of the pandemic, Maisonette pivoted away from clothing, and instead promoted at-home family-friendly games, like toys and puzzles. These categories saw 1,400% year-over-year growth during 2020. Since then, depending on the season, Maisonette has had an ebb and flow in sales between different assortments, such as toys and clothing. For example, last holiday season, more customers were purchasing formal wear to dress up their kids again — in contrast to the comfortable quarantine items. The overall traffic helped fuel Maisonette's double-digit growth during 2020.
Maisonette carries over 1,000 brands from integrated vendors across children's fashion and accessories, nursery decor and toys. Along with apparel and footwear, the online marketplace also carries nursery products from homeware brands like Brooklinen and Pehr. "We do a lot of brand collaborations, and about 40% of our brand assortment is unique to us and hard to source at other retailers," said co-founder and CEO Sylvana Ward Durrett.
Neon Rebel's everyday pieces are meant to fill the category gaps at a more accessible price point. "We use our brands to offer elevated basics that our third party brands don't carry," explained Luisana Mendoza-Roccia, Maisonette's co-founder and chief operating officer. She added that these lines are designed to be an affordable option for parents to stock up on, especially for younger kids who often need multiple outfit changes per day. The marketplace was initially inspired by the co-founders' own online shopping experiences as parents. These days, the private labels are largely inspired by customer feedback and current trends, and are headed by Brooke Davies, Maisonette's in-house lead apparel designer.
Maisonette has previously launched two private label lines — Maison Me and Maison Me Baby, which debuted in 2019 and early 2021, respectively. According to Durrett, customers whose first order includes items from Maisonette's private labels are 10% more likely to make a repeat purchase, compared to customers who don't. This year, the private labels experienced 2X year-over-year growth.
Maison Me, the company's first line, features over 50 mix-and-match pieces in neutral color palettes; Maison Me Baby is focused on babies and toddlers. However, the new line, featuring bold patterns and rainbows, is meant to be more playful, Durrett explained.
The three brands are heavily promoted as "customer favorites" on Maisonette's homepage, as well as under the "exclusive" product banners. The lines are also increasingly featured in the company's digital ad campaigns.
The online children's apparel industry is in the midst of a shift. Rod Sides, vice chairman of U.S. retail and distribution at Deloitte, said the e-commerce boom helped cement many pre-pandemic trends across the kids clothing category. "We're finding that while kids have a bigger interest in athleisure, they're also excited to wear fashionable clothes in school again," Sides explained. He also pointed to current shopping behaviors as evidence of the pent up demand. According to Deloitte's 2021 back-to-school survey, 40% of K-12 households are planning to spend more on items, including clothing, supplies and technology — up from 22% in 2020.
Similarly, according to data by FashionGo, a wholesale B-to-B fashion marketplace, this year's back-to-school sales are already in full swing. Typically, the kidswear category starts to spike in July and peaks in August, said Paul Lee, CEO of NHN Global, the parent company of FashionGo. "However this year, our sales from last year as well as the year prior were already surpassed in March — at 229% year-over-year increase," he said. The uptick, said Lee, is being attributed to many students going back into classrooms this year, as well as the general national re-openings. 
To prepare for back-to-school shopping, Maisonette is promoting its new private label via digital channels, such as social media and organic and email marketing. And to tap into the earlier-than-usual season, the company began running its back-to-school sales and discounts in June, with sales of up to 40% off.
Aside from pushing its private labels, Maisonette's growth strategy includes attracting and aggregating emerging brands on its website. "Much of children's wear is still dominated by department stores and small boutiques," Durrett said of the industry, which includes many independent labels that rely on local boutiques or small online retailers. Many of these retailers either shut down or scaled back during the pandemic, which Maisonette has since onboarded.
The scaling strategy is to combine the higher end brands with Maisonette's more affordable in-house lines, Durrett explained. "We're filling the kidswear white space that department stores often miss."