How Klaviyo rode the e-commerce wave to become a unicorn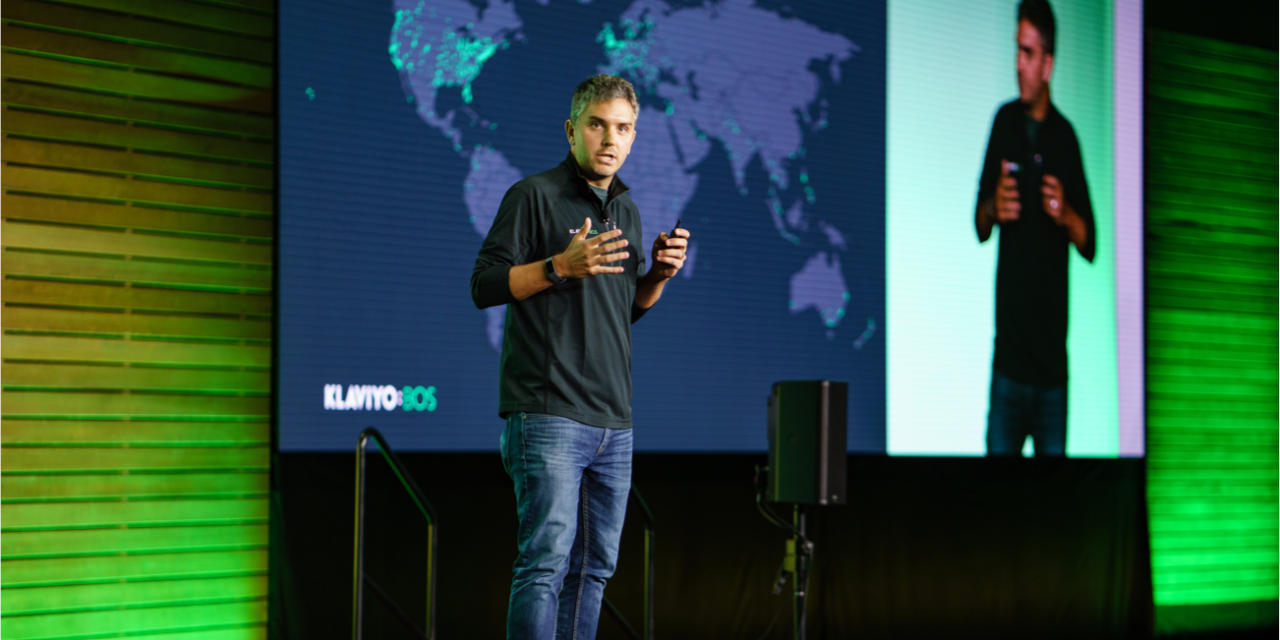 Klaviyo
As e-commerce continues to grow, software providers are riding the coattails of Shopify's success — leading some to unicorn status.
Boston-based Klaviyo, for example, was already profitable by 2015, but the pandemic turbocharged the company's growth. Amid the explosion in online shopping last year, VCs gravitated toward specialist startups built atop e-commerce services, including Amazon aggregators and Shopify apps. With its latest funding round in May, Klaviyo was valued at $9.15 billion, cementing its position as a leading light within its cottage industry. 
The company, which helps brands automate email and SMS marketing campaigns, now has over 75,000 paying customers including DTC and legacy retail brands such as Brooklinen and Wilkinson Sword.
The same economic tailwinds have also propelled rivals to offer competing software services (among them Attentive and Postscript) as e-commerce app stores have ballooned to cater to more brands. Shopify, which has 1.7 million merchants, boasts 7,000 apps in its app store. With rivals chasing a slice of its market, Klaviyo is leaning on its deep experience with data to help retailers navigate seismic changes to online privacy.
By any measure, Klaviyo has come a long way from its roots as a pure data analytics platform. Co-founders Andrew Bialecki and Ed Hallen met while working at Applied Predictive Technologies (APT) in 2007, a firm that crunched data for Fortune 50 companies, where they learned about the power of correlating customer information with purchasing behavior. At the same time, Bialecki worked on side-project: an online calendar for runners. Working on the platform, the Harvard grad was inundated with requests from fitness enthusiasts for frequent updates on upcoming races. It was then he struck upon the idea of automating responses to subscribers. Thus, a new digital service was born: In its original form, Klaviyo offered analytics for online businesses that wasn't radically different from APT's offering.
At the start, the two co-founders bootstrapped their company, eventually raising a $1.5 million seed round in 2015. To date, Klaviyo has raised $678.5 million in funding, the lion's share of which came from series C and series D rounds during the pandemic. 
It has used the capital to substantially grow its headcount. When marketing expert Jake Cohen joined in 2016, Klaviyo had 1,300 customers and 25 employees. Now, its workforce includes over 1,000 staffers, he said.
"It has been an absolutely wild ride by every stretch of the imagination," Cohen, VP content at Klaviyo, exclaimed.
Evolving to serve DTC brands' needs
Along the way, Bialecki and Hallen continued to update their platform to service the needs of a flourishing e-commerce industry. 
Only a few years ago, online retail brands were laser-focused on marketing and customer acquisition. The direct-to-consumer (DTC) industry was growing as brands harnessed cost-efficient digital ads to direct more customers to their websites. 
In the two years between 2017 to 2019, DTC e-commerce sales in the U.S. more than doubled to $14.28 billion, according to data from eMarketer. At the same time, customer acquisition costs also rose: The median cost-per-click for Facebook News Feed ads increased from $0.43 during the second quarter of 2018, to $0.64 during the second quarter of 2019, per marketing software company Adstage.
Speaking to customers, the Klaviyo founders learned that businesses were increasingly using the platform's data insights to build out their marketing campaigns. In response to the feedback, they transformed Klaviyo into a broader communications platform.
The company's rise is evident in the amount of marketing messages it powers during its peak business period: Black Friday, the biggest date in the retail calendar. Emails sent using Klaviyo during the sales event surged from 79 million in 2016 to 2.1 billion this year.
But, it hasn't all been smooth sailing. 
Klaviyo's scale has brought with it challenges. Cohen admits that the company's systems struggled to handle the influx of activity on Black Friday through to Cyber Monday in 2016. "We had a little blip from an engineering perspective," he said. "Our systems were slow and were just backed up." Klaviyo has invested heavily in hiring for its engineering and product teams to avoid those same hiccups, Cohen said. 
Others in the industry also referenced those growing pains. "A few years ago, a close friend of mine who runs a large brand said Klaviyo had an outage during Black Friday," said Humayun Rashid, co-founder and CEO of Nessa, a product studio building software and apps for Shopify. 
As the DTC industry has matured, new needs have arisen alongside the rise of mobile shopping. To support that growth, the company has updated its underlying systems to offer tools to target consumers across devices. In 2018, Klaviyo added a form builder that allowed customers to reach visitors on their website through announcements, like deals and rewards catered to frequent buyers. The following year it added an SMS marketing feature. 
During this period, the company was among a number of software startups tapping into a mini boom in e-commerce created by Amazon, and later, Shopify. They offered varying types of offerings — from marketing automation to fulfillment services — but, put together, they became a burgeoning ecosystem of e-commerce tools providers positioning themselves as necessary infrastructure for a new economy.
Then, the pandemic hit, which made for a new business dynamic — and made for even more pronounced e-commerce growth. When lockdowns were mandated, e-commerce platforms thrived as physical stores shuttered. In 2020, consumers spent $813 billion shopping online, a 42% increase over 2019, according to Adobe's annual retail report. Naturally, this acceleration proved to be a boon for digital storefront providers like Shopify and the software services in its orbit, such as Klaviyo. 
Investment inevitably followed. According to CB Insights, the third quarter of 2020 was the second-strongest quarter on record for venture capital investments to U.S.-based companies. Over 100 companies hit a $1 billion-plus valuation in 2020, among them Klaviyo.
Growing rivalries 
Naturally, competition has also ramped up. With capital pouring into retail marketing, more software services are surfacing to help online merchants to boost sales.
"There are a lot of SaaS-based companies reaching unicorn status," Rashid said, "and Klaviyo is at the forefront of that trend." 
DTC founders of apparel and packaged goods brands including Naadam, Andie and chocolate maker Compartes told Modern Retail that consumer startups widely use Klaviyo, Attentive and Postscript for their email or SMS marketing campaigns. 
Other e-commerce marketing software companies have made inroads with brands by offering SMS marketing, a communications tool that has become essential for many online retailers, according to Matt Scanlan, co-founder and CEO of DTC cashmere clothing brand Naadam. "A lot of consumer startups use Attentive or Klaviyo," he said. "SMS is another touchpoint that we use to send customers facts about our products, sustainability info and suggested articles to read. It's less about promotional content, like discounts, and more about educating people about our brand."
Klaviyo is also facing competition from more established rivals such as Mailchimp. But, its defining features — including its deep integration with Shopify, ability to collect data from multiple touchpoints and its unified system — still give it a competitive edge, according to Nessa's Rashid.
"We haven't seen anything as robust and flexible as Klaviyo despite using dozens of platforms," he said. Perhaps as a reaction to competition, Klaviyo has rolled out a broader set of features, including SMS marketing, he added.
These days, for example, the company is devoting more resources to one of the most pressing challenges facing the wider retail industry. Namely, the online privacy changes ushered in by Apple's iPhone software update and Google's plan to cull third-party cookies by the end of 2023. 
As part of its efforts to remain relevant to customers, Klaviyo is investing in new tools to help businesses analyze zero- and first-party data — info that customers either provide directly or that brands can observe through user interactions, such as website clicks. It has developed an analytics platform and learning layer on top of its main service.
This enables brands to analyze trends from consumers on an individual basis and automate communications to them. Brands can use info from top-performing campaigns to develop new ones and monitor the behavior of their entire audience to learn the optimal time to send any given communication. For example, when people are more likely to open a message or make a purchase. 
"We've accelerated those actions," Cohen said. "We're adding more things to take the guesswork out of good communication for our customers."
Of course, others are adapting to the changes, too. Attentive said in December that the updates by Apple — including the ability for user's to hide their email details, IP addresses and other details — would push more businesses to rely on first-party data tracking services like SMS marketing. Mailchimp, meanwhile, advises customers to collect more info directly from users, including locational data, using surveys and forms and to focus on clicks and purchasing data alongside email open rates.
For his part, Cohen says he welcomes the competition as it helps to increase awareness of Klaviyo's sector. The more e-commerce marketing companies pop up, the more it highlights that "this is a problem that businesses need to invest in," he said. 
Cohen continued: "I'm obviously biased, but the other reason I love competition is because our product is just much better."