How instant delivery apps promote in-person shopping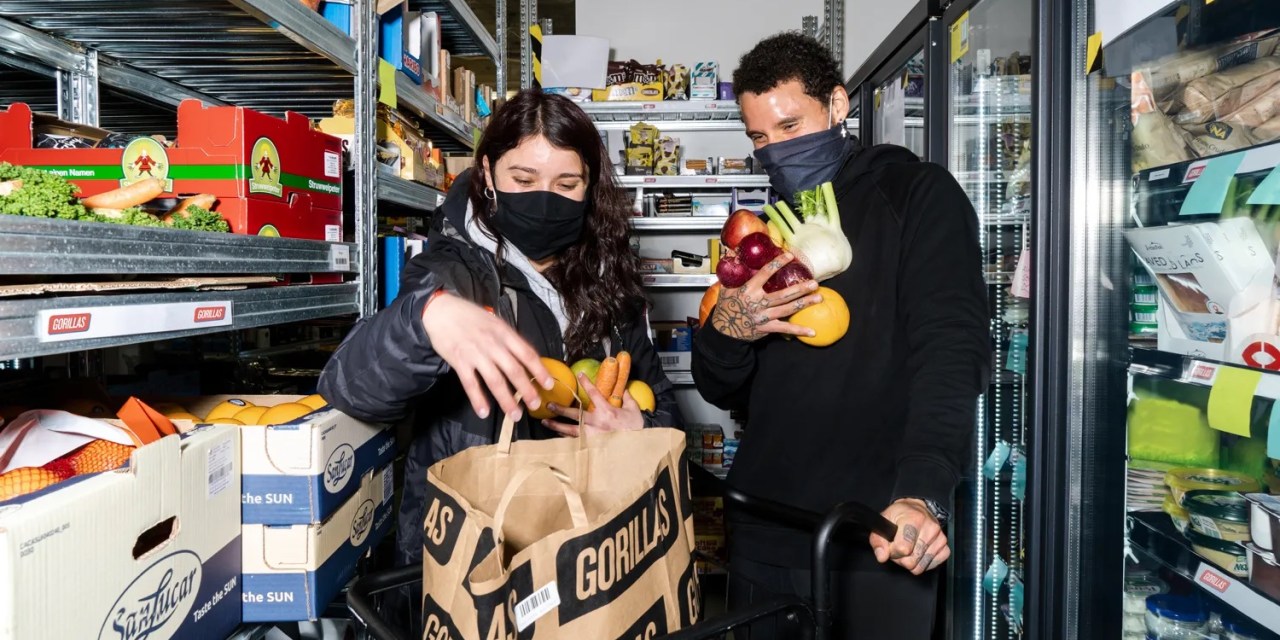 Gorillas
In some markets, instant delivery apps are starting to more closely resemble traditional grocery stores.
Since launching in major metropolitan areas in the past couple of years, on-demand delivery has become known for bringing customers their orders in about 15 minutes or less. However, many of them also offer in-store shopping and order pickup — particularly in New York City, to abide by local guidelines.
In turn,  these apps are promoting in-person shopping in subtle ways, and pickup is starting to become a bigger piece of the pie. For example, a Gopuff spokesperson told Modern Retail that since launching in New York City last year, walk-in pickup orders currently account for more than half of transactions at its Tribeca location. Meanwhile, at the beginning of 2022, instant delivery app Gorillas remodeled its downtown Manhattan location to allow for a more comfortable in-store browsing experience.
All of this comes as the instant delivery sector as a whole is facing a reckoning; after receiving an initial influx of investor interest, some venture capitalists soon started to sour on the sector as they questioned whether or not these startups could offer fast delivery at low prices and still turn a profit. In turn, players like Fridge No More and Buyk have shut down in recent months.
Meanwhile, remaining players like Gopuff, Gorillas and Getir have cut costs to grow more sustainably. Gopuff laid off 3% of its global workforce in April, and has looked to close underperforming warehouses. Gorillas and Gettir also announced layoffs last week.
Now, they're also promoting some form of in-person shopping, some through in-app banners and store signs. Gorillas, for example, features its shoppable store prominently on its app's front page.
Much of this promotion is taking place in New York City — the biggest U.S. market for many of these apps, and home to some of their vocal critics. In New York City, some local politicians like City Councilwoman Gale Brewer have argued that these apps violate zoning laws because they are designed mostly as warehouses, and thus are not retail shops. However, spokespeople for these apps say that all of their New York City stores have always allowed for in-person shopping.
Gopuff, which launched in New York City last year, currently operates a total of 20 shoppable warehouses around the city. A spokesperson said the company is also piloting store layout and designs at several new locations. 
Its most prominent location, in Tribeca, is designed with more notable features to encourage in-store browsing; it features a front-of-house Gopuff Kitchen, along with a grocery store and designated order pickup area.
Elsewhere, Gopuff is indirectly operating retail spaces. The company's recent acquisition of BevMo! and last year's purchase of Liquor Barn brought in those teams' retail operators in-house. As a result of those acquisitions, Gopuff currently runs over 180 BevMo! and Liquor Barn retail locations throughout the country. 
Gorillas is another fast delivery startup that's offered physical shopping for some time – albeit without heavily promoting the option. 
All of Gorillas' stores have been open to the public for in-store ordering and pickup since its launch into the U.S. last summer, according to the German company; it currently has 20 stores in New York City. But at the beginning of 2022, Gorillas decided to revamp its downtown Manhattan location to make it look more like a traditional grocery store as opposed to a fulfillment center. The remodeled location now has wider aisles, a more open floor plan and clearly designated grocery sections.At the Lower East Side store, customers can shop available inventory via the app, check out digitally and forgo paying delivery fees (Gorillas now charges $2.49 per order in the U.S.).
"As a grocery delivery business, Gorillas understands and complies with the requirements to be a retailer in the locations where we operate," Adam Wacenske, Gorillas' U.S. director of operations, told Modern Retail via email. He noted that depending on local guidelines and laws, Gorillas locations "hold valid permits issued by their respective city." 
"In New York City, the guidelines include allowing customers to be admitted to a space, as well as providing them a place to wait for their order to be prepared and delivered to them in person," Wacenske said. He previously told Modern Retail the company's goal is to make every Gorillas location profitable.
Meanwhile, Turkey-based Getir has been promoting in-store shopping via signs at its New York City stores. The company did not respond to a request for a comment about how else it promotes in-store shopping. 
Katherine Black, partner in the consumer practice at Kearney, said that while fast-growing, the rapid delivery space is still a relatively small, highly fragmented market with thin margins.  This has especially been proven true with the added burden and cost of acquiring new customers. 
"The value proposition is absolutely strong for a very niche market and needs," said Black. "Unfortunately, that makes it difficult to build a repeat and sustainable business model."
Ken Fenyo, president of research and advisory at Coresight Research, said the move toward more traditional retail "seems to be a good idea, assuming it doesn't interfere with the core delivery business." Fenyo noted that in theory, these urban, small-format shops can draw in traffic and help delivery apps reduce costs while still providing unique product assortments. 
Despite their struggle to scale, there is a bright spot for instant delivery services. According to the latest Apptopia data, ultra-fast delivery apps are outpacing other grocery apps in sign-ups. The report shows that the top 10 services in the category – including Gopuff and Getir – have grown 127% year-over-year during the first quarter of 2022. 
Jonah Ellin, chief product officer at retail data analytics firm 1010data, said that the trend also points to customers' expectations for in-store pickup. "Yes, it's cheaper than delivery or shipping, but BOPIS is a convenience to the shopper that merges shop-online-at-your convenience with being able to control the timing." 
Ellin explained that while these services pride themselves on delivering orders within minutes, they stand the risk of losing sales to local grocery stores and bodegas in big cities. At this point, the novelty of rapid delivery may be wearing off since the category's explosion last year. In turn, services are adapting by taking an omnichannel approach. 
"There are needs and there are wants," Ellin said. "Instant delivery tends to be more want than need. We suspect it will be very challenging for most of these businesses to turn a profit even with AI-driven assortments."