How HelloFresh's 2021 growth reflects a maturing meal kit industry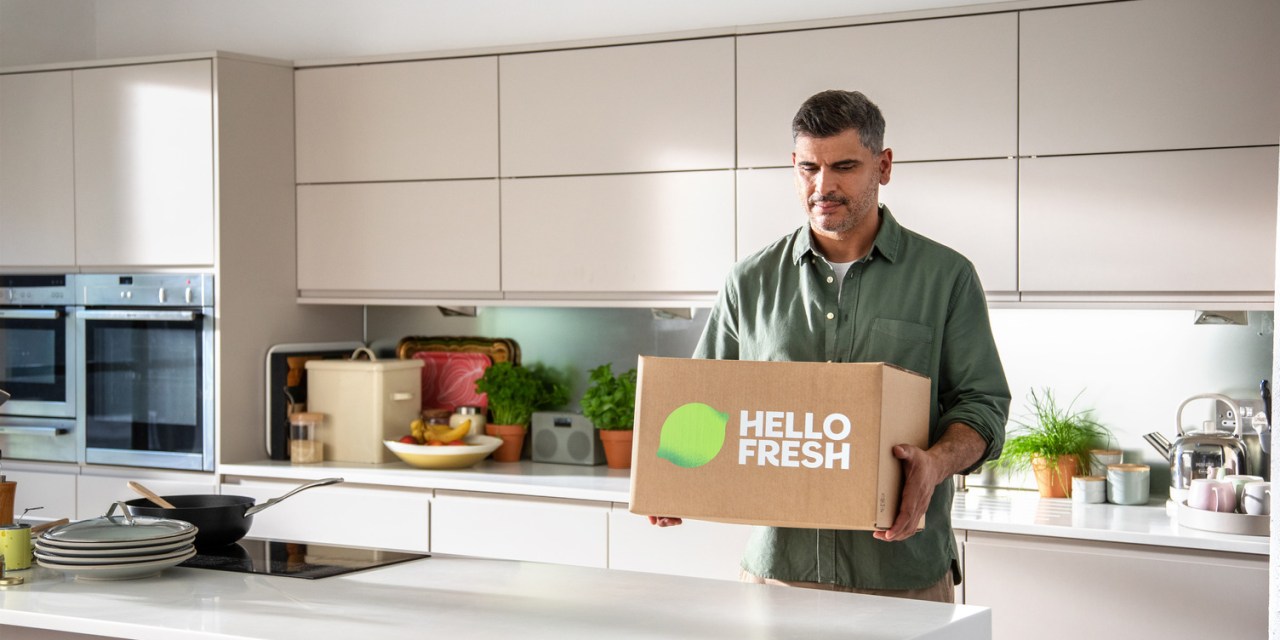 Image via HelloFresh
Despite growing costs, Berlin-based HelloFresh continues to pull ahead of companies like Blue Apron and Home Chef.
For 2022, HelloFresh expects revenue growth to come in between 20% and 26%. It currently accounts for 69% of the total U.S. meal kit market, according to Bloomberg Second Measure data.
"2021 has been another year of successful growth and expansion for HelloFresh," said co-founder and CEO Dominik Richter in a release statement. "We delivered very meaningful growth across both segments, despite a tough benchmark, given that 2020 was an unprecedented year of lockdowns." 
The pandemic gave many meal kit brands a much-needed boost, which industry analysts thought the growth would taper off. However, recent data indicates that the category's leaders are still seeing gains as they improve margins.
On Tuesday, HelloFresh reported its full 2021 earnings, which resulted in lower-than-expected sales following a strong 2020. According to the company, 2021 revenue hit $1.77 billion from $1.23 billion in the fourth quarter of 2020. Still, HelloFresh's dominance comes at a cost. The company's adjusted EBITDA dropped to $145.50 million, down from $193.33 million in 2020. The figure reflects the increased operating costs as the company invests in tech infrastructure and fulfillment. 
HelloFresh is currently growing its international presence, including in Italy and Japan, and reached 3.7 million customers. However, the U.S. remained the company's biggest market as of 2021. HelloFresh delivered more than 111 million meals to 3.5 million U.S. customers in the fourth quarter of 2021; the company's U.S. active users grew 34.9% year-over-year.
In the early days of the pandemic, HelloFresh and other home cooking solutions saw explosive growth. According to Coresight Research, the U.S. meal kit market surged by 69.3% year-over-year to reach $5.8 billion in 2020. 
That demand helped reinvigorate interest in companies like HelloFresh and Blue Apron. Blue Apron, in fact, turned a profit for the first time in 2020.
"We expected the food-at-home segment to feel a whiplash effect in 2021, but that didn't happen," said Pamela Goodfellow, lead grocery analyst at Kantar. Demand for delivery meal kits, alongside supermarket chains' growing ready-to-cook solutions, has continued in the past year, Goodfellow noted. 
Not every meal kit company is feeling that growth. Blue Apron, for instance, experienced a decline in both weekly orders [4.7%] and total customers [4%] during the fourth quarter of 2021. And while revenue continued to increase in 2021, Blue Apron struggled to consistently turn a profit in 2021. Despite its continued struggle, CEO Linda Findley still believes the company has a path to profitability via increased average orders and higher revenue per customer.
Meanwhile, competition has only gotten stiffer — even before the pandemic hit. Beginning in 2018, HelloFresh bought out several niche competitors to grow its portfolio of meal kit brands — and surpass Blue Apron — including Green Chef and Chefs Plate. Blue Apron, meanwhile, has faced warehousing issues and high customer acquisition costs since going public in 2017.
According to a February Bloomberg Second Measure analysis of the meal kit category, HelloFresh and its subsidiaries have become a leader among U.S. consumers since 2019. The report showed that early pioneer Blue Apron's market share dropped from 21% to 9% between 2019 and 2022. Meanwhile, smaller players like Sun Basket and Home Chef are down to 4% and 14% of the market share, respectively. Martha Stewart's Marley Spoon Inc.
Furthermore, HelloFresh also has the strongest retention rate among meal kit providers. Among customers who first tried HelloFresh in 2021, 15% of them made another purchase after 12 months, compared to 11% at Blue Apron and Home Chef.
Pressure builds to continue the momentum
Inna Kuznetsova, CEO of insights provider 1010data, said that HelloFresh's sustained growth points to a bigger trend among grocery shoppers. "Over the last two years, we've seen an explosive growth of meal kits in e-commerce," Kuznetsova said. Kuznetsova added that other factors like inflation and health consciousness could continue keeping consumers cooking at home more often than going out to dine.  
However, Kantar's Goodfellow said the challenge going forward for companies like HelloFresh and Blue Apron is to find ways to keep customers' orders. Both companies introduced more flexible offerings in the past year, including meal add-ons and ready-to-heat ingredients. HelloFresh also expanded its HelloFresh Market offerings, which include meal add-ons and pantry items.
Indeed, one bright spot for HelloFresh is its ready-to-eat meals, in which the company reported triple-digit growth in 2021. HelloFresh grew this offering through two recent prepared meal service acquisitions: Factor in 2020 and Australia-based Youfoodz in 2021. Both companies deliver healthy, pre-cooked meals that are ready to heat and serve within minutes.
At the end of the day, boxed meal kits are generally viewed as a premium product, Goodfellow explained. This makes them a fragile segment among price-conscious consumers when traveling or dining out habits pick up. 
"I'm not confident that the relative sustained growth will continue in 2022," Goodfellow concluded. "It's hard to predict whether this part of at-home food spending will continue."