How Erewhon Market became the coveted stamp of approval for CPG startups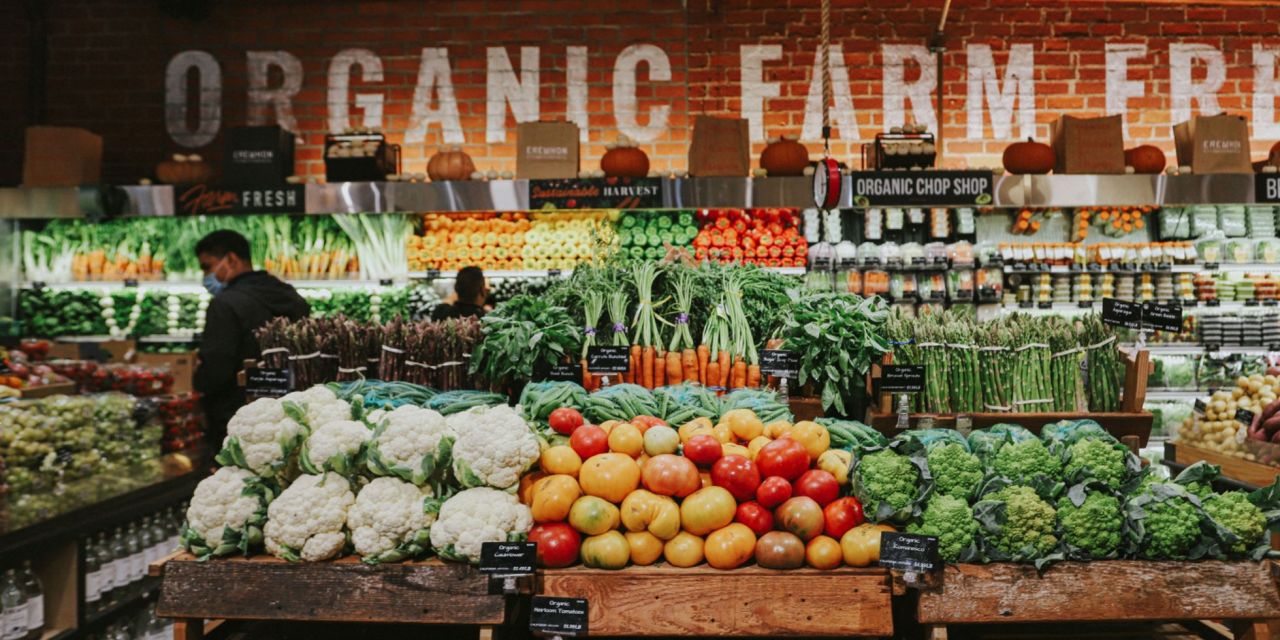 via Erewhon
For followers of Los Angeles socialites, it's hard to go a week without seeing an Erewhon haul or two on Instagram.
Erewhon Market was founded back in 1966 in Boston by Japanese immigrants Aveline and Michio Kushi. While the original location didn't survive, its original owners eventually headed west and expanded it in the Los Angeles area. The retailer's current iteration began in 2011, when husband and wife team Tony and Josephine Antoci acquired Erewhon.
In the past decade, the high-end store has become known for its trendy and expensive groceries. Its offerings include a beef dandelion echinacea bone broth for $14 a jar, and $20 Cult Coconut vegan yogurt. And over the past few years, Erewhon has attracted a fanbase of young consumers, as well as health and wellness influencers — everyone from Gwyneth Paltrow to Emma Chamberlain to the Kardashian-Jenner family. Erewhon has been rapidly expanding since receiving an injection of capital from Stripes Group in 2019, which now owns a minority stake in the retailer. The grocer now has seven locations, most recently adding a store in Silver Lake in 2020 and another inside a former Pasadena Borders location in November 2021.
For brands, Erewhon is also a place to see and be seen. Brands that are just starting out are enticed by the possibility of having one of Erewhon's well-known regulars post about their product on social media, and as such are increasingly determined to get into Erewhon from year one. Erewhon's high-income clientele also drives a lot of sales. In 2019, Forbes reported that Erewhon generated $2,500 in sales per square foot of floor space — which at the time was over four times more than the average grocery store.
"Our cult following among young consumers is a pure reflection of the increasing rise in interest to better our health," Vito Antoci, vp of brand development at Erewhon, told Modern Retail. "We are constantly monitoring CPG trends through various channels, as we strive to be first to market with the highest quality products."
Antoci said that despite the influencer following the grocery retailer has gained in the age of social media age, the cult status isn't a big influence on Erewhon's vendor selection. "We look at ingredients first and foremost," he said. "Real food is the core of who we are and the products we strive to carry." That said, Antoci said the retailer's buyers do continually have their eyes "on the most up and coming CPG brands." 
As an influential retailer with an endless flow of inbound inquiries from brands, Antoci said the company sticks to a strict list of product prerequisites. Ingredients come first. Erewhon's vetting team looks for vendors that check off certain nutritional certifications, such as non-GMO and USDA Organic status. The retailer also prioritizes minimally-processed packaged grocery goods; for instance, preferring CPG products made with little or no refined sugar.
Packaging is the second most important criteria, distribution third. "And, importantly," Antoci said, "feel." That is, Erewhon's approval team "must have a good feel about the brand," he said. "This is something that is often difficult to form into words," Antoci concluded. "But if you experience Erewhon, you know what we mean."
A brand bellwether
That specific feeling is what founders of young food and beverage brands hope to generate when demoing their products to Erewhon's buyers. 
Jennifer Ross, co-founder of beverage brand Swoon said Erewhon was the company's retail north star. As a smaller CPG brand, Ross said it can be hard to work with big retailers like Whole Foods and Sprouts from the very beginning because to capacity constraints. "With Erewhon, you can literally FedEx them small batches of inventory," she said. 
Swoon began selling its monk fruit-based simple syrup at Erewhon back in 2019, and the retailer has quickly become one of its biggest West Coast accounts. When Swoon launched its canned lemonade and iced tea in August 2020, the line's only brick and mortar presence was at New York City retailers and Erewhon. 
The Erewhon halo effect is real among the branding crowd. DTC and CPG brand consultant Kendall Dickieson said that for emerging companies, it can take years to get on Erewhon's shelves. "And if it's your first location, it usually paves the way for the rest of your wholesale trajectory," Dickieson said. 
"As someone who's always looking for new trends, Erewhon is the holy land," she said. "If you're on the shelf, it means you've been vetted by the top of the top when it comes to health grocers." 
Dickieson pointed to a past client, hydration beverage brand Barcode, which landed on Erewhon's shelves in June of 2020. "We saw inbound inquiries from influencers who purchased it themselves increasing organically and sold out there multiple times," Dickieson said.
Mayssa Chehata, founder and CEO of candy brand Behave "had Erewhon on the top of the list of target retailers" when the brand launched in August 2020. 
Behave debuted via its own direct-to-consumer site, and held out on launching at other grocery stores until it launched partnerships with Erewhon and Foxtrot this past summer. "We didn't just open up wholesale to any store that reached out," she said. Chehata said her team wanted to grow Behave's online presence before entering larger grocers — which could be aided by selling through an influencer haven like Erewhon.
The brand first received interest from Erewhon when a buyer reached out to request a sample after seeing the brand on social media. That kicked off the conversation to bring Behave on as a vendor. "From there, we started their famously robust vetting process," Chehata said, noting that the Erewhon requested spec sheets of Behave's ingredients and reviewed its material sourcing. 
"Going into grocery for the first time, we didn't have comps other than general industry benchmarks," said Chehata, which sells one SKU case per store per week in its worst performing stores; the brand sells about 6-7 cases per SKU per week at its best performing stores. But it was still able to perform well in a retail environment. Being a candy product and placed near the checkout lines, Chehata said Behave surpassed its target sales goals in its first week at Erewhon. She said Behave has continued to overshoot its goals in the majority of Erewhon locations.
For a young brand in its first year during the coronavirus, Chehata said, "it's a good-sized grocery chain to supply without being overwhelmed."
A more tailored wholesale relationship
Founders said another perk of being an Erewhon vendor is the personalized attention.
When Three Wishes cereal co-founder Margaret Wishingrad reached out to Erewhon's buyer team in late 2019, "they didn't think cereal was a fit," she said. Three Wishes eventually won Erewhon over — after the brand's founders personally dropped samples off — and the retailer is now one of Three Wishes' highest-performing retailers. 
All six Three Wishes flavors are now available at Erewhon locations. And despite having a small footprint, the social reach has created high velocity for our West Coast operation, Wishingrad said. "We always hear that other buyers walk Erewhon's aisles for discovery."
"They [buyers] also work very closely with brands, and we've gotten close to the [Antoci] family in the process," Wishingrad said. This setup gives startups the advantage of working a small business "with the reach of a major retailer," she said.
The retailer also organizes various marketing campaigns on brands' half, which help startups compete with more established vendors, said Ross. These initiatives are part of Erewhon's vendor program, called CARES, which offers brands support on in-store demos, email and circulars marketing. 
Some of the program's extensions also came in handy during the coronavirus, said Ross. With in-store sampling being down, Swoon was able to participate in Erewhon's Valet Brands program, which allows brands to hand out samples to select car-parked customers. 
The intangible marketing opportunity
Erewhon's status as a health food discovery hub has been a source of free promo for brands. 
Swoon's Ross said the company saw traction from influencers organically posting about Swoon products. When influencer Emma Chamberlain, who has nearly 15 million and 10.6 million followers on Instagram and TikTok respectively, posted about the Swoon's pink lemonade that she bought at Erewhon, "that created a domino effect," Ross said. Not only did Swoon's Erewhon sales immediately increase following Chamberlain's post, but so did the brand's website traffic, though Ross declined to share specific sales figures. Swoon also saw an uptick in social media posts from shoppers. 
"It's got a trickle-down effect among other buyers and brand influencers," said Chehata of Behave's Erewhon sales. She said the brand saw a big uptick in organic customer and influencer posts during its first week on Erewhon's shelves. 
The company's Erewhon presence also led Behave to secure more brand partnerships. Chehata said that representatives from Ace Hotel and NeueHouse reached out after seeing the brand at Erewhon. Since its arrival at Erewhon a few months ago, Behave has also gone on to launch at Sprouts this month.
"I can't say we got further interest solely because of Erewhon," said Chehata. "But every buyer conversation since has had a sense of the 'Erewhon stamp of approval.'"