How DTC luggage brand Monos grew 400% despite pandemic travel restrictions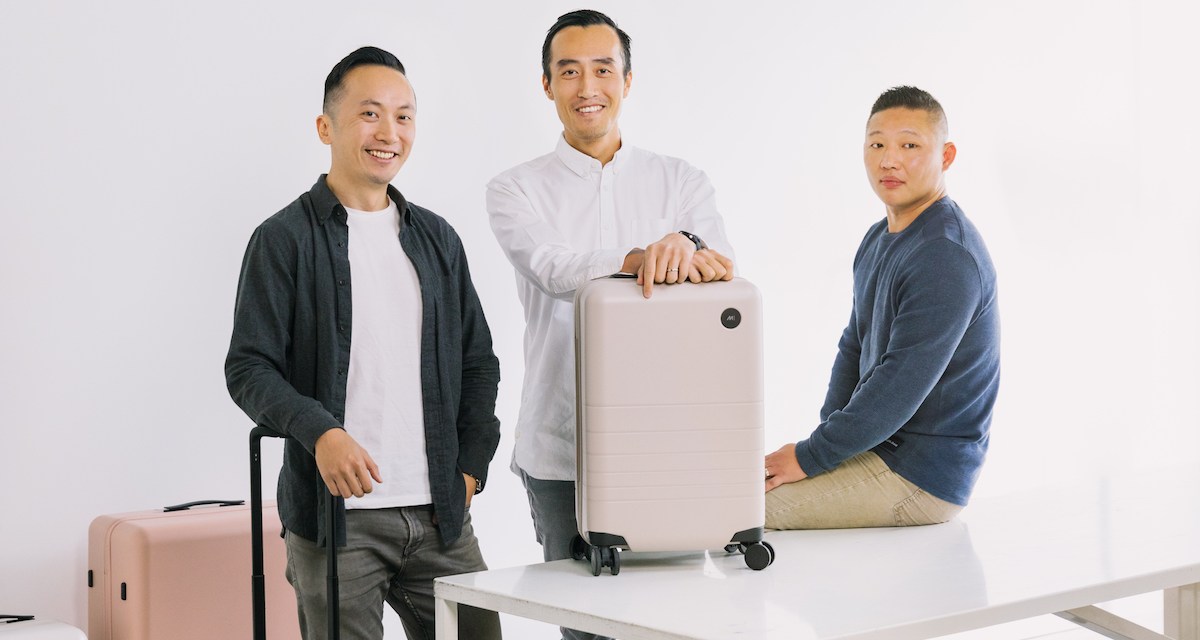 Monos
In the months leading up to March 2020, two-year-old Canadian travel and lifestyle brand Monos was seeing up to 50% growth in their business selling luggage.
Then, the World Health Organization declared Covid-19 a pandemic and mass cancelations of flights followed along with multiple countries putting lockdowns in place.
"We were still seeing sales coming in. But, on that date, everything just dropped immediately," said Hubert Chan, chief creative officer at Monos. "We knew that we had to make a pretty decisive pivot just to stay alive at that point."
Monos, which was founded in 2018 by Chan, Victor Tam and Daniel Shin, follows a "less is more" philosophy for its suitcase designs. The prices for its products can vary from $325 for a carry-on to $400 for a larger checked bag. Monos also said it is the first luggage brand to be on the list of Climate Neutral Certified firms.
Almost overnight in 2020 Monos saw a 90% drop in revenue, according to executives at the company. Monos, like many companies, decided to make a pandemic pivot by launching a product that was highly sought after at that time: a sanitation tool dubbed the CleanPod UVC Sterilizer.
The executives said it had been one of the biggest factors that allowed the company to survive the pandemic's disruption to the travel industry in 2020 — and to continue to grow in 2021. 
The cash generated from the CleanPod allowed Monos to double down on marketing its products, even launching new collections in 2020. Monos was able to achieve a 400% year-over-year sales growth that year. The company raised $10 million in a Series A funding round last month, and said it remained on an "upward trajectory" in 2021. Monos now plans to use the new round of funding to expand its product assortment, open a store and hire more talent.
Not every travel-focused retailer was as fortunate as Monos. Fellow DTC luggage brand Away said in April 2020 that sales had declined over 90%, causing the company to furlough half of its team and lay off another 10%. One of the world's largest luggage retailer, Samsonite Group, reported a $953.4 million sales decrease in the first half of 2020.
Pivoting beyond luggage
In the spring of 2020 Monos, launched the CleanPod UVC Sterilizer, which uses a high-energy beam of ultraviolet C light to sanitize surfaces, within six weeks of coming up with the idea.
"We realize our expertise is in design," Tam, who is Monos' CEO, said. At the onset of the pandemic, he said hospitals were using UVC technologies to sanitize their equipment and that there were already products that offered this in the market. "But what we found was there just wasn't something there that was consumer-friendly in terms of the look of it and how it was operated." 
Monos's quick pivot showcases how travel brands were forced to think outside the box. Despite widespread vaccine rollout, people still aren't traveling in the same ways they did pre-pandemic. "People just aren't visiting airports as much as they used to," said William Wong, managing director of design firm Arterton Limited. "There's been a decline but there's also been a shift as well. So people are going to different places, people aren't traveling internationally anymore. They're traveling nationally… and we have a shift in the types of products that they consume."
In response to the pandemic's onslaught, Wong said some travel-focused retailers have adjusted the way they marketed their products. For instance, Arterton's garment bags, which were initially advertised for travel purposes pre-pandemic, were marketed as wardrobe-care products. 
Looking ahead
Two years into the pandemic, Monos executives said demand for the CleanPod UVC Sterilizer has been "waning" as consumers get more comfortable going out. But the technology applied to the CleanPod has led to the production of another product, the Kiyo UVC Bottle, which was released in late 2020 and is capable of eliminating up to 99.9% of bacteria. 
The cash that the CleanPod generated also allowed the company to expedite its product road map, Tam said. The company launched its Metro Collection, which includes backpacks and duffels, in fall 2020 and had been a huge driver of revenue that year. Though the CleanPod had only made up 15% of its 2020 revenue, "we were able to leverage that to not only survive but really double down our efforts in marketing travel goods and accessories while nobody else was," Tam said.
With the newly closed $10 million in funding, the company plans to launch more luggage and travel bag collections this year. Monos is also in the process of building out its first flagship store in Vancouver.
"We have pretty ambitious plans for our product roadmap," Chan said. "We see Monos as more than just a luggage brand. We are a travel and lifestyle brand… we see travel as an all-encompassing experience."