How discount chain Five Below is plotting its expansion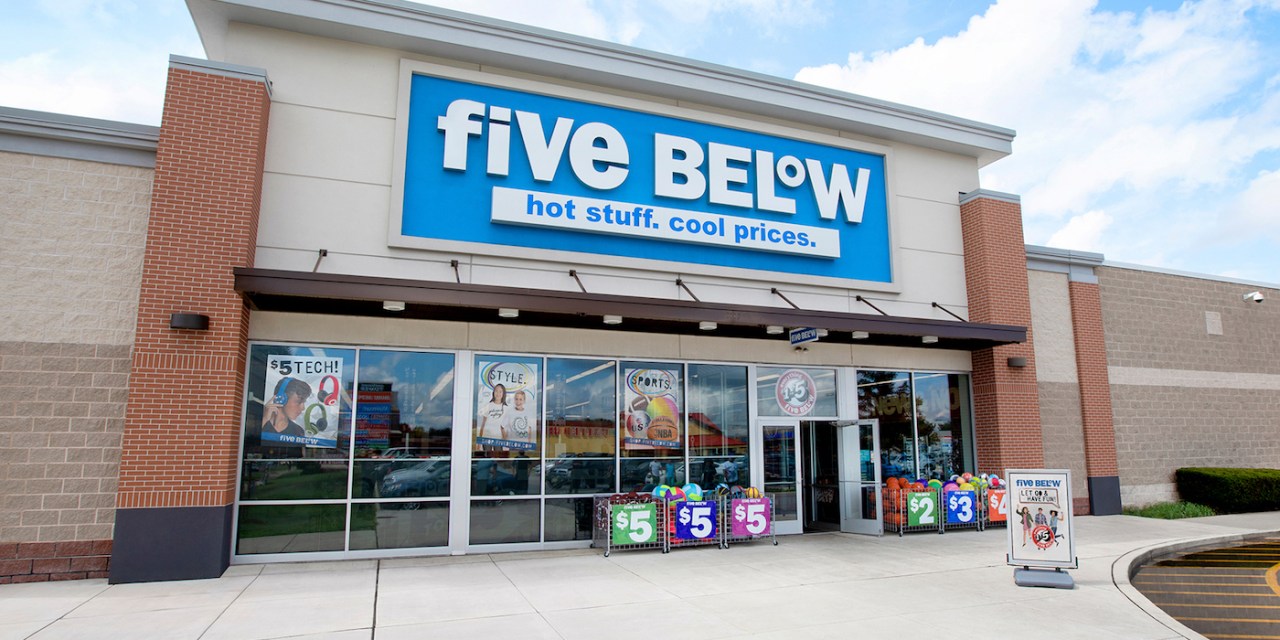 As Five Below expands, it is straying from the traditional playbook of a discount chain.
Last year, the chain — which, as the name suggests, carries items that sell for under $5 — opened a 10,800 square-foot flagship store on Fifth Avenue in Manhattan. Next year, it will experiment with adding video game lounges to some of its stores, and in October invested in an e-sports startup called Nerd Street Games. That is set to complement a new section Five Below started testing in October in select stores, to carry more electronics that sell for under $10. And it is spending more on television ads and influencer marketing in the lead up to the holidays in order to raise brand awareness.
In total, Five Below has opened more than 150 stores within the past year and a half, making it one of the fastest growing brick-and-mortar chains based on new store openings. Now, the discount chain is trying to tackle two challenges. One is a recurring problem for discount chains — how to improve margins when selling low-cost goods. The second is how to raise brand awareness, beyond just opening more stores. Five Below, founded in 2012, has 894 stores, but in just 36 states.
"A few years ago, Five Below was driving most of its growth through opening more stores. However, while it is still pursuing new shops the focus has shifted somewhat and it is now doing more to drive productivity from existing shops," Neil Saunders, managing director of GlobalData Retail wrote in an email. "The focus [for Five Below] has shifted somewhat, and it is now doing more to drive productivity from existing shops."
Five Below's expansion comes at a favorable time for discount chains. According to research from Coresight, the retail chains that opened the most stores in the U.S. between January and April of this year were all discount chains, including Five Below. During its third quarter earnings on Wednesday, the company reported that net sales increased 20.7% to $377.4 million. Net income fell, to $10.1 million from $13.5 million during the third quarter last year.
While Five Below sells slightly higher priced goods like yoga mats, makeup and clothing, compared to competitors in the discount space, chains like Family Dollar and Dollar General. It's also unique in that its target demographic is teens and tweens.
As such, Five Below has tried to design stores that "focus more on offering customers a treasure hunt for trendy items," according to Kathleen Fischer, director of retail marketing for enVista. Bins with candy, toys and sports equipment are scattered throughout the store, and walls are lined with more visual products like makeup and clothing.
Other steps it has taken within the past year to drive sales are ones that are table stakes for other retailers, but not a given in the discount space. Five Below has a loyalty program that's just over a year old, and now has television ads running in 60% of the markets where it has stores, up from 40% last year. It's running a campaign with Stranger Things actor Noah Schnapp on social media for the holidays. The company also secured a partnership with Disney to start carrying 'Frozen' toys in time for the holidays — a partnership that CEO Joel Anderson said the company believes it will be able to secure more of as it grows.
"We are a different company since the last [Frozen] movie debuted in 2013," Anderson said on an earnings call with analysts on Wednesday. "We have tripled our size, generating substantial scale benefits."
But Five Below's most vital lever for growth will be the "Ten Below" sections it is looking to add to stores. The company said in October that it would start carrying more items priced between $5 and $10, mostly more electronics. So far, it is testing out Ten Below sections in 25 stores. The company has said it is pleased with how the Ten Below sections are performing so far, but haven't given specific sales numbers.
Anytime a discount store carries more expensive goods, there's a risk of turning off regular customers who expect to say the same price every time. But, Saunders said that he hasn't seen any sign yet the addition of more expensive products will turn off shoppers.
"Ten Below is a very limited section in Five Below stores and is stocked with products that people would expect to pay more for," he said.
Five Below is also betting that the addition of e-sports lounges will help convince teens to buy some of its more expensive products. Five Below will start adding Nerd Street Games e-sports lounges to its stores next year, and the goal is also to convince people to come to play video games to buy snacks and gaming accessories that will be available for sale in the lounges.
"It's another opportunity for the target audience to come in, engage, have a more immersive experience and grab product," said Jim Cusson, president of retail marketing firm Theory House.