How crochet startup The Woobles uses video tutorials to drive engagement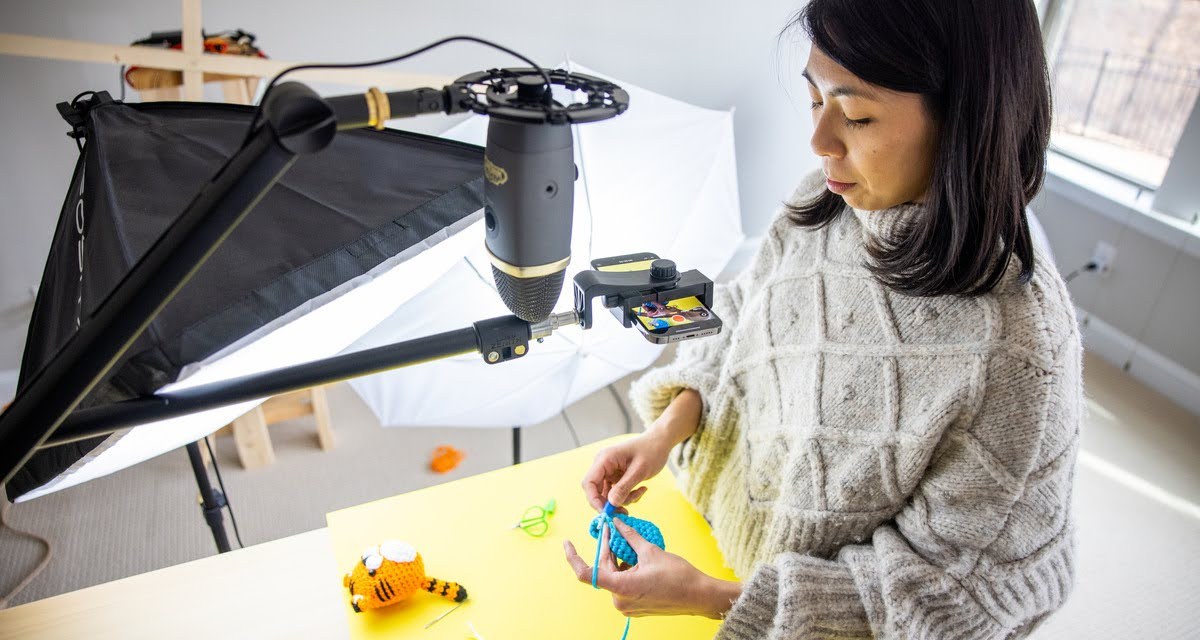 The Woobles
Direct-to-consumer company The Woobles is betting on video tutorials to get people hooked on its crochet kits.
Every crochet kit The Woobles sells has a video tutorial that goes with it. The company has published 120 YouTube videos, including tutorials on basic crochet skills for both right-handed and left-handed people. The Woobles has taught almost 100,000 consumers how to crochet to date and has sold over 150,000 crochet kits.
The company not only uses video tutorials to get people into crocheting but also to draw consumers into the brand. The Woobles, which was co-founded in 2020 by a husband and wife duo, sells amigurumi or 3-D animal crochet kits, complete with the option to purchase a hook. It hit its first million dollars in revenue in just under a year and maintains an 11% month-over-month revenue growth.
"We like to say on the outside, we look like a crochet company, but on the inside, we're actually a tech company," Justine Tiu, co-founder of The Woobles. "The reason why these kits actually work is because we spend a lot of time understanding the learning process and how people learn a new skill." 
The Woobles offers beginner-level, intermediate and limited edition crochet kits, priced at roughly around $25 to $55. The company launches a new crochet kit once every month. In addition to its website, the company also sells its products on Amazon, Etsy, and just this Easter, the company had a limited-time launch at 123 Real Canadian Superstore locations. 
When Tiu began learnings how to crochet herself, she discovered how complicated the learning process can be. Using her background as a former user-experience designer at Google and specialty in educational products, Tiu sought to create effective video tutorials. For instance, The Woobles keeps its videos short at five minutes or less and avoids using crochet jargon, such as unworked stitch, that a complete beginner might not understand. All of the videos that come with the kits are also password protected. 
"All these generic video tutorials that we have on YouTube really establish our brand as being like the place to go for really good content and tutorials on how to learn how to crochet," said Adrian Zhang, co-founder of The Woobles.
These video tutorials from The Woobles also double as ads for the company, Zhang said. The Woobles utilizes YouTube ads as well as Google search ads so that when people look up how to execute a specific crochet stitch or a crochet term, their ads pop up.  Its ads typically target people that appear to be learning crochet. 
Tiu said the company didn't actively seek many of the distribution or partnership offers the company receives, such as its physical retail launch in Real Canadian Superstore. She said these offers come from people who've used their products or saw their ads. 
Video tutorials are a common tool brands use to engage with their audience, especially when they have products that have some intricacies. Dyson, for example, uses video tools for many of its products, such as its Airwrap styler, Corrale hair straightener and Supersonic Professional edition hair dryer. Mac Cosmetics also uses makeup video tutorials to showcase the quality of its products and to inspire people with the different ways its makeup can be used.   
"Anywhere where there is a product that's complex or expensive or emotionally charged, what we find is, by connecting it with a human being using video, we're able to achieve the same feeling, the same sentiment, the same performance as if someone went into the physical store," André Hordagoda, co-gm of social commerce at customer experience platform Emplifi, said.
"The best way of doing that is to treat an online interaction using video in much the same way as if you would if someone came into the physical store or you were seeing them in person," he added. 
Hordagoda said that video can also be a good way to drive brand loyalty, by engaging with people in a more approachable way. When a video is over-polished, it can feel more detached and cause consumers to feel less connected to the brand – mistakes companies tend to make once they scale their video initiatives. Once companies also begin utilizing video tutorials and other video tools, it can be hard to scale back because consumers have come to expect it. 
The Woobles' said the company is testing out ways to make its videos even shorter and more intuitive. "Our user-centered design process is to prototype things and test it out and get feedback and go from there," Tiu said.   
The co-founders said The Woobles is also working towards its goal of having products available at large brick-and-mortar stores, such as Target and Joanne. The company is also exploring opportunities to expand internationally. At the moment, the company is available in places like the U.S., U.S. military bases across the world and Canada.