How car seat and stroller brand Evenflo is capturing zero-party data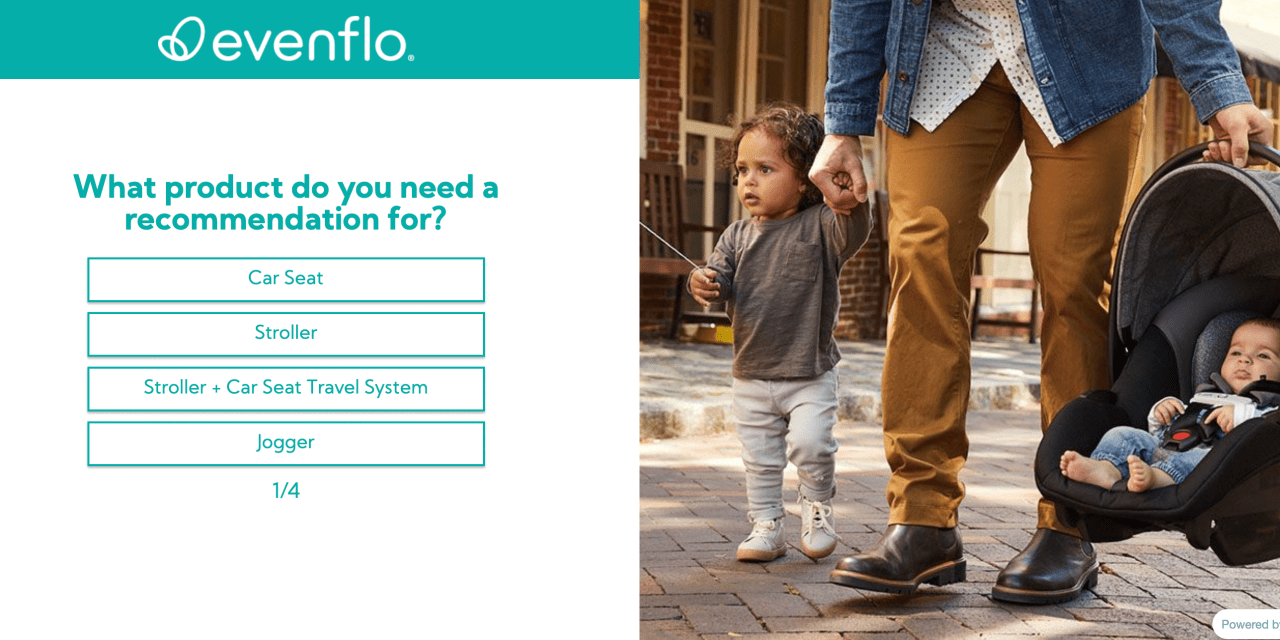 Evenflo X Jebbit
As traditional brick-and-mortar brands look to grow their direct-to-consumer business, they are also looking to capture more customer data.
Since 2018, car seat and stroller brand Evenflo has been working on shifting sales from its extensive brick-and-mortar retailer network with partners like BuyBuy Baby and Walmart to online sales on its own DTC site. In 2022, thanks to pandemic-accelerated online shopping growth, 50% of the brand's sales are now online. However, to keep online sales growing, the brand is investing in collecting zero-party data, a term often used to refer to data handed over willingly by customers before purchasing. To do so, Evenflow is creating more via online quizzes geared toward soon-to-be parents.
This zero-party data focus is both "reactive" to iOS14 privacy changes and "proactive" in anticipation of Google's cookieless shift, explained Josh Reed, the director of consumer demand generation and digital shelf at Evenflo's parent company Goodbaby International. As part of the iOS14 update, rolled out an App Tracking Transparency prompt that required users to opt into tracking across apps — a necessity for third-party data tracking. Google, meanwhile, has promised to remove third-party cookie data from its Google Chrome browser by 2023.
Evenflo was founded in 1920 and was acquired by Hong Kong baby goods conglomerate Goodbaby for $143 million in 2014. In Goodbaby's first-quarter earnings presentation last week, Evenflo reported record first-quarter revenues at $78 million, up 31% year-over-year.
Evenflo worked with zero-party data company Jebbit to create its data-gathering quizzes. Reed explained that even before all of the privacy-related advertising changes over the past two years, Evenflo partnered with Jebbit in 2019 to begin integrating a quiz and product recommendation feature into the brand's site. The first quiz that Jebbit and Goodbaby partnered on was a stroller and car seat recommendation quiz.
"From a CX perspective and for growth of our DTC capability… we wanted to be able to provide help to people, because we know navigating the options online — when you look at the thumbnail images of all the strollers and car seats — they all look exactly the same," said Reed.
Now, this quiz — as well as a few less extensive quizzes such as a parenting style quiz — have become more critical for the brand's ability to track its customers as third-party data becomes less robust and more expensive.
"A huge driver in zero-party data adoption is what Forrester calls data deprecation — the cumulation of the loss of third-party cookies and device IDs," said Stephanie Liu, an analyst at Forrester, over email. On top of this, added Liu, privacy protections like opt-in tracking and walled gardens put "more limitations on how marketers can access and use their data."
The product recommendation tool with Jebbit is currently being updated with newly launched Evenflo products and a few new questions. Evenflo encourages customers to take the quiz by featuring it prominently on the home page. However, Reed said usage metrics have stayed largely consistent on the quiz since its launch in spring 2020.
Eighty-five percent of users who start the quiz finish it and the quiz takes just over three minutes to complete on average. Reed added that the quiz also helps with transaction rates: those who take the quiz have a 38% higher overall conversion rate and a 13% better conversion rate than visitors who look at a product page without using the quiz.
Alongside zero-party data quizzes, Reed explained that the legacy brand was trying to find ways to better integrate less-used data to come up with a full picture of its customer base. On-site product reviews and carseat install appointments, for example, give Evenflo new information about its customers and their behavior. With this information, said Reed, the brand could retarget customers with more specific emails or advertisements, without needing third-party data.
"We've got all of the pieces pulled together in the right platforms to be able to activate that data well ahead of being forced to do it because of the non-cookie world," said Reed.
Frank Riva, vice president of marketing at 1010data, said over email that third-party data versus zero-party data is a "quality versus quantity issue"
"It's hard to imagine that zero-party data can ever match the sheer volume of third-party data," said Riva. "However, the quality of zero-party data is the real key here, as the accuracy and richness is optimized since it's coming directly from the consumer."
Liu added that zero-party data is more transparent as consumers are choosing what to share rather than being passively tracked and that brands can get information they may not otherwise.
Still, consumers' ability to choose whether or not to share means brands have a higher burden for creating content that a shopper would willingly opt in to.
"Brands need to get creative to entice consumers to opt in-to a survey or shoppable quiz," said Carly Sutherland, a brand and communications strategy consultant. "Before launching a zero-party data tactic, brands can ask themselves: Will my prospective customers have fun participating in this? Will they learn something? Will they gain something from us for giving up a few minutes?"
Liu said this can come in the form of anything from loyalty points to exclusive offers to personalized content. For a brand like Evenflo — where the burden of product research can be overwhelming — a quiz can offer shoppers a simplified and easier experience.
"There needs to be something in it for the consumer, and that value exchange needs to be crystal clear," said Liu. "[A product recommendation] eases the burden on consumers of researching Evenflo products to figure out which ones would be contenders."