How Bed Bath & Beyond has revamped its digital operations during the pandemic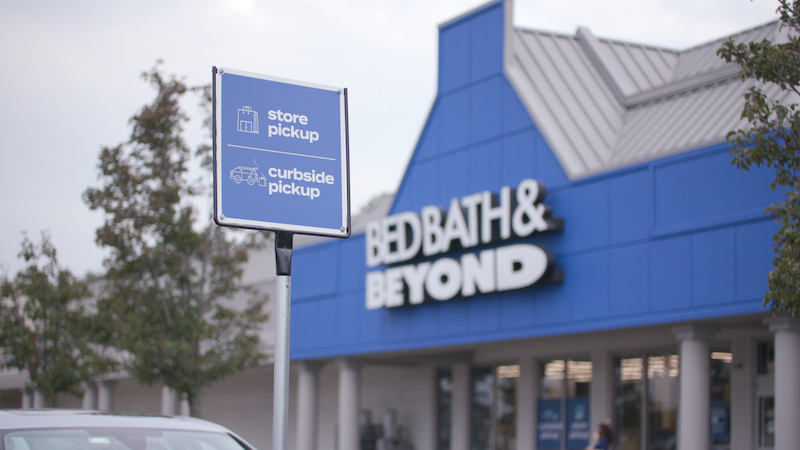 A boom both in online shopping and sales of home goods have helped give Bed Bath & Beyond new life.
The big-box retailer has reported reported more than 75% growth in e-commerce sales during each of the last three quarters. Over his nearly eight months at the company, chief digital officer Rafeh Masood said that he's been working to bring Bed Bath & Beyond up to speed with its competitors by adding services that have become table stakes in retail, like buy online, pickup in-store and same-day delivery. He's also worked on making it easier for people to shop on the website by simplifying the checkout experience, and adding more features for people looking for design inspiration.
But, he's been aided by the fact that the pandemic turned home goods into a winning category, as more people refurbished their homes when eating out at restaurants or traveling was out of the question.
"[Digital] went from being a laggard tactic to a strategic asset and a profitable growth engine for the company," said Masood in a phone interview with Modern Retail.
The company has also managed to keep some customers coming to stores, with comparable sales up 6% and 2% respectively at Bed Bath &Beyond during its second and third quarter earnings results this year. That still falls far behind the comparable sales growth reported this year by other big-box retail chains like Target and Best Buy. But, it's a notable achievement, considering that Bed Bath & Beyond had not reported a same-store sales increase in nearly four years. During Bed Bath & Beyond's third quarter results, which were reported last week, the company also noted it has gained 7 million new online customers year-to-date.
Now, the question is as more people resume shopping in stores, just how much of that digital growth is sustainable. Retaining new customers is a key focus for Masood, who said that during Bed Bath & Beyond's third quarter, 21% of customers placed more than one online order, compared to 16% during the same time period last year.
"A great deal of Bed Bath & Beyond's growth is pandemic-related," Neil Saunders, managing director of GlobalData Retail said in an email. "To retain shoppers, Bed Bath & Beyond needs to create a much more compelling and engaging proposition."
Focusing on digital fulfillment
Masood, formerly the chief digital officer at BJ's Wholesale Club, joined Bed Bath & Beyond in May. He was one of a handful of executives brought in by CEO Mark Tritton, who was named chief executive last December with a mandate to turn around the company. Masood said that his first order of business was to combine more of the store and e-commerce teams within Bed Bath & Beyond. "We were operating as a company that was a multi-channel retailer, but not an omni-channel retailer," he said.
Bed Bath & Beyond had begun the initial steps to roll out buy online, pickup in-store for the first time when the pandemic hit in the spring. But the company decided to first roll out curbside pickup while most of Bed Bath & Beyond's stores were closed in the spring, and then transitioned that service into buy online pickup in-store. Bed Bath & Beyond has also now enabled ship-from-store from all locations. In the fall, the company announced it was enabling same-day delivery through both Shipt and Instacart.
Now, Masood sees these same-day fulfillment options as key to retaining the customers that are new to Bed Bath & Beyond, as buy online, pickup in-store accounted for 16% of the company's digital sales in the third quarter. Since rolling out buy online pickup in-store for the first time, Bed Bath & Beyond has tried to add more features for those types of shoppers. For example, adding the ability to filter items on its website and app by which ones are able to be picked up at the store closest to them.
Updating the website
Another goal of Masood's has just been to make it easier to shop from Bed Bath & Beyond's website in general. He said that Bed Bath & Beyond has reduced the number of steps needed to check out online from seven to three, and added the ability for customers to filter items by room, like bedroom or kitchen, as well as by function.
Now, he said Bed Bath & Beyond's next area of focus is to make the website more inspirational, and more quickly surface relevant products based on what people are searching for. For example, Bed Bath & Beyond added a section on "cozy backyard collections" to its website over the holidays, in response to the fact that more customers were looking for backyard furniture as they spent more time outdoors in order to more safely socialize during the pandemic.
Still, Saunders said that "the website, much like the stores, can be overwhelming," due to the amount of merchandise that Bed Bath & Beyond sells online. For example, in categories like bed linens where one type of item might be available in a wide variety of colors and patterns, an item might still be shown as in-stock even though the majority of colors and patterns might still be out-of-stock.
"Overall, the collection option works and is functional, but it could be finessed to allow consumers to shop more easily," said Saunders. "Much more emphasis has to be given to making Bed Bath & Beyond the first port of call for home products."
Photo courtesy Bed Bath & Beyond