High-end restaurants may hold the future for meal kits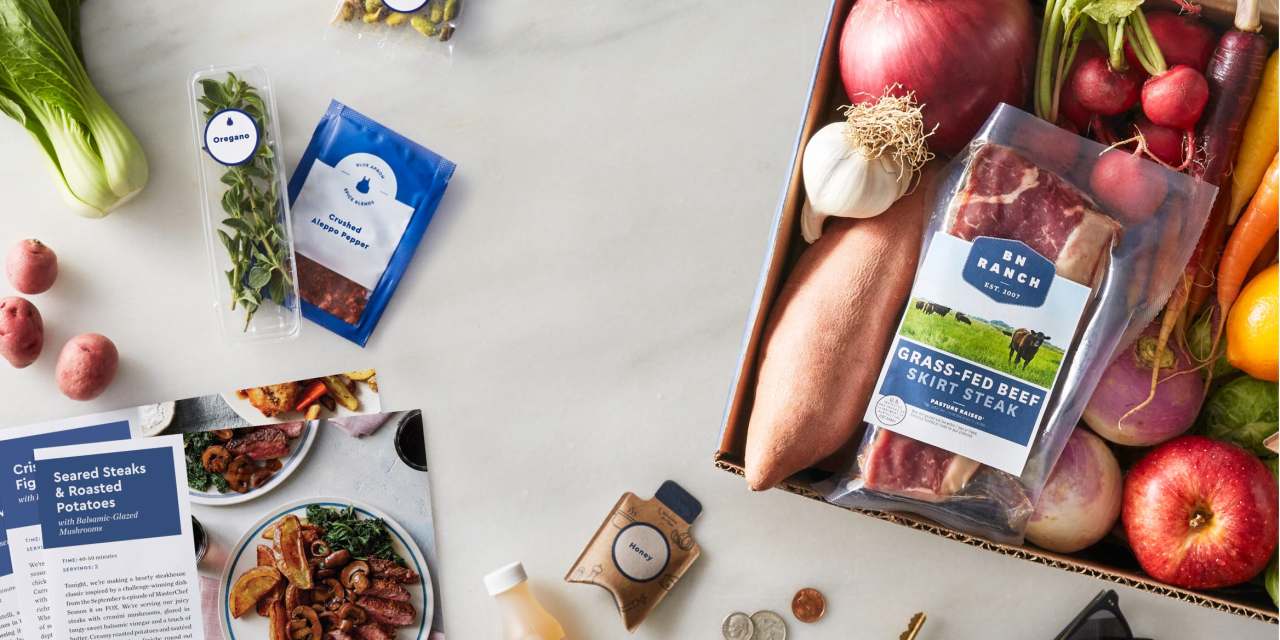 Image via Blue Apron
One week, it was ramen, made with peking duck; on another occasion, "kuay teow gai" — a Thai noodle soup, served with "bamee noodles, Thai basil and lots of really great gubbins." In both cases, it was gone in a matter of moments.
These are the meal kits made by the Manchester-based British chef Pippa Middlehurst, the 2018 winner of Britain's Best Home Cook, and a specialist in Chinese cuisine. Roughly twice a month, Middlehurst assembles noodle-based meal kits and sells them on her website. At £30 ($38) for two meals, or about £43 ($55) including UK-wide shipping, the price point reflects the labor and quality. Blue Apron meals, by contrast, cost about $9 a serving. Curry pastes are made from scratch, while the ubiquitous noodles are hand-pulled, using the methods Middlehurst learned while training in China.
Ahead of opening her webstore, Middlehurst posts photos of the dish on her Instagram account, and advises her 40,000 followers to be ready at 12pm, with their payment details ready to go. There is never enough to go around.
Before the pandemic, diners seeking restaurant-quality food plated and served in the way the chef intended would simply go to a restaurant. But shelter-in-place orders have encouraged a new category of at home dining, sitting somewhere between the meal kits popularized by Blue Apron and a medium- to high-end local restaurant experience. Unlike regular take-out, dirtying a pan or two is inevitable.
For now, it's hard to know how sustainable the model is, particularly with such unanswerable questions as whether coronavirus-induced germaphobia will keep diners at home, or how much the economic downturn will prevent people from splurging on fancy meals. Many restaurants have begun reopening for takeout or outdoor service, but they still don't have a good sense of how many customers they'll be able to seat by the year's end.
But at this early stage, the prognosis for these finer meal services seems good: Unlike daily meal kits, this smaller, more bespoke model is designed to be bought more infrequently — and can be sold at a price point that reflects actual costs, as well as the need to make a profit. Meanwhile, retention isn't as big an issue; consumers will likely shop around, in much the same way they might visit a particular local restaurant a few times a year.
It's a very different product to the kits made by Blue Apron, Sun Basket or Home Chef, which seek to replicate the experience of home cooking, with less of the stress. Though the pandemic has delivered a spot of good fortune for these beleaguered brands, challenges remain, largely due to the high costs of procuring, delivering and marketing products, according to a recent Wall Street Journal report.
The scale of these kits varies substantially, both in terms of how many are made and the amount of work required from the consumer. While small businesses like Middlehurst's have found a niche selling finite quantities of homemade foods, more mainstream brands have found their home on the gourmet food delivery site GoldBelly. Shake Shack, for instance, sells eight-packs of burgers, which diners must grill at home. (Tomato and lettuce is not included.)
Sitting somewhere in the middle, Brooklyn pizza company Roberta's sells sets of oiled dough balls, ready-made sauces, and pre-cut toppings via Caviar, GrubHub, Chownow, and Postmates. Flushing-based New York chain Xi'an Famous Foods, meanwhile, has branched out into "pull your own" noodle kits, each serving four, with "proprietary, prepared" sauces and stews ready to go.
Lucas Sin is the head chef of the New York-based Chinese fast-casual restaurant Junzi. Since the start of the pandemic, he's hosted "distance dining" — a once-weekly three-course tasting menu, with a total of 200 meals sold. He uses Instagram to walk diners through the dishes — their stories and inspiration, of course, but also how to plate the food, which arrives cold, through Junzi's delivery partners, and requires a little preparation.
Between boiling noodles, reheating sauces, and some basic assembly, it's a definite step up from eating straight out of the container. "Some of our guests describe this as a type of very, very minimal cooking experience," said Sin. The restaurant intends to continue the series, with future events dedicated to "amplifying Black culinary voices," as well as exploring the relationship between Chinese and African or African-American cuisines.
From a quality perspective alone, he said, it's more desirable: Food generally tastes better if it hasn't spent 45 minutes sweating in a backpack on the way over. But saving on labor creates a financial upside, too: "Theoretically, you increase your packaging costs, because you have to package [the food] into multiple components," Sin said. "But you don't have to cook the food, so in some ways, I guess you could put it as a cost-saving mechanism."
Colonia Verde, an upscale Latin American restaurant in Brooklyn's Fort Greene, has also developed "meal kits" since being forced to close: "Grilling boxes," priced between $35 and $65, feed between two and three people. The steak box, the most expensive of the three, comes with more than two pounds of ribeye steak, wrapped in brown paper, a large carrot, a brown onion, and various other vegetables, ready to be slung on a grill. Tortillas, salsas, and other sides must be ordered separately. (Dan Barber, the chef at iconic New American restaurant Blue Hill, has branched out into similar packs.)
Though originally borne of necessity, the kits have been highly successful. "We're actually really enjoying it," said Tamy Rofe, the restaurant's co-founder. Even after reopening is possible, they hope to continue it alongside dining in.
Unlike slicker offerings from Xi'an or Roberta's, these "boxes" are homey, intimate and intentionally rustic: "When you get the kit, we send you an email that comes with a voice instruction that I recorded," said Felipe Donnelly, its chef and Rofe's co-founder, "so that I can guide you through how to grill and what to do when you're cooking it. And then the idea is to take it from there, and just experiment with it."
A topsy-turvy supply chain upended by coronavirus has been a blessing and a curse: On the one hand, the restaurant is at its mercy in terms of what it can offer. While Colonia Verde doesn't intentionally limit how many products it sells, Rofe said, "we definitely run out of things." A lamb slider kit was particularly popular.
On the other, these kits been able to bridge the gap between consumers and restaurant-quality food suppliers, who were struggling to find a market for their produce. "It's also being able to provide some of the best ingredients that we've been able to get our hands on," said Donnelly. "Even better ingredients that we usually have at the restaurant, because we're selling it at a markup that's less than what we would normally be selling it at the restaurant."
Like Junzi's distance dining, the kit is supposed to be an experience as much as it is a meal. "When amidst a pandemic, homes need love, food gives love, food brings people together at the table," said Rofe. "It felt so short-sighted — you just bring takeout, and then what? You eat it, you throw it away, and then what?" Instead, the restaurant hopes to provide something worth setting the table for, "even if it takes a little bit more prep."
At the end of the day, said Rofe, Colonia Verde is a local spot that seeks to "feed a neighborhood" over racking up accolades: "What's at the heart of Colonia is high quality food in a very rustic setting, [where] you can feel comfortable, open up, get intimate with people around the table." The company's meal kits are looking to do much the same thing — albeit in customers' own kitchens.