As the pandemic continues, gyms are pivoting to virtual corporate perks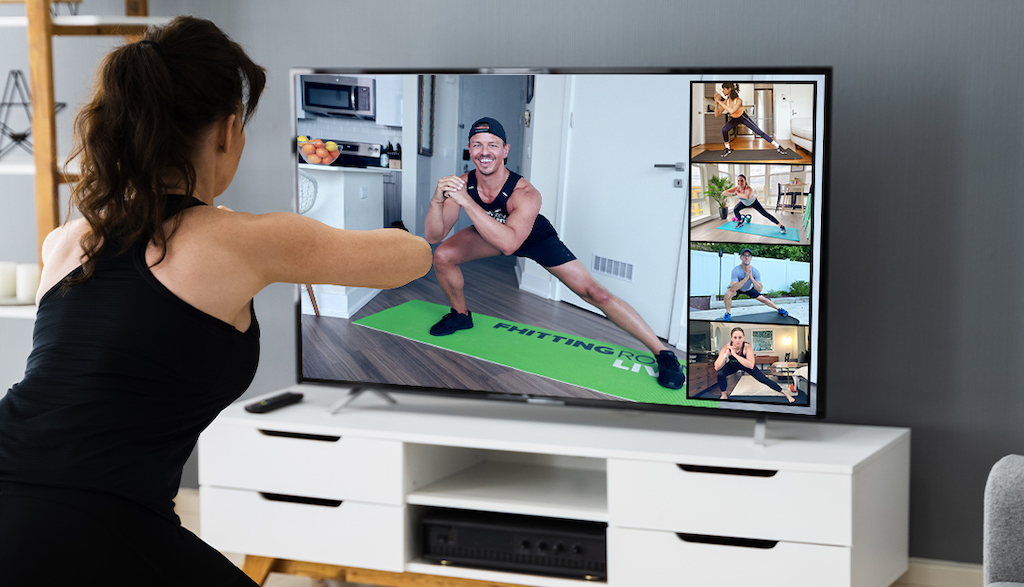 When New York-based fitness studio chain Fhitting Room closed its doors last March, founder Kari Saitowitz didn't imagine virtual corporate clients would become their fastest growing segment throughout the shutdown. Almost a year later, the eight-year-old company's online live classes are gaining popularity with employers, including Estee Lauder, JP Morgan and Pandora.
The company isn't alone. For many consumer brands that saw sales fall when the coronavirus hit, focusing on corporate clients has become a lucrative model. Office snack-providing startups and consumer wellness apps like Calm, for example, have shifted their focus to cater to remote workforces the past year. Fitness and wellness brands are taking advantage of corporate clients' interest by adding these large accounts to offset the loss of physical visits. In turn, studios like Fhitting Room and Equinox, along with fitness class marketplaces like ClassPass and Gympass, are gaining appeal among employer wellness programs. 
The trend has become a lifeline for gyms as they've struggled throughout the pandemic. According to recent data by the International Health, Racquet & Sportsclub Association (IHRSA), the fitness industry as a whole lost $7 billion in revenue as of last July, and continues to lose revenue throughout the second wave of non-essential business shutdowns. Planet Fitness, for example, saw year-over-year revenue decrease by 36.8% to $61.4 million during during the third quarter of 2020.
Meanwhile, digital fitness itself has benefited from at-home customers. The virtual workout industry hit $5 billion in 2019 and is projected to grow to $30 billion by 2026, according to Global Market Insights. And according to IHRSA's 2020 Health Club Consumer Report, 20% of health club members are currently using a premium online fitness service. 
For gyms and specialized studios, it's the perfect time to market their group fitness services as alternatives to happy hours or virtual game nights, said Saitowitz. The company's on-demand and Zoom-enabled HIIT and strength training classes have been especially popular among groups of employees. As of January 2021, 10% of Fhitting Room's revenue comes from private corporate sessions, with half of those being recurring classes. Prior to the pandemic, corporate clients were only considered on a case-by-case basis, as it was an area Fhitting Room wasn't focused on at the time, Saitowitz said.
She said most new corporate clients have come in via existing customers' referrals; the company immediately began offering customized plans that cover the new virtual live and on-demand classes in March. To cater to these groups, Fhitting Room instructors have also pre-recorded content for company off-sites and industry conferences. And to reach more employers, the studio is in the midst of hiring a corporate sales team, which Saitowitz said until now wasn't necessary. 
For gyms, scrambling to provide virtual workouts for at-home employees was somewhat of a temporary solution last spring, said Marco Crespo, chief commercial officer at virtual fitness class marketplace Gympass. But almost a year in, the pivot has become a long term portion of many brands' strategy, he said. According to the company, since the start of the pandemic last year Gympass has signed on more than 500 new corporate clients globally — and has seen increased interest from businesses seeking out virtual fitness benefits. Newly-added employers include Shipt, Garmin and Zynga. 
Gympass, which partners with over 50,000 gym and studio partners across the country, has about 2,000 personal trainers on the platform for one-on-one sessions. Crespo said that Gympass, which works with corporations like GE, Unilever and PayPal, added "one of our largest clients last August." 
"For employers, [digital fitness] combines team building and health perks to relieve burnout," said Fhitting Room's Saitowitz. "A lot of the 'wining and dining' is gone, so virtual workouts are one of the few activities left besides happy hour."
The pivot has also made expansion easier. "Now we're essentially a borderless gym, and can onboard clients across the country," she said. While appealing to corporate accounts isn't a pandemic-specific trend, the virtual advantage has "opened our eye to how big this segment of customers is," she said.