'Growing at a faster rate than DTC': Inside Public Goods' new wholesale strategy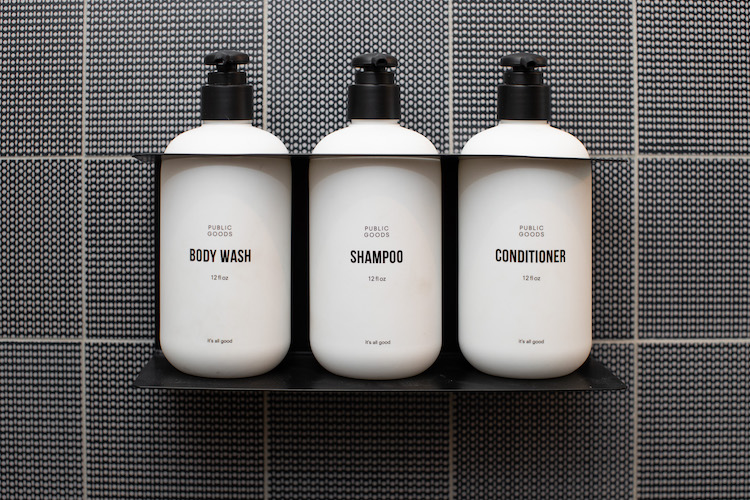 Image via Public Goods
CPG brand Public Goods is leaning heavily into its hospitality business-to-business operation — so much so that hospitality wholesale revenue now accounts for 60% of the brand's B-to-B total sales. 
Public Goods was founded in 2017 and, at first, sold personal care and home essentials solely on its website through an exclusive membership. The concept was to offer customers affordable packaged goods — such as bath, kitchen and home cleaning products. Over the years, the company tried out wholesale by selling at chains like CVS. Now, Public Goods has shifted its wholesale strategy — and is instead targeting hospitality businesses in a bid to both increase brand awareness and grow revenue.
The new strategy seems to be working. In 2021, Public Goods experienced 328% year-over-year B-to-B sales growth — which the company credits with its newfound whole emphasis. It currently has 800 B-to-B partners and plans to add hundreds of more this year. 
"The B-to-B side is growing at a faster rate than DTC right now," Christopher Breen, head of partnerships at Public Goods, told Modern Retail. 
"At the beginning of Covid, we leaned into retail expansion," Breen said. Public Goods announced a retail partnership with CVS in August 2020, but it has since pulled its products from the drugstore chain. Instead, Breen said the company has focused its consumer-facing business on its own website, alongside online marketplaces and fast delivery platforms like FastAF and Gopuff.
Rather than trying other big-box retail partners, Breen said Public Goods then "focused on local stores that grew brand value through merchandising and storytelling."
Throughout the pandemic, Public Goods has expanded its wholesale partnerships into rental homes and hotels, mainly in the New York metro area. Last November, for instance, Public Goods became available in New York City's newly-opened Civilian Hotel. It also inked a partnership with startup Tulu in 2020, which supplies apartment building lobbies. In addition, the brand has been working with Minoan and HostGPO, two hospitality startups that supply CPG products to vacation rental hosts, Breen said. 
David Schneidman, director at Alvarez & Marsal Consumer Retail Group, described Public Goods' strategy of seeking out more curated whole partners as "taking a page out of the alcohol industry." That is, some higher-end spirit brands eschew larger retail partners like nameless liquor stores and instead focus on smaller partners like cocktail bars to better showcase and market the products. "If done correctly, focusing on alternative physical avenues diversifies touch points with consumers while creating an experience," Schneidman said.
Now, after witnessing the past year's growth, Public Goods is seeking out more wholesale retail partnerships in new areas — and is rethinking its marketing strategy.
It's trying to use its ads to acquire DTC customers as well as recruit buzzy retail partners to feature its products. With that, Public Goods now promotes the wholesale business on its website's homepage and throughout its social media pages.
Often, the company said, a DTC customer who owned a small business became wholesale partner. That's required the sales and marketing teams to work more closely. "Until now, our team was pretty siloed, but we're learning to grow both sides together," said Breen. 
This requires more manpower on a daily basis, he said. As a result, Public Goods plans to hire more salespeople to fulfill demand. "Until now, we've just been focused on closing inbound deals, but we want to hire for more specified roles that allow us to pitch new businesses," he said.
Public Goods is also trying to figure out how best to grow its DTC customer-based via its wholesale partners. For instance, Public Goods is currently experimenting with QR codes to better track DTC sales coming from their hospitality presence. 
Kiva Dickinson, co-founder of Selva Ventures, said that brands selling their products to hospitality players is a clever promotional strategy. "It's a marketing channel that you get paid for." In the past, the tactic worked for luxury fragrance brands like Aesop and Le Labo.
However, it's hard to do as a bootstrapped DTC brand, Dickinson continued. "You need high quality people who have relationships and the ability to hustle and close deals," he said. Dickinson pointed to Selva-backed Mud/WTR, a coffee alternative, which has plans to roll out wholesale by having cafes and gyms' coffee bars use it. "I think we'll be seeing more brands testing this channel in the coming years," he concluded.
For Public Goods, there is "no ceiling" on supplying businesses with the brand's products, said Breen. "We see this as just the beginning for the B-to-B side."