Fabletics launches first Yitty by Lizzo shop-in-shop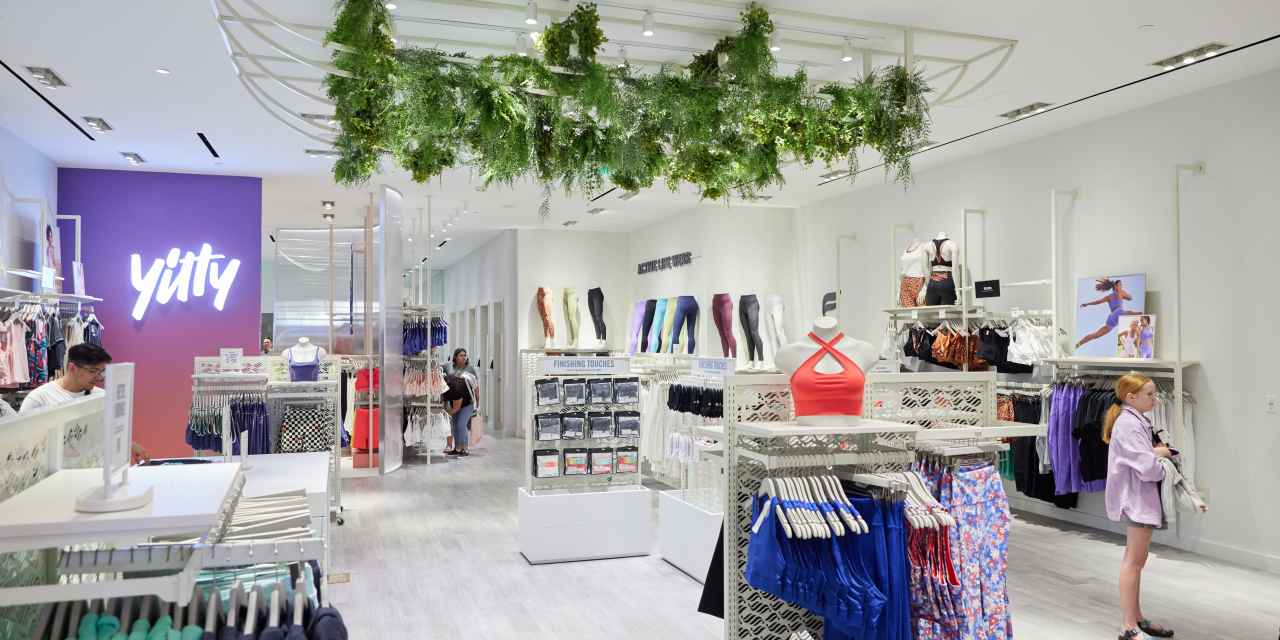 Fabletics
Just a few months after launching Yitty by Lizzo, activewear brand Fabletics has introduced the first Yitty shop-in-shop in one of its existing stores on Saturday.
The first Yitty shop-in-shop within Fabletics is located in Fashion Place Mall in Murray, Utah. The dedicated Yitty shop takes up 350 square feet of space in the Murray location and features a curated assortment of Yitty shapewear products, including some of the most popular items. Fabletics said it plans to open a Yitty shop-in-shop in three other locations this year.
Yitty, a shapewear brand made for all body types, was unveiled by Fabletics in April in partnership with Grammy award-winning artist Lizzo. The company said the dedicated Yitty shops are an opportunity for the company to promote the brand as shapewear is a new category for Fabletics. 
"Salt Lake City in general is a really good market for us. We have a lot of members that live in the market," said Ron Harries, senior vice president and head of retail at Fabletics. "Part of it is also just where it fell into the calendar in terms of how quickly we were able to bring this one to market versus a couple of other also great locations that are coming up this year."
Fabletics is a celebrity-backed company that started in the athleticwear category selling products like leggings, joggers and sports bras — as well as loungewear and swimwear. Its co-founders, Adam Goldenberg and Don Ressler, launched the company in 2013 with actress ​​Kate Hudson. Fabletics said that it has surpassed $500 million in annual revenue in 2021. In April last year, The Wall Street Journal reported that Fabletics was preparing for an IPO.
The dedicated Yitty shop in Murray is also the first location to have Fabletics and Yitty co-branded exterior signage. The shop-in-shop is separated from the rest of the store by a curved glass wall and features a fully inclusive mannequin setup, which builds on the brand's idea of offering products for different body types, with sizes ranging from size 6X to XS. Digital display screens, custom lighting and a Yitty branded wallpapers are also found in the dedicated shop.   
In preparation for the launch, all Fabletics employees have also received some training on Yitty products.
"It's a new take on shapewear and fashion," Harries said. "The shop is there for that reason, just to really let people know about the brand and make sure that we're giving them a top-quality, innovative experience and introduce them to the brand in the right way."
Online, Fabletics has been using its name recognition to introduce shoppers to the Yitty brand, now dedicating a section on its homepage to the shapewear collection. On social media platforms like TikTok, the Yitty brand has also gained significant traction since launch. On the video-sharing app, videos under #Yitty have a total of over 65 million views. Yitty also opened a pop-up in a Glendale, California shopping center called Glendale Galleria, which has a dedicated team of associates who are tasked to talk to people about the products.
Like Fabletics, other retailers have also been building out shop-in-shops in their retail locations. Target, for instance, has launched dedicated stores for Apple, Ulta and Disney in some of its locations. Kohl's is in the process of growing the number of Sephora shop-in-shops in its stores.   
Greg Ng, CEO of the consulting firm Brooks Bell, said that shop-in-shops create a fresh shopping experience for customers. For Fabletics, it gives the company a chance to better define the identity of its internal brands without having to dedicate capital to additional real estate, he said.
"It's sort of an endorsement to have a shot inside of a shop, representing another brand," Ng said. "It also expands the reach for both brands and it helps define a kind of reputation and feeling that shoppers have interacting with those retailers in a way deeper way."
Chris Jones, managing partner at digital marketing strategy firm Markacy, said that a big risk for these shop-in-shop concepts is whether the customers of both brands have similar qualities or similar preferences. Retailers also have to evaluate whether the infrastructure buildout is worth the cost. 
Over time, Jones said the shop-in-shop concept may evolve. Retailers might start to experiment with how they present shop-in-shops in their stores, such as the store's physical structure and it may even include augmented reality or virtual reality shopping experiences. 
"Looking forward, we would expect that evolution to really be the design and the implementation of the shop-in-shop," Jones said. "I think it's it's a newer term from our perspective, but different types of kiosks and pop-ups have been really increasing in popularity for years now."
Harries said the company plans to continue opening more dedicated Yitty shops at as many Fabletics locations as possible if the store footprint allows it in the coming years. The company is also looking into opening shop-in-shops for its other brands. Fabletics, JustFab and Savage X Fenty all operate under brand incubator TechStyle Fashion Group's portfolio. By the end of the year, Fabletics is set to have over 100 storefronts globally.
"I think the biggest learnings from this one would be to engage with your partners at every step," Fabletics' Harries said. "[Lizzo] has been so open to talking with every single person she can possibly talk with."