Earnings
// November 18, 2021 ■ 3 min read
Sephora shop-in-shops are helping Kohl's draw young, new customers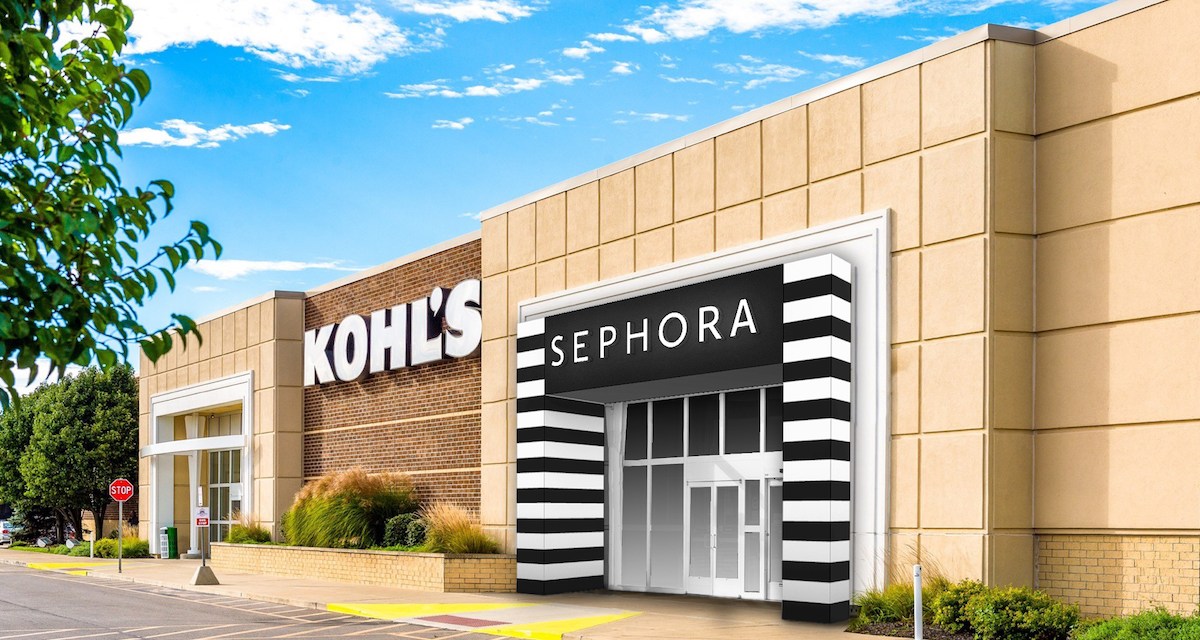 Image via Sephora
Kohl's recent Sephora partnership is already helping the department store's sales.
According to a statement issued by Kohl's CEO Michelle Gass during the company's third quarter earnings today, the new Sephora locations are already helping Kohl's draw younger, more diverse customers. After opening the first locations in August, Kohl's and Sephora have opened 200 shop-in-shops so far — which take up about 2,500 square feet — and plan to have at least 850 locations by 2023. 
During the third quarter, which coincided with the Sephora store-in-store rollout, over 25% of Sephora-at-Kohl's customers were new to shopping at Kohl's, Gass said. The Sephora partnership, combined with other merchandise investments, is helping drive an influx of new customers to Kohl's. That's helped the department store chain get back to profitability after experiencing massive losses in 2020 during the coronavirus shutdowns. 
In its third quarter of 2021, Kohl's' total revenue increased by 15.6% year-over-year, to $4.6 billion. Comparable sales were up 14.7% compared to the same period in 2020. The retailer returned to profitability during the quarter, with net income of $243 million, compared to $12 million in losses last year. The company credited the results to its new merchandise offerings, including more athleisure lines and the rollout of Sephora shop-in-shops earlier this year.
More so, the Kohl's locations that already have a Sephora are seeing "mid single-digit lift to same-store sales" compared to locations that don't have a Sephora yet. "When we're up to over 600 [locations] next year, you can only imagine the millions and millions of customers that we're going to be introducing," Gass said. "So it's already meaningful and that will only grow." 
Indeed, fresh Kohl's initiatives like Sephora hubs as well as the Amazon returns desks it added in 2019, are helping keep the retailer relevant among younger customers.
Jeff White, CEO of location intelligence provider Gravy Analytics, said Sephora's presence is already helping increase customer loyalty for Kohl's. According to Gravy Analytics' recent consumer trends report — comparing visitor behavior at various retail chains between the first and third quarters of 2019 to the same period this year — Kohl's saw a 5.5% increase in the percentage of visitors who returned to their stores within 30 days compared to 2019. 
These improvements signal that Kohl's is focused on becoming a one-stop shopping destination through its wide-ranging product mix, said White. In addition to the Sephora partnership, Kohl's has also increased its activewear and casual apparel inventory to better serve customers' current lifestyle, according to its earnings statement.  
This week, Kohl's also announced an exclusive collaboration with Reese Witherspoon-owned brand Draper James, coming in February 2022. Called Draper James RSVP, it will feature everyday pieces like dresses and blazers; the brand will be merchandised "adjacent" to the retailer's Sephora setups as well as the Kohl's website, according to the company.
Kohl's isn't the only big-box chain that has struck a partnership with a beauty retailer recently. In November 2020, Target announced that it would ultimately open 800 of Ulta shop-in-shop, with 100 planned for the coming year. The two companies began opening these locations in August 2021, offering Target customers beauty, skincare and bath products from over 50 brands that Ulta carries in its own stores.
Indeed, in its latest earnings this week, Target said its beauty and wellness assortment has increased since the retailer began rolling out Ulta shop-in-shops last summer. According to Target, beauty is one of the merchandise categories that saw "double-digit growth in the quarter, ranging from the low double-digits to the mid-teens," last quarter. 
Still, the early wins are only the first step in Kohl's post-pandemic recovery, said GlobalData Retail analyst Neil Saunders. He said that while the latest investments like building Sephora shop-in-shops is pushing the retailer in a good direction, he believes Kohl's has to continue decreasing reliance on discounting to improve profitability — and then invest those gains back into modernizing stores.
"Fortunately, Kohl's has some breathing space to implement these changes," Saunders said.