DTC Briefing: For health and wellness brands, January is the 'most critical month'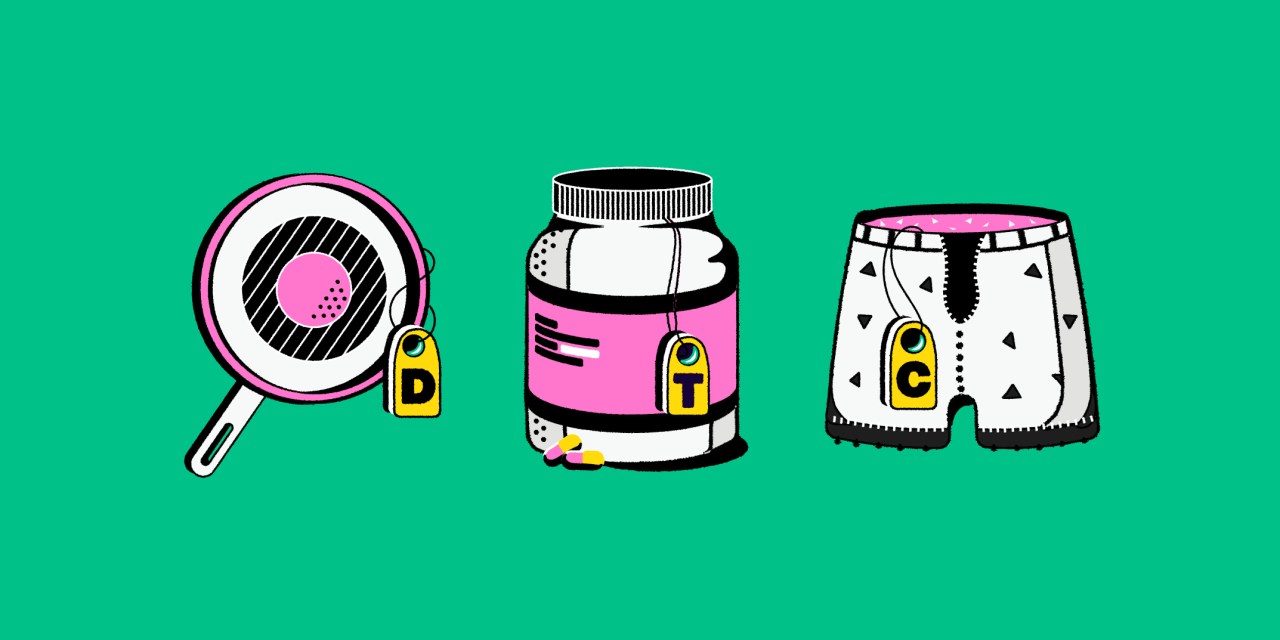 Illustration by Ivy Liu
This is the latest installment of the DTC Briefing, a weekly Modern Retail+ column about the biggest challenges and trends facing the volatile direct-to-consumer startup world. More from the series →
This is the latest installment of the DTC Briefing, a weekly Modern Retail column about the biggest challenges and trends facing the volatile direct-to-consumer startup world. To receive it in your inbox every week, sign up here. 
For health and wellness brands, January is the new December. 
Most retail companies have been laser-focused on driving as many sales as possible from Black Friday through Christmas, and are taking January to cut back on marketing. But for startups that sell workout supplements or vitamins, one of their biggest sales months is just getting started. 
"It is our most critical month of the year," Matt Carrington, chief marketing officer at supplement brand Athletic Greens told me. Since the new year is a time when many people have New Year's resolutions focused on improving their health, executives at three health and wellness brands told me that it's a big time for new customer acquisition. 
This year, they are employing a spate of strategies. Larger brands are trying to convince customers to buy their particular supplement or vitamin bundle by ramping up investment on channels like podcast and TV advertising, in addition to Facebook. Meanwhile, newer startups are focused on getting the word out about their product through blog posts and other educational content designed to improve their SEO rankings. 
New year, new customers, new churn
The next few weeks are going to be big for health and wellness brands. Carrington said that for Athletic Greens, new customer acquisition in January will rise as much as 250% to 300% compared to December. The company is hoping for a similar spike this year. 
Executives at other health and wellness brands echoed Carrington's sentiment that the new year is an important time for bringing on new customers. "As a membership model, we look at how the mindset of 'new year, new you' brings members who are interested in the microbiome and probiotics as a new area of health and self-care," Ara Katz, co-founder of probiotics supplement brand Seed said in an email.
But, executives acknowledge that retention can also be a challenge during this time. In a Bloomberg profile of fitness app Strava last week, company executives said they internally dubbed January 17 "quitter's day" because that's when traffic typically takes a nosedive after spiking in the new year.
Athletic Greens operates primarily on a subscription model, with a monthly subscription starting at $79 per month currently, while a one-time purchase of its supplement costs $99. "With January there is always a bit more of a struggle in being able to maintain our really high retention rates," Carrington said. "So the team is investing a lot to be able to [improve retention]." He declined to share its current retention statistics. 
Cutting through the noise
Given how many people embrace — and then quickly abandon — New Year's resolutions, all of the executives I spoke with said that in their marketing messaging during January, they typically use language around helping people build "habits" versus achieving their resolutions. Educating people on the specific benefits of their particular product is also a big focus, as well as using various tactics to encourage people to come back to their websites if they are still early in their research phase.

But, depending on the size, different brands are employing different strategies. For Athletic Greens, 2021 in general was a big year for raising brand awareness.
The company took on its first round of outside capital in its 11-year history, bringing on celebrity investors like Lewis Hamilton, Cindy Crawford and Robin Arzon; the company said in July it had reached a $100 million annual run rate. Carrington declined to comment on updated 2021 revenue figures.
As a result, Carrington said that the company focused last year on "scaling" on three different advertising channels: TV, out of home and direct mail.
This year, the plan is to iterate on what worked in 2021. "We will test our channels through the prior calendar year really with the idea that we are getting strong learnings and that we are able to set up January for massive success in terms of scale and knowing what works," he said." He cited podcasts and influencer marketing as two other important advertising channels for Athletic Greens. 
For other startups, the focus is on finding customers seeking out new wellness habits — and introducing them to the brand. "If people are just discovering our brand during this time and maybe not ready to purchase, then we're looking at the content they are engaging with, and making sure there is an opportunity for them to sign up for an email list — and maybe get a discount later down the line," said Katie Webb, founder of two-year-old supplement brand Aila. 
Webb said that a big focus for her company over the past couple of years has been in publishing blogs and articles to help improve the brand's SEO rankings. It's also a tactic she plans to invest in more in January as more people research various new health products. She said that blog posts about specific ingredients in her products  – for example, the benefits of Spirulina — have historically performed well.  
Katz, meanwhile, said that Seed health is doing a campaign on its social media channels about "unpacking gut mania" and encouraging people to do more research on "the confusing world of probiotics." 
Beyond the customer acquisition, this month may also be a bellwether for what's on the horizon. Carrington said that beyond just bringing in new customers and new sales, January is also an important month for health and wellness brands like Athletic Greens to better project what kind of growth they can expect the rest of the year. 
"It gives us a baseline for operating into the new year, and it really helps us to nail down what our plan will look like — in this case — going into 2022," said Carrington. 
Foxtrot raises $100 million
Modern convenience store Foxtrot announced a new round of funding this morning, a $100 million Series C. That comes less than a year after the company raised a $42 million Series B.
Foxtrot co-founders Mike LaVitola and Taylor Bloom told me that the influx of capital will primarily be used to help the company open more stores. Foxtrot has 16 stores today and plans to open roughly 25 more this year. And, to hire more people — in particular, to roughly double the size of its engineering team.
There's a variety of ways people can shop at Foxtrot: in-store, via a 30-minute delivery service, or a 5-minute pickup offering. Additionally, Foxtrot's merchandise varies by city, as the startup will often make room for products from local beloved brands like Jeni's Ice Cream in Chicago.
All that, Bloom says, made it necessary for Foxtrot to build out a variety of in-house tech tools, like a custom inventory management system. "At our first store, we were literally managing inventory in Google Sheets," he said. These backend systems all connect with the user-facing tech Foxtrot has built, such as in-house loyalty program called Perks as well as an app. That way, Foxtrot can more efficiently notify users if a particular item is out of stock at say, its Lincoln Park location in Chicago, but it's still available at its West Loop store.
Bloom and LaVitola said that having these in-house tech tools have also helped Foxtrot build out its private-label offerings, by making it easier to collect data on what customers are buying, and how frequently. Bloom said that Foxtrot loyalty members, on average, shop with the company ten times a month, with about half of those shopping trips taking place in-person.
Private label products now constitute 30% of Foxtrot's revenue, and the company plans to launch about 200 private label SKUs this year.
What I'm reading
Rihanna's

Savage X Fenty

is getting into physical retail. The lingerie brand will

open five stores in 2022

in Las Vegas, Los Angeles, Houston, Philadelphia and  Washington, D.C, Footwear News reported. 

Over the past six months, some of the fastest-growing DTC brands by website traffic have been

athletic apparel brands

like

Alo Yoga

and

Tracksmith

, Retail Dive found. 

Business Insider has a rundown of the

14 most powerful executives

at

Shopify

. 
What we've covered
Modern Retail+ subscriber exclusive: CPG brands want to be on ultra-fast delivery apps like Jokr and Gopuff — and these apps are happy to spend their VC dollars on promoting startups.

After a

record number of consumer IPOs

last year, the pressure is now on for

newly-public startups like

Allbirds and Rent the Runway

to prove they can be profitable. 

Omicron isn't slowing down

new DTC store openings

, but some brands like

Thousand Fell

are halting in-store events or reducing hours for the time being.