CPG conglomerates eye the ready-to-drink cocktail market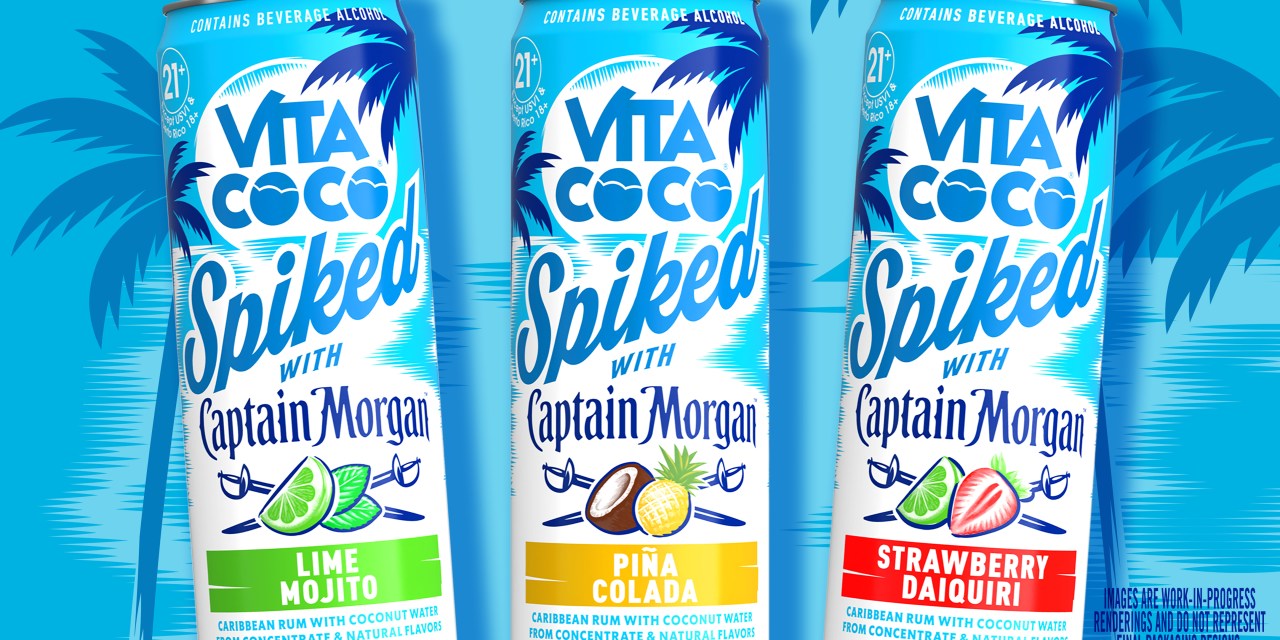 The Vita Coco Company
As ready-to-drink cocktails take center stage, large brands are looking to take a share of the market.
Beverage alcohol company Diageo and The Vita Coco Company, a company commonly known for its coconut water products, announced on Tuesday that they're launching a line of canned cocktails. And in June, Coca-Cola and Brown-Forman unveiled plans to release a Jack Daniel's Tennessee Whiskey and Coke cocktail around the world, starting in Mexico this year.  
Convenient alcoholic drink options are certainly having a moment — and retail giants are beginning to take notice. Ready-to-drink cocktails — or RTDs — were ranked as the top adult beverage consumers plan to buy more of this year, with 73% of respondents saying they most likely would enjoy RTDs at home, according to a recent survey from alcohol delivery platform Drizly. The entry of large brands into the RTD category has the potential to drive innovation among players and grow RTD's popularity among consumers, experts said. 
When bars closed and consumers were stuck at home during the pandemics' early days, demand for RTDs grew alongside demand for alcoholic beverages in general, experts said. Volume sales of RTD spirit-based cocktails were up 226% from 2016 to 2021, according to market research company Mintel.   
"[In] times of stress and uncertainty, a lot of times sales of alcohol will go up," said Scott Dicker, a senior market analyst at market research firm Spins. "Without the option to go and have a professional build those drinks for you, people were turning to the grocery store and other liquor stores and whatnot to get some of those more specialty craft cocktails."
Over the last few years, several startups have emerged. Gin-based cocktail brand Long Drinks, which first arrived in the U.S. in 2018, saw its month-over-month sales grow 600% to 700% in 2021. Sparkling tequila brand Onda, for instance, launched in July 2020 and it quickly expanded into 30 states in its first year. Zuzu, an agave-based sparkling cocktail that launched in early 2021, also hit the ground running by launching national direct-to-consumer shipping. 
But larger players are entering the space — and they could potentially disrupt the momentum of these startups, experts said. Food company PepsiCo, in partnership with The Boston Beer Company, released an alcoholic version of the original Mtn Dew, Baja Blast, Black Cherry and Watermelon in February, called Hard Mtn Dew. Even retail giant Target launched its own selection of pre-mixed cocktails, called Casa Cantina in June.
Beer company Anheuser-Busch InBev said in its May earnings call that demand for ready-to-drink cocktails is growing rapidly. "Despite of the fact that seltzers are growing less or declining, the beyond beer [category] overall is growing and is being led by ready-to-drink cocktails," said CEO Michel Doukeris.
"A constant thing that happens with large companies is when they start to recognize that there is a consumer demand for a product or a startup is starting to eat their lunch, they jump in and create a competing product," said Nik Sharma, CEO of strategic initiatives firm Sharma Brands and co-founder of marketing firm Hoox. "These larger companies are the ones with the budgets to work around the legal ramifications of shipping and distributing alcohol." 
Despite being new entrants in the RTD category Sharma added that these large firms already have some advantages over the smaller beverage firms that have enjoyed the demand for their products. These conglomerates already have years-long relationships with retailers, shelf space and a robust supply chain system, which includes a fleet of trucks. Sharma said it is much easier for these retailers to test out new products. 
When hard seltzer brands like White Claw became the drink of choice for many people, large brands soon swooped in to gain a share of consumers' alcohol budgets. Coca-Cola and Molson Coors Beverage Company back in 2020 announced that it is planning to launch Topo Chico Hard Seltzer. Anheuser-Busch InBev also unveiled the Bud Light Seltzer in 2020 featuring four flavors.
Soon enough, players in the hard seltzer category began to expand their offerings. Anheuser-Busch InBev introduced Bud Light Seltzer hard soda, while Coca-Cola and Molson Coors Beverage Company expanded its line of seltzers with the release of the Margarita Hard Seltzer Variety Pack. To combat the competition in the category, White Claw released a variety of hard seltzer iced tea flavors in 2021 and, in May this year, it released its alcoholic take on lemonade with the launch of Refrshr.
"It really drives a lot of growth for the category in general with these entrants, because it forces a lot of those small and emerging brands to continue to innovate," Spins' Dicker said. 
Experts said the innovation that hard seltzers saw could soon happen to RTD cocktails. Last year, Anheuser-Busch was already testing out Boxology Cocktails in select areas with the idea of offering customers bartender-quality cocktails in a box. 
In this case, startups may be in an advantageous position because of their ability to pivot faster than conglomerates which tend to operate at a much larger scale. 
"I would take a look at the coolers at all your parties this summer, and you'll notice that the cans are going to look a lot different than you're used to," Dicker said.