Podcasts
// December 23, 2021 ■ 5 min read
Chain Reactions: Paravel's Andy Krantz on getting creative to make the most of container ships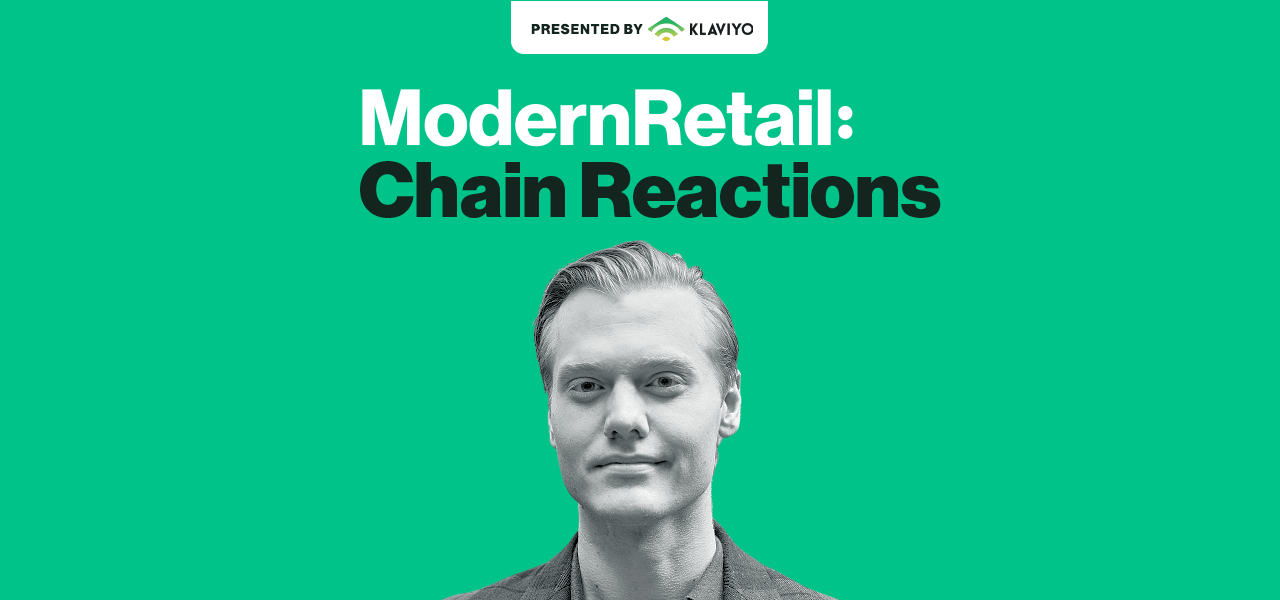 Subscribe: Apple Podcasts | Stitcher | Google Play | Spotify | RSS
As securing space on container ships gets more expensive, brands are coming up with creative ways to make sure their products take up less space.
One such company is DTC luggage brand Paravel. Since launching in late 2016, the company has been working on ways to reduce its carbon footprint and optimize its freight routes. One reason for this is because the majority of Paravel's products are made across Asia and in Italy — two hubs that experienced delays during the pandemic. These delays prompted co-founders Indré Rockefeller and Andy Krantz to get creative with Paravel's container packing methods.
Instead of shipping empty suitcases, in the past year the company created a packing consolidation program for its manufacturing and loading crew. This process entails nesting Paravel suitcases and carry-on bags inside each other before being shipped to the U.S. While this requires a lot of coordination between manufacturers and offshore logistics, the results are worth the planning, co-founder and CEO Krantz said on the Modern Retail Podcast. 
This program is also influencing Paravel's future product design and configurations. "There's an element of innovation and spatial consideration that this process has introduced and made tangible for everyone on the team," Krantz said. "From our production and product development folks, to our marketers, to our finance and operation teams." 
This conversation is part of a series, called Chain Reactions, in which Modern Retail explores the quick and long-term investments brands are making to minimize their supply chain woes. 
Here are some highlights from the conversation, which have been edited for clarity.
A natural rush to tertiary ports
"Everyone who is hedging their risk right now is going to move into the secondary ports. So we need to actually go one step beyond that and say, 'Okay, what's a port that is tertiary, and not even in consideration for folks because it requires large-scale changes, such as the number of containers that you could get onto the ship?' Maybe it's a smaller port, so it can't quite handle ships of the size and scale that we see dominating the ocean cargo world today. In doing that, we tested a couple of ports, but the tricky element of it was finding a port that had capacity. So it was this kind of Goldilocks moment of looking for that perfect port, and we ended up going outside the U.S. for it and identifying a port in Mexico that required a quite different framing route. We were no longer going out of our typical route in Asia. There was also an incremental stop for the vessel.. in Korea. Then it continued on… It added complexity to our overarching cargo and freight movements. In reality, because so much of the issue was just straight-up congestion, we went from these 70-day transits back to 30 to-35." 
A sustainable solution that also saves money
"We recognized that in our normal environment for freighting, we were ending up shipping a lot of air. When you think about suitcases, you have this large external container effectively and inside of it is nothing… As all of this [disruption] was erupting, it occurred to us that it was getting nearly impossible to acquire containers, let alone just pay for the exorbitant prices. It was 5x what we had seen historically for just the cost of the container alone. We realized that what we could do was take the fact that we were shipping packages and use it to our advantage by implementing a consolidation program. Our first foray into this was the very simple process of taking our larger suitcases and having a Russian nesting dolls system for them. So we'd have our largest suitcase, inside of that would be our second largest size and then inside that is our international carry-on size. But, again, we kept seeing prices increase. And it occurred to me that even in that sort of a setup, there's a lot you can fit into our smallest size suitcase… At the same time, we have all of these goods — particularly in a series that we call our fold-up collection, or a negative nylon collection — of backpacks or duffel bags that fold down into a pouch the size of a small paperback novel. So we took our goods that were being produced in disparate regions, and used local land transport to bring them to a central area for consolidation."
The influence on product development
"There's an element of innovation and spatial consideration that this process has introduced and made tangible for everyone on the team — from our production and product development folks, to our marketers, to our finance and operation teams. And that special consideration has led to a new element of ingenuity, even for products that have been in development for quite some time. For example, we have a certain type of carrier, a kind of a personal item for folks on an airline that has a rigid construction. It would normally take up quite a large size in a container. But we're seeing if there is a way for us to consider product design that gives us the option to optimize volume, to be taking up the least amount of air to be shipped. With new products that we'll be taking to market over the spring of next year, we've created a simple assembly for products. We realized we could add one step for folks that would allow us to ship an item flat packed, as opposed to shipping it fully extended and rigid."