Bloated brands are looking to spin-offs to save themselves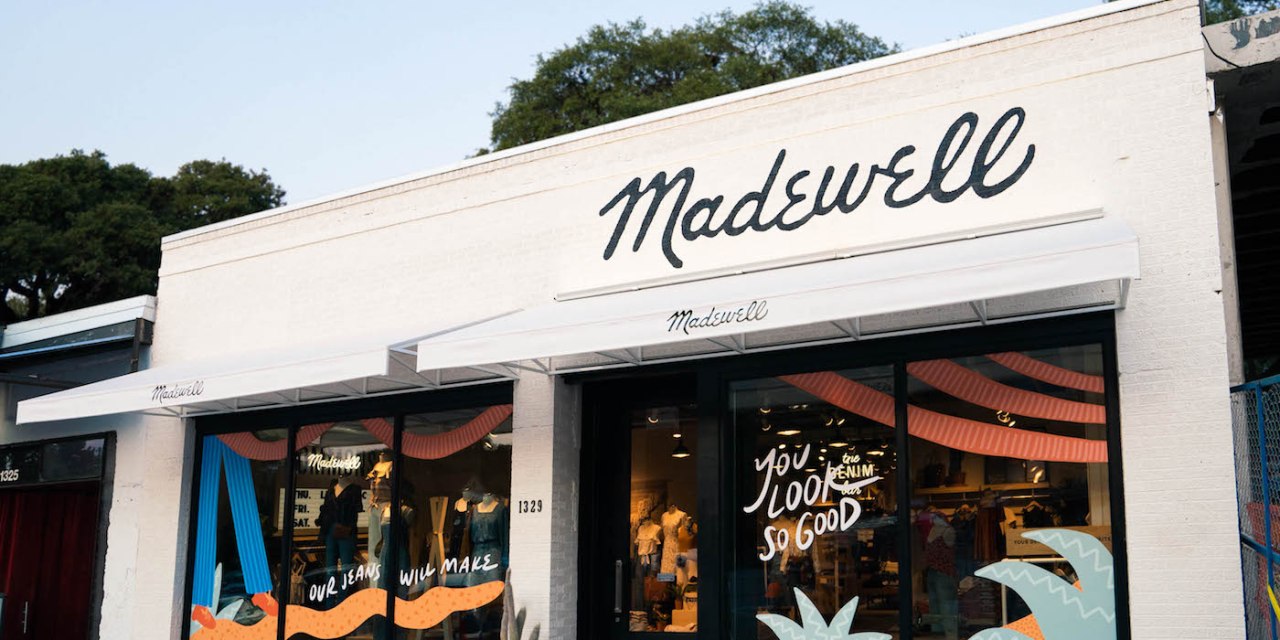 Brand groups that have struggled to grow sales are moving to offload their best-performing assets.
J.Crew Group Inc. confirmed last week that it is considering taking its denim brand Madewell public as a separate company, potentially during the second half of the year. The news comes after J.Crew announced last week that it was appointing Madewell president Libby Wadle as the brand's first CEO. And in February, Gap Inc. announced that it would spin off Old Navy as a separate brand.
The respective parent companies of Old Navy and Madewell have used the growth of their crown jewels to buoy otherwise unimpressive results for a few years now. Last quarter, Madewell posted a 32% growth in sales, while J. Crew's sales fell by 4%. Madewell generated more than $500 million in revenue last year, accounting for about a fourth of J. Crew Group's sales, but has seen its sales grow faster than its parent retailer since 2014.
Old Navy, meanwhile, generated $8 billion in revenue last year, compared to the $9 billion generated last year by all of the other companies under the Gap umbrella. Gap's sales have declined or stayed flat for the past four years, but they have risen at Old Navy during that time period.
Old Navy and Madewell are ideal brands to spin off, as both have managed to consistently increase sales for the past couple of quarters, and still have room to grow through new markets or untapped product categories.
For Gap, spinning off Old Navy ensures that that it will no longer compete with its namesake brand, and it can focus on new initiatives. Gap CEO Art Peck has said that he wants to build a brand identity for New Gap centered around "sustainability and social responsibility," led by Athleta, which is a Certified B Crop.
For J. Crew, the benefit of spinning off Madewell is that it gets an immediate cash infusion. Madewell is still a relatively small brand, but time is of the essence. J.Crew needs some way to pay off its $1.7 billion in debt, and the surest path to doing that right now is by spinning off Madewell before it's dragged down by its parent company. J.Crew has not yet given much indication about how it wants to position the brand sans Madewell, but J.Crew's other sub-brands — the short-lived brands Mercantile and Nevereven were shuttered last November — implications that J.Crew believes that its best path forward is by entirely focusing on its namesake brand.
"The decision to spin off Old Navy and Madewell by their respective groups underlines the fact that there is a lot of polarization in retail right now," Neil Saunders, managing director of GlobalData Retail, said in an email. "When good and bad brands sit together in one group it is hard to maximize the value of the good brand and sometimes to give it the finance and focus needed to grow."
Madewell, launched in 2006, first started selling only denim, and then expanded to other clothing categories, and has just 131 brick-and-mortar stores. Madewell has the opportunity by growing a lot simply by opening more stores, and by targeting the men's market — Madewell just launched its first men's collection last year.
Whereas Madewell is "the only part of J.Crew that's working," according to Saunders, Gap has two shining stars right now — Old Navy and Athleta. However, Athleta is a smaller brand with just 161 stores. And Athleta fits better with the "specialty brands" image that New Gap is trying to cultivate, with Banana Republic and Hill City also remaining with the parent company.
While Old Navy is fairly well saturated within the U.S., Gap's CEO Art Peck said during the company's last earnings call that he believed there's still room to grow — particularly in areas that were once served by "general merchandise retailers" like Sears, JCPenney or Kmart, all of which are closing stores. Additionally, there's a lot of room for Old Navy to expand internationally — the brand currently has no company stores in Europe, and just 15 in Asia.
"Old Navy's growth will depend on continuing to introduce new trendy, low-priced clothes for its core target audience to retain their loyal customers," Ken Morris, principal at BRP consulting said in an email. He added that "many people may identify and associate the Old Navy brand synonymously with Gap, and that the key for Old Navy will be "to clearly distance itself from Gap during the spin-off."
—
Sign up for the Modern Retail Briefing to get retail news, analysis and insight delivered to your inbox every morning.