Earnings
// November 23, 2021 ■ 3 min read
Best Buy is investing in customer loyalty ahead of the holidays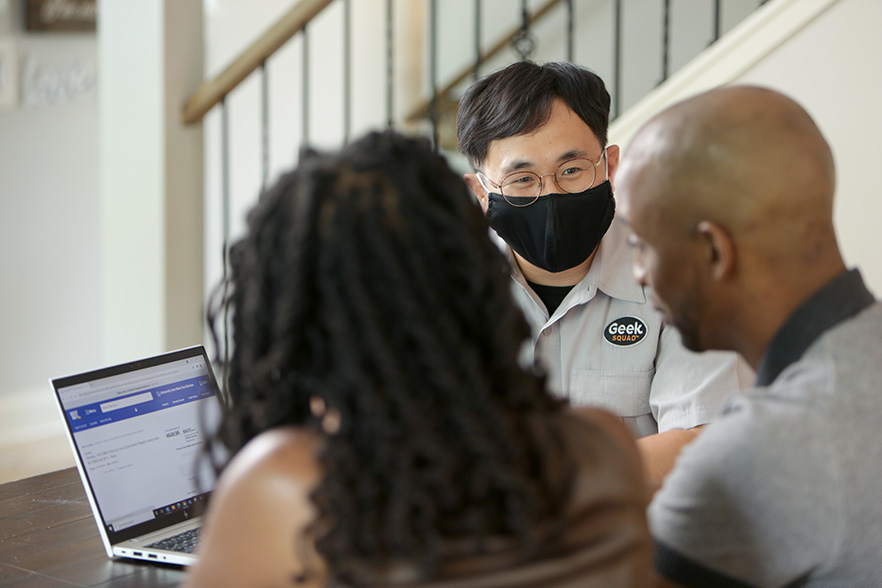 Best Buy
Best Buy's revenue growth is slowing, and the electronics retailer is betting on a new membership program to help drive sales through the holidays.
Though Best Buy today reported record revenue of $11.9 billion, the retailer's growth slowed to 1% year-over-year compared to 21% growth last year during the same time period. As the retailer's digital sales drop below 2020 numbers for the first time — down 10.1% this quarter — growth opportunities are slowing.
To stay ahead of these continued pressures and prep for the upcoming holiday season, Best Buy is placing its bets on loyalty. Last month the retailer rolled out its Totaltech membership program nationwide, which offers members access to tech services and discounts, as well as early access to products. Best Buy is hoping that the latter feature, in particular, is a popular selling point during a holiday season marked by concerns over low inventory. While the program has put short-term financial pressure on the company, analysts interviewed by Modern Retail, as well as Best Buy executives are betting on the program to provide long-term gains.
Matt Bilunas, Best Buy's CFO, said the electronic's retailer's performance this quarter was hampered by "lapping lower levels of promotions, product damages and returns compared to last year, as well as higher inventory shrink" during the retailer's earnings call today. Best Buy CEO Corie Barry added that organized crime put "pressure in our financials" and "pressure with our associates."
Like others in the consumer electronic space, Best Buy has had to balance general supply chain constraints with consumer electronic chip shortages impacting inventory availability in popular products ranging from the iPhone 13 to the PlayStation 5.
To stay ahead last quarter, Best Buy doubled down on health technology, adjusted store floors to better accommodate increased ship-to-store and curbside pickup orders and ordered more inventory earlier. This quarter, the retailer is also investing in loyalty.
Best Buy launched its TotalTech membership program nationwide in early October. For $199 a year, consumers receive free 24/7 Geek Squad tech support on products bought anywhere, 24 months product protection on any Best Buy tech purchases, unique discounts and early access to products.
Best Buy, explained Barry, wants to build "long-term relationships" with customers "that makes it inconceivable for members to purchase their tech from anyone else."
This quarter, TotalTech decreased the retailer's operating income rate 30 basis points and decreased comp sales in services by bundling previously standalone, services like warranty or installation, explained Bilunas.
"It is very early as we just launched last month, but so far we continue to see behaviors that we intend to drive and that we saw in the pilot, including more frequent interaction and higher incremental spend than non-members," added Barry.
Bilunas is confident that the program would soon "drive more product sales." Already, Best Buy is using its new membership program as a selling point during a holiday season in which the most popular electronics may be hard to come buy.
The retailer has given TotalTech members early access to both the Playstation 5 and the Xbox Series X|S. Moreover, each Monday throughout the holiday season, Best Buy will give members access to exclusive discounts on various products.
Dean DeBiase, executive chairman of software company Revive and Kellog Business School faculty member, believes the loyalty investment is showing early signs of success but has "a long way to go." DeBiase said he thinks there is more opportunity for Best Buy to incorporate more personalized offers into Totaltech — something that he thinks the electronics retailer will do as it adds more members.
"They're going to continue to grow because of everything that they've put together over the years," said DeBiase. "The whole omnichannel touch, having 100,000 employees that are tech experts and really putting together more personalized loyalty programs, I think they are going to do well in 2022 and 2023 as well."