'Beauty has always been political': Brands promote voter turnout in hyper-partisan U.S.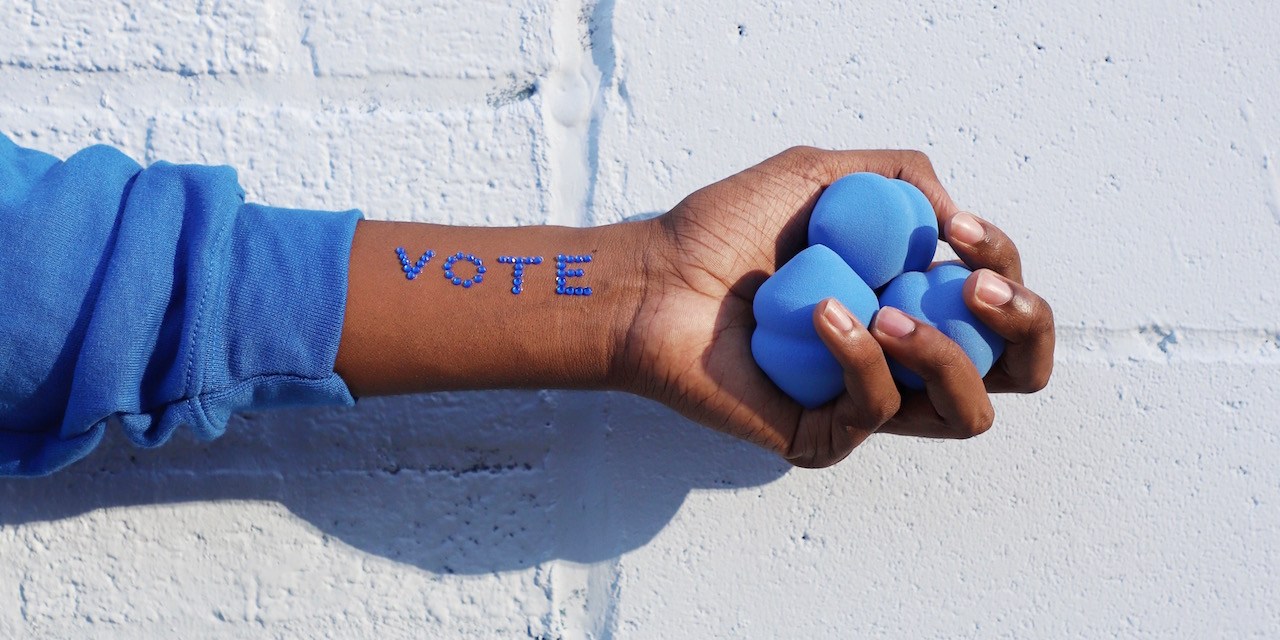 This story was originally published in Glossy.
Following a wave of fashion brands launching voting merch, beauty brands are rolling out their own get-out-the-vote efforts — with some more partisan than others.
With the U.S. election less than one month away, a growing number of beauty brands are promoting voter registration through social media campaigns and merch. Most brands have taken a stand on progressive issues, especially with their support for Black Lives Matter this summer. But in an America sharply divided along political lines, they are taking differing approaches on whether to directly (or indirectly) endorse a candidate. As brands are called upon to practice what they preach, the pressure is on for them to demonstrate authenticity.
Some beauty labels are openly calling on followers to vote for the Democratic nominee Joe Biden and running mate Kamala Harris. Beauty Bakerie, for example, shared voting guidance on its Instagram Stories over the weekend from activist organization Rally + Rise, which supports Biden. The brand also expressed support for Democratic candidates in down-ballot races, by sharing a link to donate to Jamie Harrison, who is running against Lindsey Graham in North Carolina for Senate.
But the most clearly pro-Biden brand label out there is certainly Biden Beauty, a brand that popped up on Instagram last week selling a blue makeup sponge and Biden merch. The first beauty brand selling pro-Biden products, it is donating 100% of proceeds to the Biden Victory Fund. Originally created by an anonymous team, the brand has been confirmed by TMZ to be affiliated with men's grooming and beauty site Very Good Light. 
"Vote"-emblazoned merch that has been ubiquitous in fashion has also made its way to beauty. Starface, for example, launched a set of "Vote" acne patches in partnership with the Alliance for Youth Action. The Lip Bar, Glossier and Kitsch are also offering merch in partnership with Michelle Obama's organization When We All Vote.
"We've never been shy about speaking out against injustices whether in beauty or in politics," said The Lip Bar founder and CEO Melissa Butler. Michelle Obama ("my forever First Lady," said Butler) previously wore the brand's special-edition collaboration lipstick. "This is our first year contributing financially to encourage voter registration. We've become more active because, in my opinion, the state of Black, brown and women's lives are at risk on a state and local level."
While many beauty brands previously remained apolitical, they have become increasingly willing to take stances strongly opposed by conservatives. This was the most readily apparent over the summer, when the majority of beauty brands came out in support of Black Lives Matter, despite Republican opposition to the movement. Brands that embraced Pride in recent years were critiqued for waiting for it to become a less polarizing position to participate.
"If you're not on one side or the other, you're standing in place; you aren't moving in either direction," said David Yi, a spokesperson for Biden Beauty and the founder of Very Good Light. "I would hope beauty brands can take this opportunity to show their consumers who they are, what they stand for and if they are in support of Biden or not." He added, "Beauty has always been political," citing moments throughout history including the Black is Beautiful movement.
"Companies really need to stand for whatever they really stand for," said Uoma Beauty founder Sharon Chuter, who has been an outspoken advocate for inclusivity as the founder of Pull Up for Change. She has stated her opposition to Trump on her personal Instagram account, while Uoma Beauty encouraged followers to vote via its social media account on National Voter Registration Day.  "We don't want performative activism; we don't want performative allyship," she said. "If you don't really care about voters and registration, you shouldn't use this as a marketing tool because that's what this is going to quickly become — where every company now has to jump on this as a marketing tool. Then it becomes more dangerous than helpful."
America's largest beauty company, Estée Lauder Companies, faced criticisms for hypocrisy regarding its expression to support racial equality this summer. Employees reportedly wrote a letter to the company's leadership calling for the removal of heir and board member Ronald Lauder, a major Trump donor.
"Ronald Lauder's involvement with the Estée Lauder Companies is damaging to our corporate values, our relationship with the Black community, our relationship with this company's Black employees and this company's legacy," said the letter. Since then, Lauder has remained in his position on the company's board and recently donated $1.7 million to the Safe Together New York Super PAC to defeat New York state Senate Democrats.
According to smaller startup beauty brands, younger voters expect authenticity from brands that are messaging around progressive issues.
"This is our first election as a brand, and many of our customers' first election that they're able to vote in," said Julie Schott, co-founder of Gen-Z brand Starface. Starface's other co-founder, Brian Bordainick, founded Super PAC Square One, which supports Democratic candidates in overlooked red districts.
"Elections would look very, very different if young people felt empowered and actually felt like their vote meant something," said Bordainick. "To be able to be a part of that narrative, I think it's extremely important, as a brand."
"If it's not coming from an authentic place, then it's not going to land" with Gen Z, added Schott.
"Gen Z is putting their money where their values are, and that is undisputed," said Chuter. "The values are what's bringing them in, and I think this is where a lot of bigger companies are getting stuck, because they just don't know how to answer that question."
The mainly female consumer base of beauty brands is also not lost upon brand founders. Women have been consistently shown to favor Biden in polls. The most recent YouGov poll has Biden in a 14-point lead among women nationally, while women are also shown to favor Biden even in red states.
Beauty brand Alleyoop, for example, launched a voter turnout campaign on October 1 called #WontBe53," aimed at changing the statistic that 53% of chronic non-voters are female.
"That statistic was jarring to us," said Leila Kashani, CEO and founder of Alleyoop. "That's kind of a shocking thing to think about."
Activists say that brands' campaigns need to be addressing one major problem with voter turnout that especially impacts hourly workers and people of color — not getting enough time off to vote. Some states don't require employers to offer paid time off to vote, and others' time allotments are limited to an hour.
On October 5, brand members of the Personal Care Products Council (PCPC), including Estée Lauder Companies, L'Oréal USA, Johnson & Johnson, Unilever and most other top beauty conglomerates, took a pledge to encourage employees to vote and provide enough time off to vote and volunteer as part of the "Time to Vote" movement. It has secured around 1,400 pledges from companies across industries. Others signing onto "Time to Vote" include Sephora North America, Glossier, Harry's, Inc., Sally Beauty Holdings, Inc., E.l.f. and LVMH North America.
Deciem will be giving all its employees a paid day off to vote, and is paying for transportation to and from polling stations. It is also paying to offset emissions from the transportation.
Companies must navigate Federal Election Commission regulations, when it comes to what they are and are not allowed to do with their voter turnout campaigns. Brands are turning to voter registration organizations to receive legal guidance on how to go about voting campaigns. Alleyoop, for example, partnered with Vote.org. The brand originally planned to give people free products for registering to vote, but the organization Vote.org helped it finalize a campaign to offer free products to anyone who pledges to register, in order to comply with regulations.
"If we really want to change a statistic, then we really need to do something crazy," said Kashani. "The craziest thing we can do is just give away free stuff." The brand is giving away a free product worth up to $20 to each person who pledges that they will vote while linking to voting resources. It plans to do the giveaway for the first 50,000 people who pledge, which adds up to $1 million in free products.
Beauty brands show varying levels of partisanship. NYX Professional Makeup has also joined the many consumer brands across industries supporting Michelle Obama's non-partisan When We All Vote. For its vote campaign, NYX commissioned an illustration by artist Monica Ahanonu, who has posted artwork in support of Biden and Harris on her Instagram account. Others are supporting the non-partisan 'I am a voter' organization, including Benefit, Elizabeth Arden, Josie Maran, Milk, Versed, Fenty Beauty and a collection of female-founded DTC brands.
Many brands' campaigns are being launched in the fall — with some even planned after some states' filing deadlines have passed — but Kitsch's "vote" gear has been around since January.
"Voting, to us, didn't just mean one vote every four years. It was important to us to support all the elections outside of the presidential election, including state and local races," said Kitsch founder Cassandra Thurswell via email.
For brands aligning with Democratic public figures, their decision goes back to the issues they have been supporting.
"We believe that Black lives matter, and we will not be silent in our support of the end of systemic racism. We will always fight for the underserved and the overlooked. And we will always give voice to the voiceless," said Butler. "We don't believe these are partisan issues, but if at times it shows up as partisan, so be it."