Amazon Briefing: Private-label products are winning search results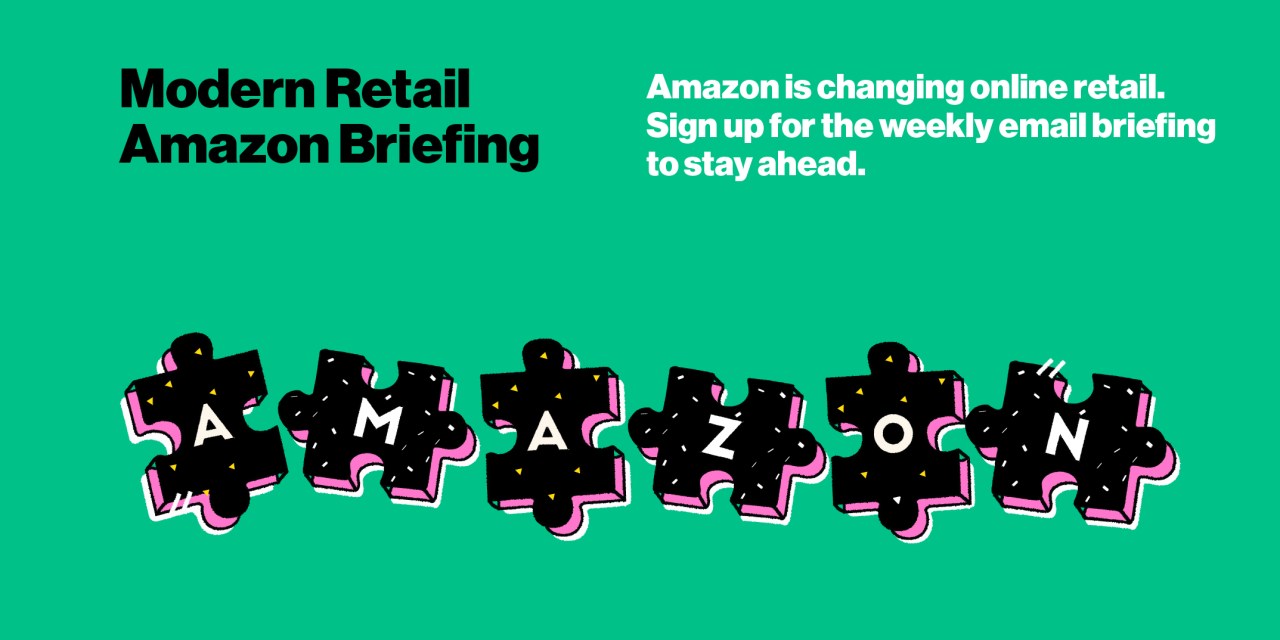 This is the latest installment of the Amazon Briefing, a weekly Modern Retail+ column about the ever-changing Amazon ecosystem. More from the series →
This is the latest installment of the Amazon Briefing, a weekly Modern Retail column about the ever-changing Amazon ecosystem. To receive it in your inbox every week, sign up here. 
Private-label products are dominating search results on Amazon and other marketplaces.
Overall, on Amazon and Walmart, private-label products make up a vanishingly small share of the product assortment — after all, both Amazon and Walmart are just one of many sellers on their respective platforms. But in the top search results on both platforms, Amazon- and Walmart-branded private label receives disproportionate representation.
According to data that the e-commerce insights platform Profitero shared with me, Amazon's private-label products appear in about 9.6% of the first five results across several categories (specifically food & drink, health & beauty and cleaning supplies), whereas Walmart's take up about 18.7% of those top five results. Target's private label has the highest concentration, at 37% (although Target is slightly different given that its pool of third-party sellers is so small).
As both Amazon and Walmart create more private-label products, few top search result slots are going to third-party sellers. In recent years, Amazon has also added a "Top Rated From Our Brands" banner, which cuts across the first page of some search results — search "backpacks," and a string of Amazon-branded products may pop up halfway down the page. That reality not only underscores the success of private-label products for both Amazon and Walmart — it also shows just how tight the window has become for third-party sellers to get their products seen in the highest-trafficked parts of Amazon.
The end result is that private-label products are selling well across the board. The analytics intelligence firm 1010data found that sales of AmazonBasics jumped 47% from 2019 to 2020, while Walmart's private label was up 129%.
"What's really surprising to me is just how much some private-label [brands] are dominating page one," said Mike Black, CMO of Profitero. Under the search term "ground coffee," for instance, the top results — after sponsored slots — is a slider of five Amazon-owned coffee brands, which appear before Starbucks and Dunkin.
The top results are so important in the e-commerce context, Black said, given the power of the first page of search results: Amazon has said that 70% of its customers don't click past the first page, which means that the vast majority of customers will only ever see a handful of the most highly ranked products.
Whereas in a store, Black said, customers can easily see dozens of other products even if, say, Walmart's private-label brands get good placement on a shelf, in e-commerce, shoppers probably won't look beyond the top search results. "This idea of the endless digital shelf is a myth," he said. Unlike a shelf, "on e-commerce, you have a much narrower view of products" because so few people click past the first page. "When we're talking about page one, we're talking about the most valuable real estate in the world right now," he said.
These findings are especially resonant given the increasing momentum Target, Walmart and Amazon have to create their own private-label brands. Walmart and Amazon have regularly rolled out new private label products, including Amazon Fresh's new Aplenty line and, as of last week, a new Walmart pet food brand. For e-commerce companies, private label is a high-margin business, and given the troves of data they amass — sometimes controversially — engineering products to fill gaps in the market is a relatively simple proposition.
At this point, private-label products have become sophisticated enough that, to customers, "any quality disparity between private label and national brands has largely disappeared," said Jonah Ellin, chief product officer at 1010data. And Ellin said that he expected e-commerce companies to continue launching more private-label lines in the future, both because "retailers know they can make higher profits selling their own brands" and because "the inherent exclusivity of private labels can be a draw for returning shoppers," he said.
In search results, the skewed performance of Amazon's private-label brands is not necessarily because Amazon is artificially ranking them highly. Rather, these products are gaining traction with the Amazon algorithm organically, and potentially by design. Even looking at the basic attributes of private-label products, the logic for why they might win high search placements is clear: they're often much cheaper than their competitors, and — according to Black — their ratings are essentially equal, too. Black said that private label on Amazon sees an average rating of 4.5, just below the overall average ranking for national brands, 4.6.
There are other, downstream effects of Walmart- and Amazon-branded products taking up such a meaningful share of the top search results. With the organic slots largely taken, third-party sellers are turning to paid placements to get noticed, and Walmart and Amazon are happy to accommodate.
Both Amazon and Walmart are rapidly expanding their paid search ads, now offering sellers a coveted slot on the first page. That means every top five slots that Amazon takes for its own private label is potentially one taken from a third-party seller — and to win it back, sellers either have to pay for an ad or get creative with how they brand themselves. "Increasingly there's less and less opportunity for brands to show up for free," said Black.
Amazon is tweaking its off-platform logistics program
In June, Amazon will be reshuffling fees associated with its fulfillment service, Fulfillment by Amazon. Among the changes is an extra surcharge it is tacking onto a program called Multi-Channel Fulfillment, which lets sellers choose Amazon fulfillment even for sales that happen off of Amazon, including on Shopify stores or on Wish or Etsy.
Multi-Channel Fulfillment has drawn ire from Amazon's e-commerce rivals. Both Walmart and eBay ban sellers from using Amazon for fulfillment on their sites, seeing it as a backend way Amazon is profiting from even off-Amazon purchases (most other e-commerce platforms still allow it).
That made MCF a complicated proposition for sellers who offer products on many different platforms: if they wanted to choose MCF, they had to separate out their Walmart and eBay sales into their own warehouses. But now Amazon is offering to make that easier — for a fee. If MCF sellers also list items on Walmart or eBay, Amazon will stop them from going out to Walmart or eBay in exchange for a 5% surcharge. That ensures the seller doesn't mistakenly use Amazon Logistics to fulfill an order from eBay and Walmart, and subsequently run afoul of their rules.
It's a small move, but it shows the ways in which Amazon is, tentatively, trying to make extra money on fulfillment almost as a stand-alone service. If a customer buys something from, say, Wish, Amazon will now make money not only on the cost of fulfillment but also on extra charges associated with organizing those off-Amazon orders. Dani Nadel, Feedvisor president and COO, said that she imagines MCF will continue to grow in relevance in the coming year. "As more brands and retailers seek to diversify their online presence," she said over email, "we can expect increased adoption of Amazon's Multi-Channel Fulfillment program."
When I've asked whether Amazon will one day offer its Amazon Logistics service as a standalone product akin to UPS, experts have given me polarizing answers. MCF is certainly not a full equivalent. But these changes do have a bit of a UPS-like ring to them.
Amazon news to know:
Several major Amazon sellers, including electronics brand Aukey, had a large share of their listings suspended over the weekend.
Amazon is rebranding its 10.5-hour "megacycle" overnight warehouse shifts to the slightly less ominous "Single Cycle" — although nothing else about the shifts, which have received criticism from warehouse workers, appears to be changing.
Amazon sellers are receiving postcards in the mail from Amazon, asking to verify their identities. Knowing who its sellers are is one way Amazon can curb its liability risk in legal cases. If Amazon sellers are verified and directly reachable, it's easier for Amazon to point to them as the liable party if a product winds up defective. (For more context on this, see below.)
What we covered:
A leaked database offers a rare glimpse into how some large sellers are offering refunds to their customers in exchange for positive reviews — a phenomenon that, after Amazon had some moderate success in cracking down on fake reviews, has become increasingly common over the past year. According to an estimate from the firm Fakespot, around 40% of reviews on Amazon appear to be fake.
A recent court decision in California, which holds Amazon liable for a defective product sold by a third-party seller, suggests that Amazon could be at risk for a raft of product liability lawsuits in the state — but outside of California, the decision is unlikely to have a major impact.
In a bid to fend off Amazon, which has surged past it in Japan, Rakuten is adding logistics services and banking offerings. Amazon currently controls 25.7% of e-commerce sales in Japan, compared to Rakuten's 12.6%.