Earnings
// February 11, 2022 ■ 4 min read
Affirm's revenue growth is being driven by Amazon and Shopify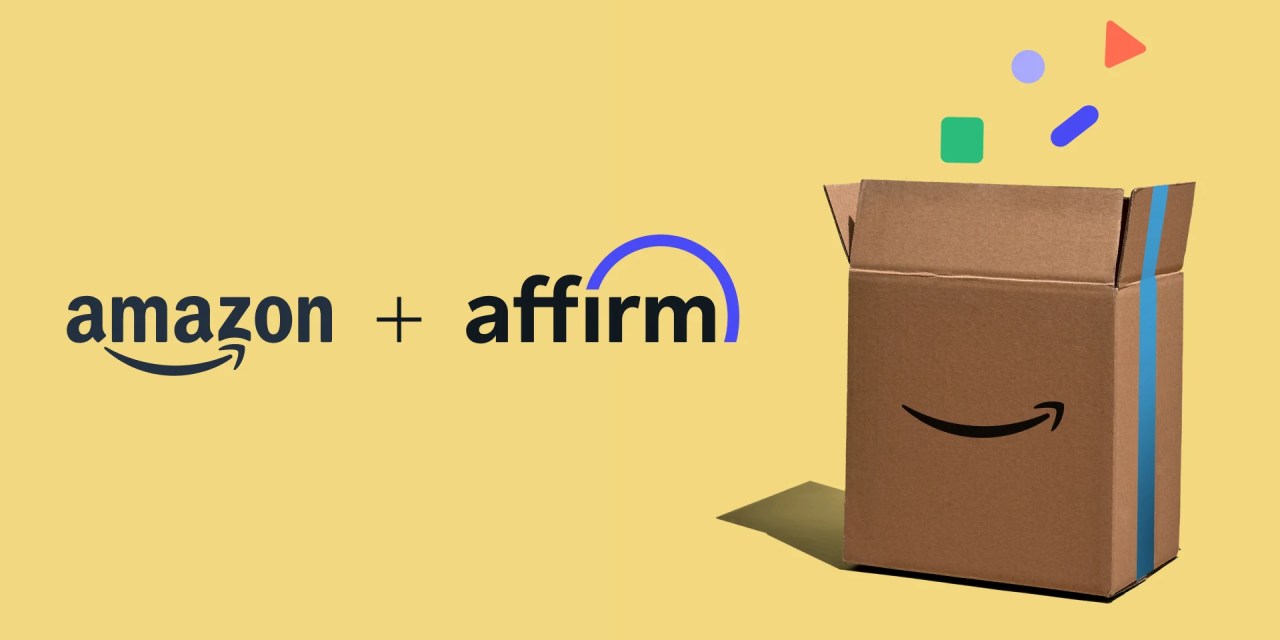 Image via Affirm
Affirm's e-commerce partnerships are helping the payments service grow. 
During its fiscal second-quarter earnings report Thursday, Affirm revealed that its new merchant and revenue growth was being largely driven by partnerships secured with e-commerce giants Amazon and Shopify over the past couple of years. Amazon started using Affirm to power buy now, pay later in November, while Affirm was announced as the exclusive provider of payment installments offered through Shopify's Shop Pay app in July 2020.
During the last quarter, Affirm's gross merchandise volume [GMV] reached $4.5 billion, a 115% year-over-year jump, which the company credited to its recent e-commerce integrations. When Affirm went public in January 2021, it revealed that 28% of its revenue came from just one merchant: Peloton. Now, thanks to new partnerships with Amazon and Shopify, the company is able to both diversify its merchant base, and access millions of new shoppers.
The BNPL provider's revenue increased 77%, to $361 million, beating analysts' estimates of $328.8 million. Affirm's active users also grew by 150% year-over-year to hit 11.2 million.
This growth, however came at a wider losses. Affirm said operating losses hit $196.2 million, compared to $26.8 million the same period last year. The figure includes a $82.0 million increase in stock-based compensation due to Affirm's January 2021 IPO.
Help from Amazon
The company confirmed the growth included its new Amazon partnership, which was announced last November in time Black Friday shopping.
"We estimate that this year, Affirm processed 1.6% of all U.S. outline transaction volume for the Black Friday, Cyber Monday period, another triple-digit increase from last year," founder and CEO Max Levchin said during the earnings call. 
Amazon is quickly becoming a major source of customer acquisition and repeat business for Affirm's BNPL service. Amazon likely took over Peloton's spot as Affirm's top source of revenue by the end of last year, said Mizuho fintech analyst Dan Dolev. In its first quarter since the partnership was implemented, Affirm's Amazon growth "was very strong," Dolev said in an earnings note. 
Dolev noted that even separately from Amazon, Affirm's gross merchandise volume has doubled over the previous quarter. Still, the provider's presence across other major retailers' checkout pages seems to be the key to its growth, he noted. "The strong success of the Amazon partnership and elsewhere reaffirms Affirm's stance as a viable alternative to credit," Dolev said. 
Some analysts, however, were concerned that Affirm's Amazon transactions showed a lower take rate than expected, which resulted in Affirm's shares to tumble on Thursday afternoon.
In the first few years since its founding in 2012, Affirm helped finance big-ticket items such as Peloton bike purchases. However, in 2020 the company began courting customers making smaller orders by allowing users to finance purchases as low as $50. Since then, the company has also worked to diversify its services to appeal to a bigger merchant base. 
Shopify merchant growth
Part of Affirm's big boost among retailers is its ongoing back-end integration with e-commerce merchants. 
Affirm's Shopify partnership, in which Affirm's technology powers Shop Pay's BNPL, continues to bear fruit. The partnership first began in July 2020 and has helped Affirm add thousands of small and medium-sized merchants as clients. According to the company's earnings on Thursday, "active merchants increased from 8,000 to 168,000" year-over-year. In January 2021, Shopify also took a stake in Affirm worth $2 billion by the time it IPOd. T
This growth was driven primarily by the adoption of Shop Pay Installments by merchants on Shopify's platform, according to the company. "On a sequential basis, active merchants, which we calculate over a trailing 12-month time frame, grew 64% from the September-ending quarter," Affirm CFO Michael Linford said on the earnings call. 
Hemal Nagarsheth, associate partner of financial services practice at Kearney, said that BNPL choices are becoming more important for retail merchants. Shopify's checkout, for instance, offers customers multiple installment payment options in addition to the company's own Shop Pay powered by Affirm.
Nagarsheth also said BNPL is becoming important for customers making smaller purchases from SMBs. Indeed, as Affirm's Shop Pay partnership showed, the company is financing less expensive orders by offering installments on purchases far cheaper than a Peloton bike.
"It [BNPL] drives consumer convenience, introduces choices, creates options for consumers to manage their finances, and increases trust between the retailer and the consumer," Nagarsheth said.