'A solution in search of a problem': Facebook's Ray-Ban Stories are the fashionable smart glasses that consumers still might not want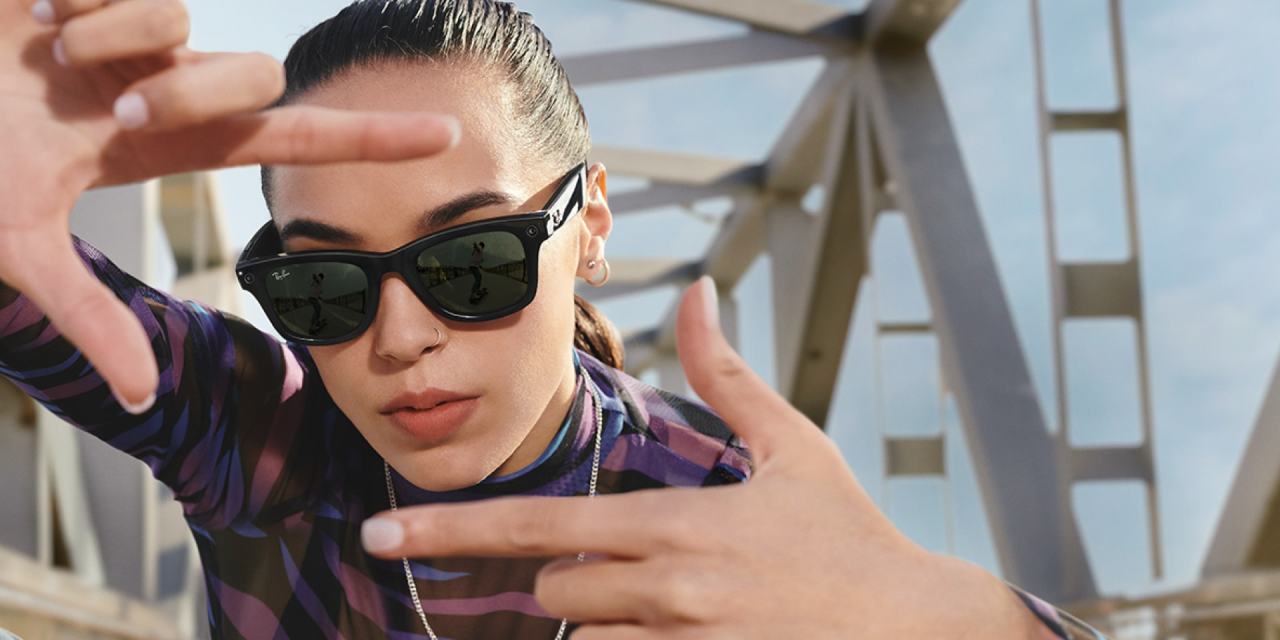 Facebook
Another tech giant is taking a go at trying to make smart glasses fashionable.
On Thursday, Facebook rolled out its first smart glasses model, Ray-Ban Stories, in partnership with glasses design house, EssilorLuxottica. Following in the footsteps of Google, Amazon, Snap and Lenovo, Facebook is now the latest entrant to the smart glasses field. Most of the previous efforts to make smart glasses mainstream have failed or stalled — Google stopped selling its first consumer smart glasses in early 2015, just two years after launch. In an attempt to succeed where others have failed, Facebook is now betting on the cache of the Ray-Ban brand to convince people to shell out $299 for the camera-and-audio enabled frames.
In the announcement, Facebook Reality Labs' vp Andrew Bosworth claimed the partnership would lead to "the first truly fashionable smart glasses."
A lackluster history
Smart glasses is a catch-all term that refers to glasses with a variety of built-in audio, visual, internet browsing, augmented reality and virtual reality capabilities. Google was one of the first entrants into the smart glasses field in 2013 with "Google Glass." The company sold its glasses — which let consumers check messages and browse the internet — to a select group of people for $1,500 in its "Explorer Program."
Google tried to make its smart glasses fashionable thanks to a partnership with Diane von Furstenberg in 2014, but it ultimately never caught on for mainstream consumers. Now, the brand offers an Enterprise Edition of its spectacles, aimed at manufacturing professionals (rather than everyday consumers).
Snap launched the first version of its smart glasses, called Spectacles, in 2016. The company tried to build fashion hype around the product via a Karl Lagerfield photoshoot, a vending machine drop-model and buzzy pop-ups. However, only 0.08% of Snapchat customers bought in.
While these companies made some efforts towards style, in general, wearable tech creators focused more on the tech and less on the wearable. In launches, companies highlighted the features their products were offering rather than the occasions in which consumers might want to wear them.
Facebook's pitch
Facebook's Bosworth, however, explicitly told the New York Times that Facebook was prioritizing fashion over tech.
Indeed, Facebook's glasses are in some ways a more primitive iteration of smart glasses than other options already available on the market. Snap's consumer-facing Spectacles 3 offers 3D photography capacity, while its next-generation Spectacles — currently only available to creators — have augmented reality in-device editing capacity.
But Facebook's lack of augmented reality isn't necessarily a detriment, said Danisha Lomax, vp of social media at advertising and pr firm Publicis. "It makes them a little bit more accessible," said Lomax. "Your everyday person who is into tech, but maybe not a first mover, might find these more appealing than they would the other [smart glasses options]."
Moreover, Ray-Ban Stories' pricetag is lower than Snap Spectacles' and consumers have the option of trying out the product in-person at Ray-Ban stores.
"[The EssilorLuxottica partnership] gives Facebook a distribution advantage and also ensures that the glasses have strong design appeal," said Neil Saunders, managing director of data analytics firm GlobalData, over email. "If Facebook produced glasses on its own then they would have to work much harder at getting them into mainstream retail or trying to distribute them directly to consumers."
The issues with smart glasses
Still, the smart glasses space has lingering questions and hang-ups that Facebook's model doesn't answer, said analysts. Chief among them, some wonder if consumers even want a smart glasses option.
"Smart glasses are a solution in search of a problem and, quite honestly, most people don't see the point in them — especially when it involves spending a considerable sum of money," said Saunders. "Sure there is a modicum of additional convenience in not having to pull out your phone to get directions on AR glasses or to take a photo on Facebook glasses, but the reduction in friction is very minimal… It's just all very gimmicky."
Moreover, some worry that the smart glasses model encroaches into privacy concerns: namely, that consumers may be able to snap photos or record videos without others knowing.
Facebook's new model has a recording indicator light, its app encourages consumers to inform those they are recording and the company said the glasses were "designed with privacy in mind." Facebook also allows consumers to opt into sharing video capture data with Facebook — though the product does require email and password data to log the device into Facebook's app — as well as built out a microsite to answer consumers' questions about their data.
Moreover, while Facebook's model may be a style upgrade, Lomax said the need to have the product on your face is inherently more disruptive than a smart watch, for example. She thinks the category may continue to be a somewhat smaller market than other wearable tech options.
Indeed, even Snap's CEO Evan Spiegel told The Verge that he thinks mainstream adoption of smart glasses is a decade out.
However, Saunders thinks — as tech improves — adoption may too.
"If the technology becomes more advanced and perhaps can be integrated into contact lenses rather than glasses, I could see that being of much more interest," said Saunders.