'A cautionary tale': What the '90s online grocery bust means for the industry today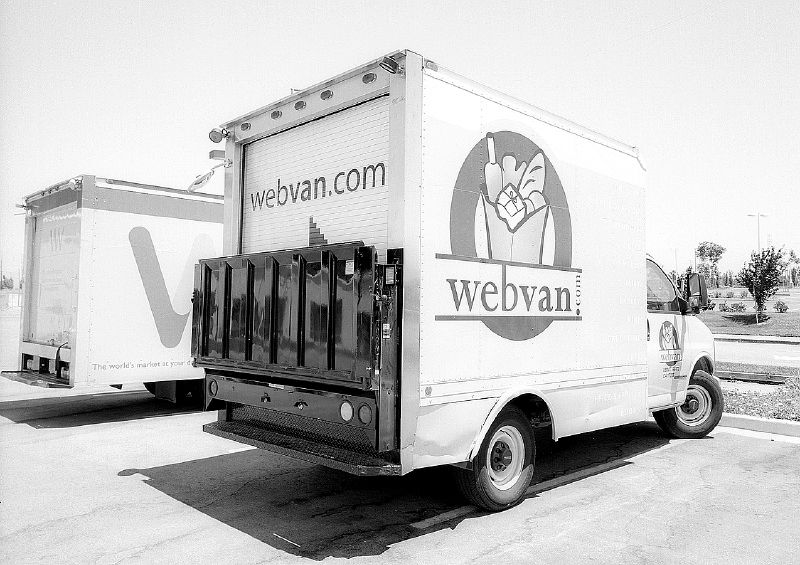 The last time the e-grocery business had this much buzz, it was 1999.
In 2020, online grocery sales jumped to 10.2% of the overall grocery market, up from from 3.4% in 2019. Walmart, Amazon and Kroger all saw spikes in online food orders, and Instacart — the biggest startup in the space — nearly doubled its valuation since it last raised money in 2018, bringing it to a $13.7 billion estimated worth.
But this isn't the first time the online grocery market was poised to take off across the U.S. In the late 1990s, a handful of companies — most notable among them Webvan and HomeGrocer.com — seemed to be on a trajectory to sweep the online grocery industry. They built out massive fulfillment centers that Amazon would take several years to match. They brought in eye-popping amounts of capital — Webvan raised a whopping $800 million, while HomeGrocer pulled in $440 million. With companies like Amazon proving the efficacy of e-commerce in the mid-1990s, disrupting the trillion-dollar grocery industry seemed like an inevitable next step for e-commerce — and a highly lucrative one for the company that could control the market.
With the exception of Peapod, these companies all imploded in 2000 and 2001, following the dot-com crash. The story of their failure demonstrates why online grocery took so long to finally catch on in the U.S. Even though tech entrepreneurs have long thought grocery delivery was the way of the future, they just wouldn't invest. After 2001, for VCs, "grocery was like a swear word," said Greg Fisher, a professor of entrepreneurship at Indiana University who has been researching the e-grocery business. "No one would touch it."
The e-grocery bust, explained
Despite the recent headlines, online grocers have been around for decades. In 1981, Grocery Express launched as a telephone-operated grocery store, then later expanded to accept orders through internet prototypes like Prodigy. Melissa Ocepek, a professor of information studies at the University of Illinois Urbana-Champaign, called Grocery Express "the first online grocer" in a paper she co-wrote.
By 1989, Peapod had entered the space, but it wasn't until after Amazon's arrival in 1994 that the big money began pouring in: Webvan launched in 1996, followed by HomeGrocer.com in 1997. Both companies barely lasted — in 2001, less than a year after Webvan briefly bought HomeGrocer in an effort to stave off financial disaster, both shuttered.
The major online grocers had clashing business models. Peapod sourced food deliveries from existing grocery stores, while another startup, Netgrocer, shipped with FedEx and UPS. Webvan and HomeGrocer, meanwhile, had their own delivery and fulfillment networks, independent of existing grocery stores (although Fisher noted in his paper, "if something wasn't in stock, an employee would have to rush out and buy it from a local grocery store"). 
The result was that customers, who were already new to online grocery as a concept, got confused, and they were never sold on the logic of paying more for a grocery delivery in the first place. "There was no effort toward coalescing toward the idea that online grocers could or should actually exist," said Fisher.
The earliest e-grocers fell into roughly three camps. One set — including Peapod — operated mostly out of stores like Kroger, Safeway and Pearl, in effect saving them hundreds of millions of dollars worth of upfront investment. They made their money largely off of the delivery markup. The second group — most prominently Webvan and HomeGrocer — controlled both the grocery warehouses and the delivery fleet. That meant splurging on state-of-the-art fulfillment centers; Webvan paid $35 million per fulfillment center. With plans to expand to 26 major cities, that put the new company out $1 billion. "Almost all that VC money that they were taking would go into infrastructure development," said Fisher.
Both delivery and the groceries themselves are low-margin sales, so pooling both together meant that Webvan and HomeGrocer needed vast numbers of customer orders in order to turn a profit. That's why they raced to expand. The Peapod model also operated on thin margins — but because Peapod's only investment was its delivery fleet, not $1 billion worth of groceries and fulfillment centers, it was able to scale more slowly and sustainably.
The third e-grocer group has proven to be the longest-lasting: existing grocery chains offering online delivery as a side option. British grocery chain Tesco began doing this with its "Tesco Direct" program in 1997, and in the intervening decades, Kroger and Walmart joined in. That model works in part because the infrastructure behind shipping groceries is already there; as with Peapod, the only extra cost is the delivery fleet.
Was failure inevitable?
Given different circumstances, perhaps these companies would have been able to survive. "Had Webvan had the kind of funding that some Silicon Valley companies today have" — paired with a much slower rollout of its warehouses — "maybe someday it could have worked," said Ocepek.
At the time, however, startups were making quick, bizarre and expensive decisions. One of the Ocepek's favorite examples of Webvan's wasteful spending is its meat supply. "Originally they had this elaborate in-house butcher shop that they eventually stopped using because it was cheaper to outsource them," she said. "They really were like, if we just do everything, then we scale." But that is essentially what Ocado — a British online delivery giant — has done. Ocado appears to have beaten back the ghosts of Webvan in part by scaling more slowly.
Plus, some of the failures that Webvan and HomeGrocer faced were not totally self-inflected — they came from the novelty of the internet itself. Because few people knew how to buy online, HomeGrocer started throwing Tupperware-like "peach parties" so that hosts could teach their friends how to buy online groceries. Yet HomeGrocer's founder, Terry Drayton, said that HomeGrocer proved incompatible with AOL. "The 'Buy' buttons and the checkout on the website did not work, so clients could not make purchases even if they wanted to," he said later.
While Webvan and HomeGrocer flamed out in the dot-com crash, its lower-key rival, Peapod, was able to stay alive by growing slowly and deliberatively. In 2000, while the e-grocery business was collapsing, Dutch grocery giant Ahold Delhaize took a majority stake in Peapod for $73.5 million, before buying it out a year later for an extra $35 million.
The sole survivors
Webvan and HomeGrocer's rise and fall may explain why online grocery businesses look the way they do today.
While Amazon has offered Fresh grocery delivery since 2007, the company has scaled it at an extremely slow pace; and aside from Peapod and the more localized FreshDirect (which now share a parent company, Ahold Delhaize), the biggest startup in the space, Instacart, took the exact opposite approach to online grocery as Webvan did.
Instacart doesn't have warehouses; it has made no effort to own the grocery fulfillment network. Instead, the company sources and delivers grocers from existing stores the way that Peapod initially did. Yet rather than build out an extensive trucking system that can handle perishable good, it has tasked gig workers with doing the deliveries.
VCs, however, seem to be interested in the space once again. According to Pitchbook, investors funded $1.3 billion in online grocery businesses in the first three quarters of 2020. For comparison, e-grocery startups raised $1.7 billion in all of 2019.
Yet as mismanaged as Webvan was, Ocepek said there are reasons to stay cautious of online grocery, even with different business models today. "Maybe someone's going to look at these numbers and make the same logical leaps to try this," she said. "But I do hope that because we have Webvan as a cautionary tale, maybe the investors won't be so gung ho about moving forward."
Main image by Mark Coggins