Why regional grocers are investing in private labels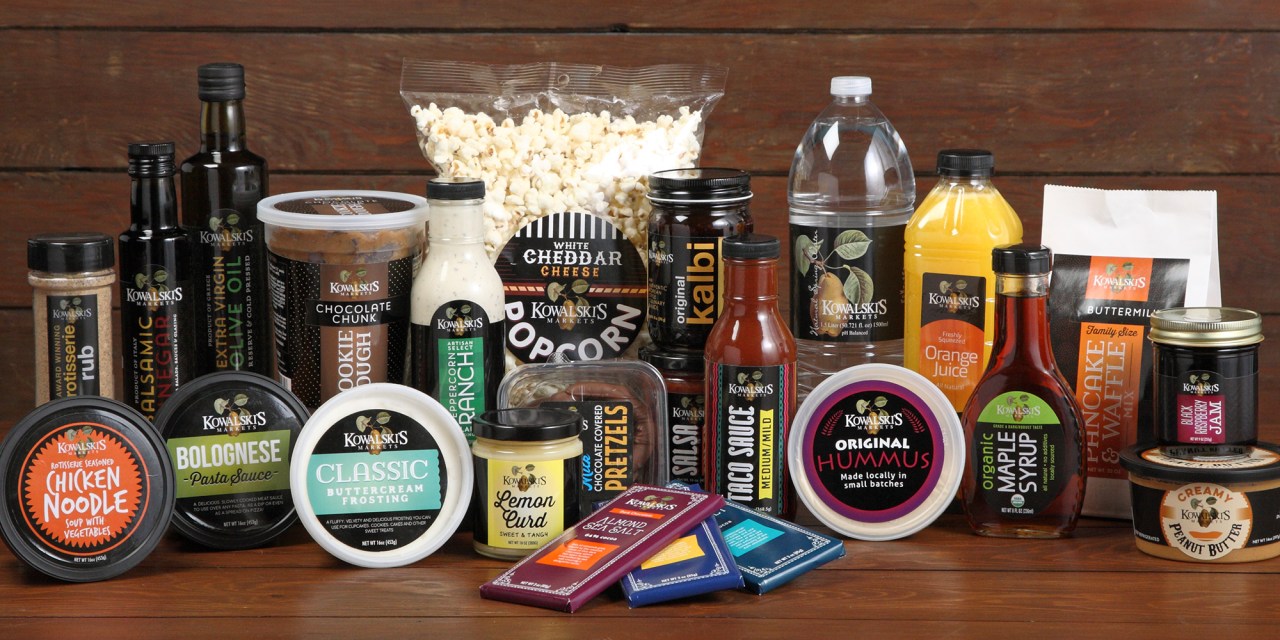 Kowalski's Markets
Private labels have become a classic margin enhancement tactic for many grocery giants. And now regional grocers are taking a page out of their larger counterparts' playbook.
Minneapolis-St. Paul area grocer Kowalski's Markets has recently released an array of private-label products since late last year, including cocktail mixes, trail mixes, and blueberry jams. Similarly, Seattle-area grocer Town & Country Markets introduced both its private-label milk line, called EveryDay, and its prepared sushi line, called Maka, in March.
While the economies of scale differ, regional grocers can reap the same benefits a national grocer would when they invest in private-label brands. During a time when shoppers are gravitating towards private-label brands due to their low prices and decent quality, regional grocers with a broad private-label offering are positioned to reap its benefits. Additionally, manufacturers have become more interested to work with smaller grocers as opposed to just bigger ones.
"Every time we go through a wave of financial instability, which really is either inflation recession, cost of living concerns [or] unemployment, there's this drive from consumers to seek value," said Ben Wynkoop, global industry strategist for grocery and convenience at Blue Yonder. "Private brands are the best way to fulfill that need."
The demand for private labels is already happening in full effect for grocery giants. Kroger reported in its recent earnings that it had private label identical sales of 10.1%. Sprouts Farmers Market's CEO Jack Sinclair told investors and analysts in March that the company achieved $1 billion in sales from its private label products late last year. Back in its second quarter of 2019, private labels accounted for 14% of Sprouts' revenue and, in the fiscal year 2021, it accounted for 16%.
To promote its private-label lineup, Kowalski's Markets has even begun hosting in-store tasting events where shoppers can try out products. The grocer, which operates 11 stores, has about 800 private label SKUs. Russ Tourville, private label director for Kowalski's Markets, said that the company hired an in-house designer to help speed up the release of its private label projects.
"We get customers that come back because they can only get it here," Tourville said. "That tells us that we've made a good product." Kowalski's has always had a selection of private-label products, but because of the pandemic, many of its projects were put on hold. Now the company has rapidly been releasing multiple products in its signature products program, including seven new items announced in September and another seven unveiled in October.  
Tourville said that, compared to about a decade ago, more manufacturers are willing to work with smaller retailers. He said that it partly has to do with the availability of digital printing for private label products. The old-school printing method that utilizes a plate charge can be pricy for smaller businesses. "If you did a plate charge on a line of six items… it could take a long time before you even pay off the play charges depending on the items," he said. 
David Berliner, national leader of BDO's restructuring and turnaround services practice, said that it's typically easier for manufacturers to work with larger players. But working with smaller grocers can be attractive for manufacturers that want to boost their capacity by a few percentage points.
"It's easier dealing with a few bigger companies than a lot of smaller companies for logistics and billing and all that," Berliner said. He added that "If [a manufacturer is] at 85% of capacity, and there's a smaller retailer that can get you the 95%, that would be attractive."
Indeed, a number of regional grocers are aiming to grow their private label assortment. For instance, Town & Country told industry publication Store Brands that it plans to have 50 to 75 SKUs in multiple categories for its EveryDay brand.
Grocers aren't just solely focused on launching new private label products. They've also made investments in other areas to drive growth for their brands. Texas-based grocer H-E-B, for example, released its own credit card to encourage shoppers to purchase its private label goods. Its credit card offers 5% cash back on private label items and 1.5% on other goods. 
East Coast grocer Weis Markets, on the other hand, promoted Alison Gregas to be its director of private brands in March. Her expanded role makes her responsible for overseeing new product development for Weis Markets' private-label program. A month later in April, the company expanded its private-label offering by launching the new Weis By Nature ice cream brand.
However, by bumping up their private label assortment, regional grocers also expose themselves to certain risks that their larger counterparts aren't. By adding private-label products to their shelves, regional groceries will have to dedicate some space for it. BDO's Berliner said that retailers have to consider if their private label product is worth more than the national brand it is replacing.
"One of the risks you run is that you're reducing the availability of national brands," Berliner said. "You got to cut back somewhere to make the space." 
Additionally, the demand for private label brands might change once shoppers are no longer penny-pinching, he said. 
"We can't assume consumer behavior is going to stay the same," he said.