Why non-pet retailers like Lowe's and Kohl's are making more room for pet products in stores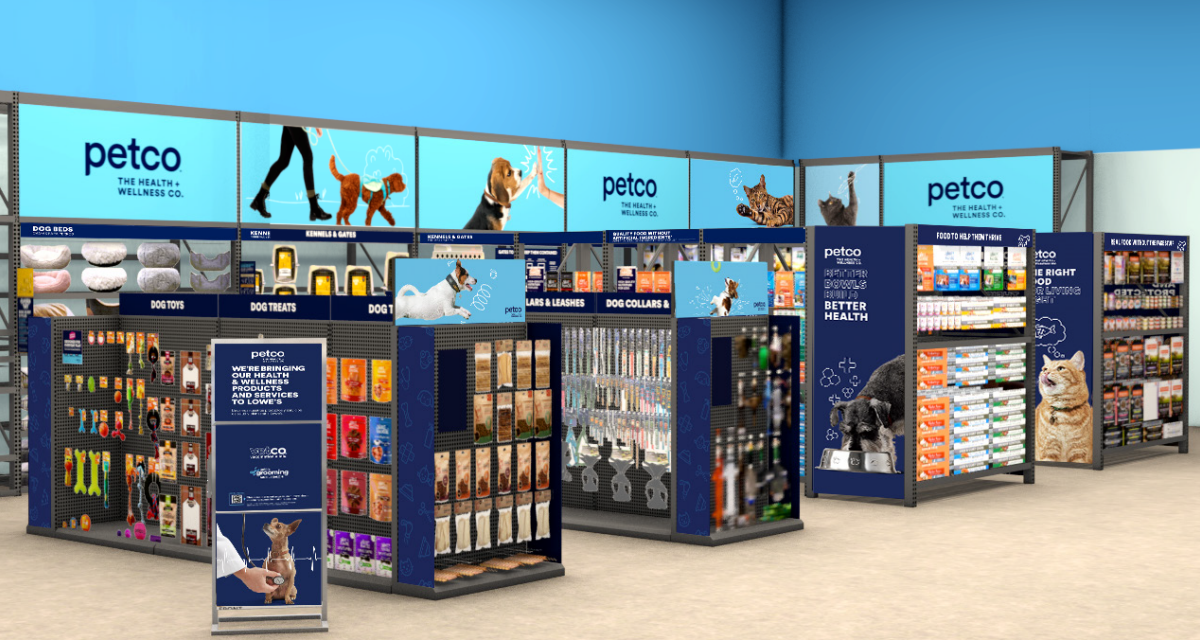 Petco
Multi-category retailers are increasingly betting on pets to help them draw bigger crowds.
Lowe's announced that it is expanding its shop-in-shop partnership with Petco, which would bring more veterinary care and pet supplies to almost 300 Lowe's locations by the end of the year. In its latest earnings call, Kohl's also said that it has expanded its dedicated space for the pet category after testing this format in some of its stores. Walmart, meanwhile, has been focusing more on the pet category in recent years, when it started adding veterinary clinics to select stores in 2019. This year, it added free access to virtual veterinarians as a perk for Walmart+ members, and has been redesigning some of its stores across the country to feature expanded pet departments, including those in Secaucus, New Jersey and Harahan, Louisiana.
It's not unusual for retailers to reevaluate their merchandising strategies and right-size their product assortment. But in a time when people are cutting back on discretionary spending, particularly in categories like apparel and home improvement, some retailers are opting to allocate more space in store for pet products to push people to visit stores more often. Retail executives say they are already seeing increased sales and larger transactions — though it is unclear how long the bet boom will last.
"While it's still early, we're encouraged to see an increasing basket size in these stores, and customers are saying that they appreciate the convenience and the ability to reduce the number of stops they need to make," Bill Boltz, Lowe's executive vice president in merchandising, said about the company's shop-in-shop partnership with Petco during an earnings call.
Lowe's shop-in-shop partnership with Petco initially started in early 2022 with around 14 stores. The shop-in-shop partnership gives shoppers access to Petco's private brands and national pet brands, like Bark Toys and Blue Buffalo.
The pet category has historically attracted more frequent visits from customers, said Brad Jashinsky, director analyst with Gartner. "For a lot of these retailers and others that are adding the pet category, it's a way to help balance out some of the other categories that might be more seasonal or might go through more like cyclical periods," he said. "Furniture and home improvement goes through boom and bust cycles, but the pet category overall tends to see more steady growth."
Steady growth could indeed be what some retailers are after as sales continue to decline. Department store Kohl's, which is in the midst of a turnaround plan, reported a 4.8% net sales decline in the second quarter. Kohl's doesn't break down how much of its revenue comes from pet products. However, the company said that the pet category "delivered a strong second-quarter sales performance" thanks to the additional space it added to some stores.
"In pet, we have expanded dedicated space to the category across the chain following a successful 50-store test last fall," Tom Kingsbury, CEO of Kohl's said during a call with investors and analysts. "Our offerings in this space include things like dog beds, cat and dog apparel, and pet toys."
After pet ownership skyrocketed during the pandemic, it triggered a demand for pet products and veterinary services. Several retailers have taken advantage of this trend by becoming a one-stop shop destination for pet parents. Walmart, for example, has actively been expanding its pet product and service offering since 2021 and even launched its own premium private-label pet food product called Pure Balance.
Much like any merchandising investment, being overly optimistic about the pet category can be risky. Liz Papasakelariou, consumer products industry lead for North America at Publicis Sapient, said that in order to make room for more pet products, retailers have to down-size their assortment in other categories.
"It would be interesting to see what spaces they give up for larger pet sections," Papasakelariou said. She added that shoppers could also feel turned off by retailers who eliminate other categories in favor of pet products. "As they're deprioritizing other [categories] would you be losing perhaps other traffic."
In the coming months, analysts said that they expect retailers to keep looking at what other niche categories they can grow in as they adjust to shifting customer trends. Papasakelariou said that if retailers' investment in pets proves to be fruitful, they could further diversify their offering by adding categories like pet health and wellness.
"It's a good testing ground for retailers to start thinking about diversifying their portfolio," she said.