Why luxury swimwear brand Gigi C is opening an appointment-only showroom at LA's The Grove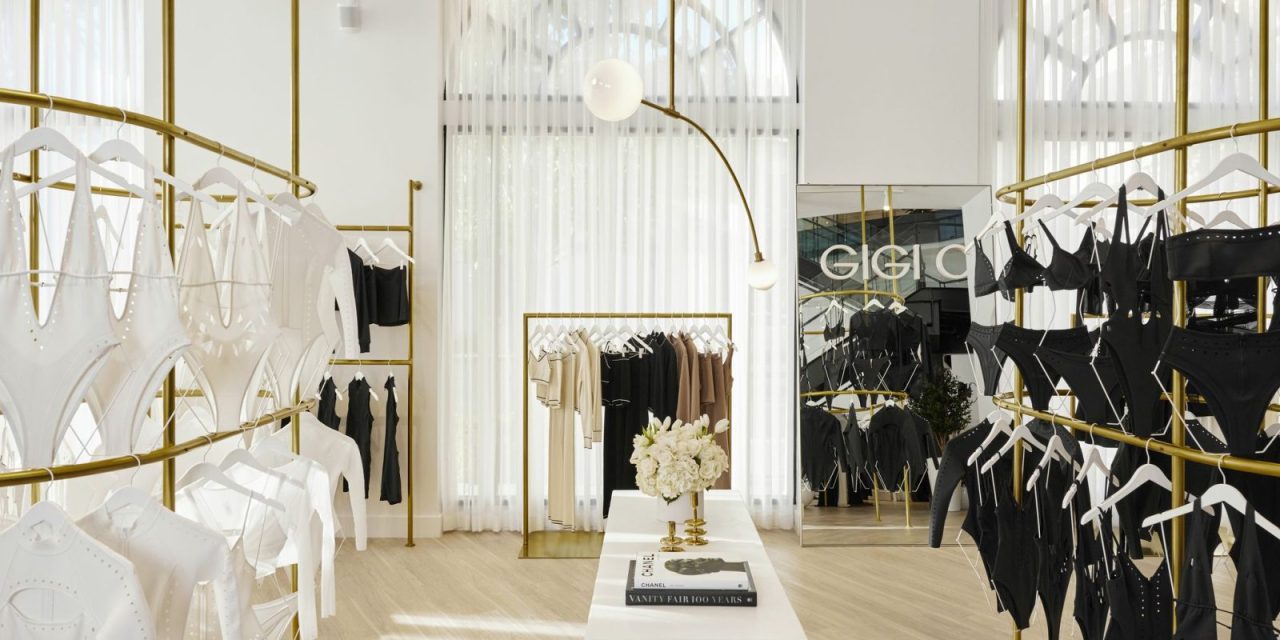 Luxury swimwear brand Gigi C is opening its first-ever physical space in Los Angeles's The Grove this week. And though the heavily-trafficked shopping district sees an estimated 18 million shoppers a year, the brand won't be stocking shelves and ringing up retail sales.
Rather, Gigi C is opening an appointment-only showroom meant to help establish the brand as an exclusive provider of sporty yet stylish swimwear.
Gigi C took over a 5,800-square-foot, two-level space formerly occupied by Barney's that has sat vacant since 2019. The first floor serves as an appointment- and invite-only showroom, while the upstairs is an office space for the staff of 14 people.
Though appointment-only styling has long been a tactic for high-end brands — Gigi C's long-sleeve zip-up "surf suit," sells for $255 — the goal of the space isn't necessarily to drive individual retail sales. Instead, creative director and CEO Gigi Caruso said the main goals are to drive its wholesale business and woo influencers with VIP-experiences. And as online brands experiment with different physical store strategies, Caurso said the showroom approach is a way to create an air of exclusivity — a new spin on brick-and-mortar retail that promotes the brand to millions of passersby without necessarily letting them come and shop.
"I wanted to open a more exclusive environment," she said. "Being primarily online as a brand, I wanted to start a showroom space that felt luxurious, and a place where we can host our community."
While recent years have seen myriad DTC companies open up physical spaces, wholesale is increasingly seen as a stable channel for growth and is a major growth strategy for Gigi C. Caruso plans on having the merchandising team invite wholesale partners into the showroom to examine the product in person. Beyond its own site, Gigi C swimwear is currently available online at retailers Bloomingdale's, Saks Fifth Avenue and Revolve. And it can be found in store at specialty shops like Everything But Water, Tracy Anderson studio shops and the boutiques of a handful of high-end hotels.
Gigi C also plans to host influencer activations, like pop-up workout classes and wellness events, in the new showroom space.
"I really want it to build more of a community, where influencers feel like they know who they're posting about, and know the brand on a personal level," Caruso said.
But having a branded space in such a high-traffic location means plenty of curious onlookers. While some of those visits may turn into styling appointments, Caruso said that the hope is seeing the showroom and window displays will turn into a boost for e-commerce sales. Even before the space has opened, customers have been knocking on the doors hoping to get a look inside.
"From that standpoint, it's great awareness for us," she said. "It makes people want to shop online in a certain way and see what's in there."
The Grove, which opened in 2002, is a high-end, open-air shopping center comprised of more than half a million square feet of shopping and dining space. Tenants include mainstream staples like Nordstrom, Apple and Sephora plus a trendy brands like Brandy Melville, Aritzia, Backcountry and Alo Yoga. It's adjacent to a dining marketplace called The Original Farmer's Market and has more than a dozen other eateries on site, making the location a popular destination for tourists and lunching locals.
Roland Figueredo, director of business development with King Retail Solutions, said that brands that offer appointment-only showrooms are aiming for luxury product status. This model has long been the case for high-end bridal brands, as well as department stores like Neiman Marcus. An added benefit for brands that go this route is that it provides a personalized experience with a shopper who is more likely to buy than someone browsing the racks, Figueredo said.
And for wholesale buyers, having a showroom in a busy and well-known location could be a new way to leave an impression.
"If they're trying to increase their wholesale business channel, having something like that is more memorable than coming to a corporate office and meeting with a merchandising team sitting in a conference room," he said. "They're feeling special, like their customers are feeling special."
A showroom approach, he went on, can also hedge against growing too big too quickly. A store with inventory and associates is likely to require more up-front investment than a showroom, which might not pay off. Focusing on influencers and wholesalers first is a way to "test the waters," Figueredo said. That was the case for M.M. LaFleur, which has operated a showroom model since 2016 before testing out more traditional retail spaces last fall.
The Gigi C showroom, designed by David Samuel Ko of interior design firm Maison Ko, showcases the brand's monochromatic color scheme along with subtle nods of luxury, like shiny brass clothing racks and an ash oak floor. Caruso said she took inspiration from boutiques in Paris that have minimal inventory displayed, along with a more personal shopper-style experience. Upstairs, there's an open floor plan, executive offices, a design studio and conference rooms.
Calling The Grove home, she said, is "such an incredible opportunity." And while Caruso said there may be an opportunity for a more traditional retail concept in the future, for now she's focused on building the brand awareness via the showroom and the VIPs who come through.
"The space really represents the brand," she said.