Why Hanna Andersson is launching an activewear line for kids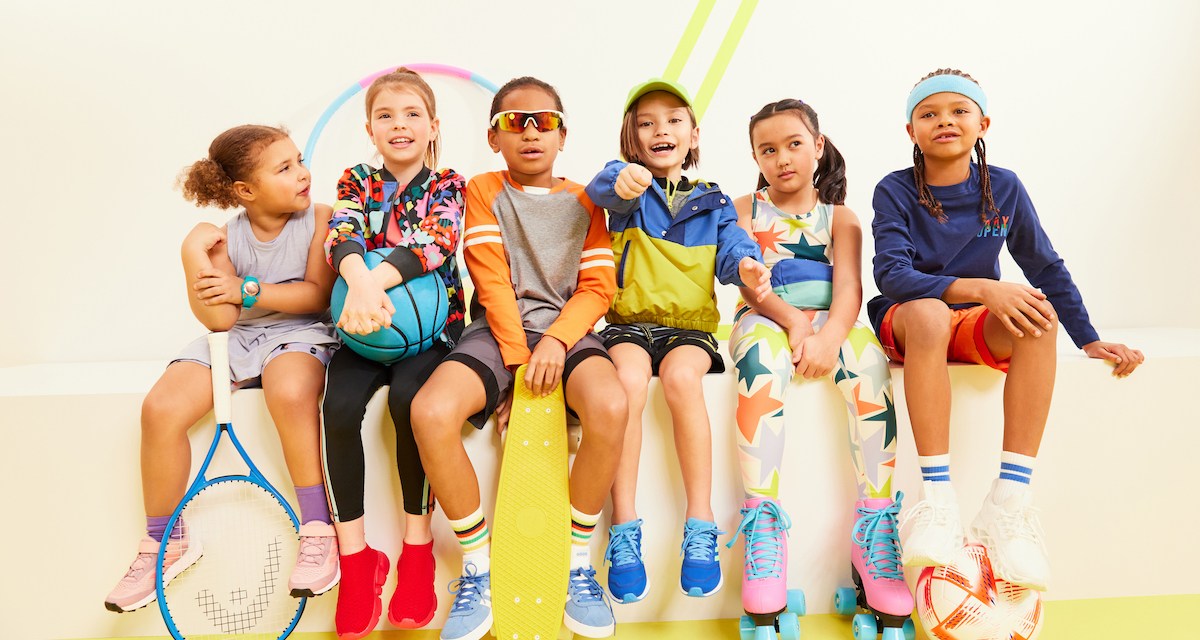 Hanna Andersson
Children's clothing brand Hanna Andersson is embarking on one of its biggest expansions in years.
Earlier this month, the company rolled out its first-ever line of activewear made specifically for kids. The collection, called "Active," includes tank tops, bike shorts, skorts and quarter-zip jackets and uses stretchable, sun-blocking and moisture-wicking fabrics. Eighty percent of the line is made from recycled fabrics like recycled polyester and recycled nylon.
Many major brands, including Adidas, Reebok and Champion, offer children's activewear like basketball shorts and graphic tees. To stand out in the market, Hanna Andersson says "Active" isn't adult activewear shrunk to a smaller size; it's activewear specifically made for running, jumping and playing on the playground.
"For us, it all goes back to childhood and play," Kara Carter, chief product officer at Hanna Andersson, told Modern Retail. "It's something that we're so passionate about. It is our own North Star here at Hanna, creating products that kids can be kids in and kids can feel comfortable and play in. And so it just felt like a really natural extension to offer more choice."
Hanna Andersson, which was founded in 1983, is a premium, Swedish-inspired brand for children ages 0 to 12. Its clothing is designed for babies, boys and girls, although it also sells matching family sets and adult swimsuits, sleepwear and sweaters. Among its customers — who include celebrities Kylie Jenner and Blake Lively — Hanna Andersson is known for its colorful designs, striped pajamas and quality materials. It has historically sold its products through catalogs, its website and physical retail. The private equity firm L Catterton acquired Hanna Andersson for an undisclosed amount in 2016.
Hanna Andersson's new activewear line officially launched Feb. 7 and took two years to develop. Hanna Andersson started first with the fabric, which took the longest time to finalize. The line uses a UV-protective fabric used in other Hanna Andersson clothes, as well as cooling technology and high-stretch materials.
In designing the clothes, Hanna Andersson wanted to use "the same durability standards for this line as the rest of our line," Carter explained. The clothes needed to hold up for recess and sports, as well as months of wear. "These are not the leggings that you wear for a month and then they have holes in them or are ripping on the sides," she said.
The line's clothes boast brightly-colored star, heart and camouflage patterns, as well as vivid shades like blue, green, salmon and orange. Many items have pockets, high-stretch waistbands and sleeves with thumbholes. The vast majority of the line is recycled, which Hanna Andersson hopes to increase to 100% in the future.
While Hanna Andersson had 55 retail locations and 11 outlets at the time it was acquired, the company has since pivoted to being online-only. To market this new line, Hanna Andersson is spreading the word via photography campaigns, emails, public relations announcements and posts on social media. While "Active" has only been out for a few days, it's already getting "a really great early response" from parents and kids, Carter said.
As a premium brand, Hanna Andersson is more expensive than children's wear at other retailers such as Target, Old Navy and The Children's Place. Its activewear collection starts at $28 and goes up to $60. But the company stresses that its clothes are well-made, sustainable, comfortable and long-lasting, which brings a lot of value to the table. In addition, all of its clothes are tested for 100 chemicals, Carter said.
Kids outgrow clothes quickly, and when inflation is high, it can be particularly costly to replenish their closets. However, "despite prices rising, consumers still value quality," Kristen Classi-Zummo, apparel industry analyst at The NPD Group, told Modern Retail. "It's really a top focus for consumers overall, especially parents." In fact, she said, 60% of parents said quality was one of the top features they look for in apparel purchases, edging out price.
Within the U.S., children's activewear sales grew 35% from 2020 to 2021, The NPD Group found. That number dropped 10% from 2021 to 2022. However, 2021 was unusual because of its "massive gains," Classi-Zummo said. "In 2021, we had stimulus, we had child tax credits… and pent-up savings from the pandemic. All of this extra discretionary spend, a lot of that went to apparel. So we saw big growth across the board, kids being one of them."
For 2022, Classi-Zummo said, "we saw a pullback in apparel spend, especially when it came to back to school… Backpacks were more expensive, supplies were more expensive, so parents were looking to these other necessities they had to spend money on… It was warm well into September for a lot of the country. A lot of parents were getting by stretching out that summer wardrobe."
Demand is starting to come back. Brands like LoveShackFancy and Michael Kors have jumped into the kids' activewear space, and industry sales are actually higher now than before the pandemic, according to data from The NPD Group. Globally, the online children's apparel market is on track to grow $28 billion from 2021 to 2026, according to Technavio.
"The industry is just right-sizing and getting back to a more normal spending cadence," Classi-Zummo said.