Why grocery brands are striking exclusive distribution deals with retailers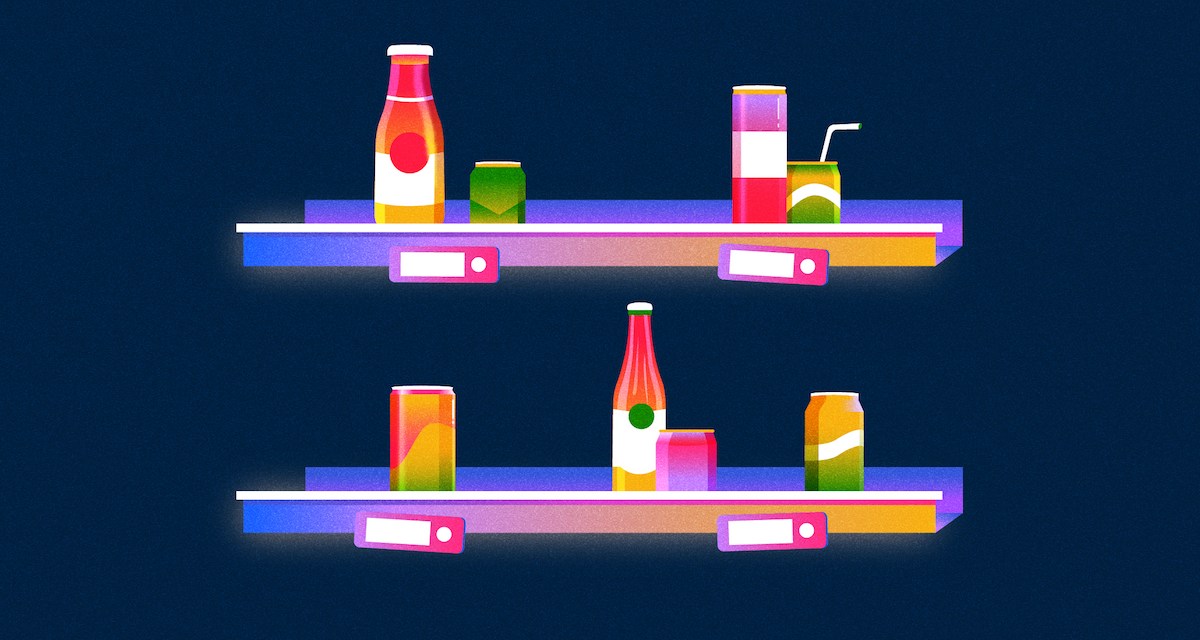 Ivy Liu
More companies are trying to strike close relationships with buyers, leading grocery distribution terms to evolve.
In the competitive landscape of better-for-you food and beverage, young brands are looking for ways to expand their presence — and wholesale is a great way to do that. Some brands have opted for quick and expansive retail launches, essentially going national in as many stores as possible. But as grocery shelves become more competitive, some food startups are working with select retailers to exclusively roll out their latest product with them. According to these brands' executives, not all new products are a good fit for every retail partner. As a result, more of these companies are striking up exclusivity terms with one retailer to launch the new product.
Over the last few years, there has been an influx of food startups launching online first to sell their products direct-to-consumer. Now, nearly all of them are trying to find ways to expand physically, and national retail is the most obvious way to reach new customers. But with more startups vying for shelfspace comes increased competition. And one way to stand out is to offer exclusives to their most valued retail partners.
Fostering retail relationships
Tahini brand Soom has seen success with this rollout strategy, which began with the company's Whole Foods launch in 2021. The company has used grocer exclusivities to forge deeper relationships with each grocers' merchandising teams. Founder Amy Zitelman told Modern Retail that since Soom began as a food service company in 2013, its retail entries have revolved around exclusivity.
For instance, Soom currently has an 11-ounce organic tahini SKU that's only available at Sprouts Farmers Market's innovation centers. At this time, Soom is planning its next exclusive retail launch for its new snack bites, but a retailer hasn't yet been confirmed.
Among natural grocers, Sprouts in particular is increasingly featuring exclusive products or new flavors. As part of its New For You program, over the summer the chain promoted Van Leeuwen ice cream sandwiches and Jolly Llama yogurt bars, exclusively available at Sprouts.
Now that about half of Soom's business comes from retail — and the other half from food service — Zitelman said the company has the advantage to be selective when creating an exclusive rollout with a retailer. Soom is also sold at chains like The Fresh Market, Fairway and ShopRite, among others. "It alleviates the pressure of locking in that account," she said.
"Retailers are looking for differentiation, especially with supply chain restraints still impacting shelf space," Zitelman explained, adding that temporary exclusivity terms have been increasingly mentioned in buyer conversations when discussing distribution terms. "Carrying a product exclusively is also a security to the retailer that's taking a risk on a young brand."
Zitelman said that agreeing to these types of terms also helps foster close relationships with retail buyers. On the other hand, it's not always possible to appease the distributors and retailers within their retail cycles schedules. "It's important to work these launches into our production schedule."
Bespoke marketing opportunities
In some cases, brands strategically choose a specific retailer for exclusives to optimize buzz around a specific product launch.
Sameer Mehta, co-founder and chief strategy officer at dog food company Jinx, said launching with retailers with a temporary exclusivity "has helped us attract a more thoughtful partnership through different marketing channels that the retailer could activate with us."
In Jinx's experience, Mehta said retailers are largely interested in working with digitally-native brands that have already proven out product-market fit and have established communities and brand loyalty. "That serves as the starting point for negotiating things like margin structure, exclusivity, limited-edition SKUs, distribution and so forth."
For instance, earlier this year Jinx launched the Chris Evans Dream Box with Walmart. The decision was made, Mehta said, "because of the ability to give us over 2,000 endcaps across the country, which has really put our business on a fast track." Mehta said that this specific limited edition launch received over 2 billion digital impressions worldwide and sold out online within 48 hours.
Working with a retailer's specific needs
Similarly, Angela Lukic, vp of marketing at snack brand Honey Mama's, said that in more recent years, the company's successes "have come from partnering with each category merchant on their specific timing needs."
This has been important post-pandemic, Lukic said, when store labor and the ability to rely on a regular reset cadence is not a given. "We will go to great lengths to adjust our timelines to support the buying team's strategy and execution," Lukic explained. "With competition at an all-time high, being a self-manufacturer has enabled Honey Mama's to nimbly bring new products to market on timelines that fit retailers' reset windows."
Mike Jones, managing director of brand accelerator Science Inc., agreed that there is a growing race among emerging CPGs to get on the shelves of major retail chains as they lessen reliance on e-commerce.
"The retailers do tend to have leverage over which products are right for their customers," Jones said. This has resulted in brands creating custom rollouts in collaboration with their most valued retail partners. "There are still major labor and freight shortages," Jones said, making it challenging for retailers to pick and choose which products to carry.
Jones said tactics like exclusivity windows are more popular in the natural food channel, where retailers like Whole Foods and Sprouts are looking to differentiate their shelves with products from lesser known companies. Currently, pasta maker Banza has a multi-month exclusivity clause with Whole Foods to carry the brand's new waffles as part of an effort to test their traction.
Soom's Zitelman said that creating exclusives for a specific retailer is a great way to test early reactions to a product, but it's a balancing act when expanding. "The reality is that in order for companies to survive, we need to be widely distributed and we can't be with just one retailer forever."