Why Function of Beauty is developing specific product lines for retailers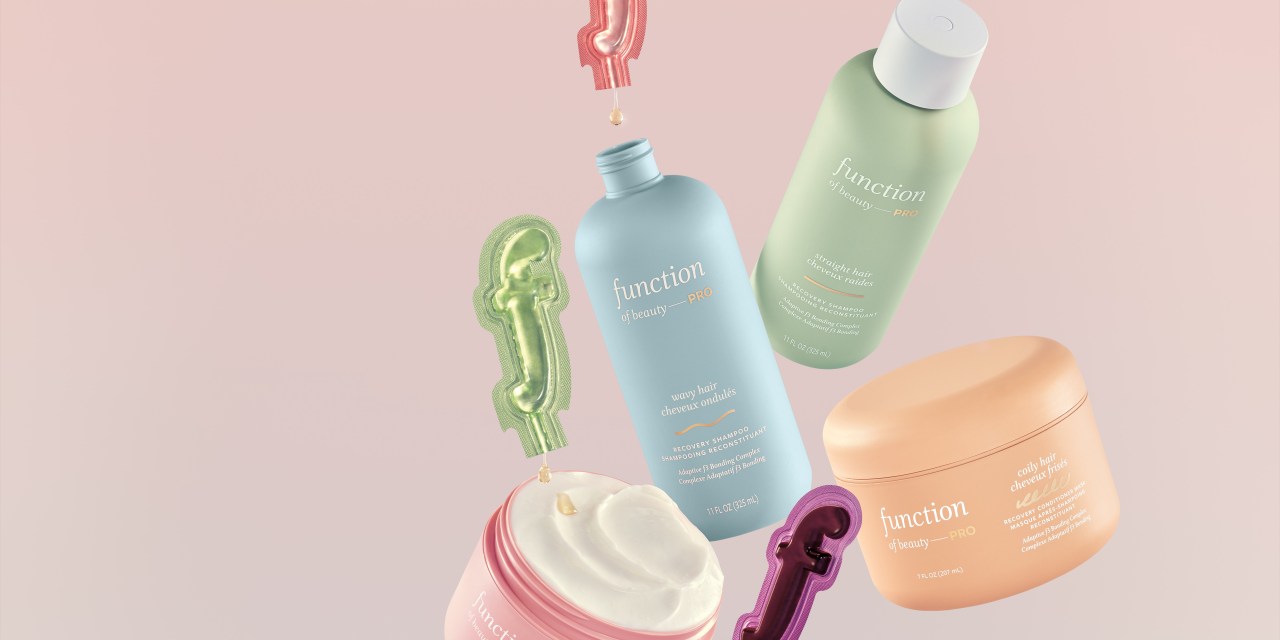 Function of Beauty
Like many DTC-first brands, hair care startup Function of Beauty is expanding into retail. But the company, which launched in 2015 and offers custom-made product subscriptions, isn't releasing one collection for multiple retailers.
Instead, Function of Beauty is trying to cater to different types of customers based on hair care needs and channel preference. This week, the company is rolling out its new Pro collection on Sephora's website and in 300 hundreds U.S. and Canada stores. With the launch in Sephora, Function of Beauty will have three different product lines at different points of purchase — along with the DTC website and at hundreds of Target stores.
With the latest launch, Function of Beauty's product lines now range from the hyper-customized DTC offering — which can create millions of personalized formulas — to the salon grade Pro range at Sephora, geared toward hair damage repair. Meanwhile, the brand's value-driven mass retail collection is made for Target, and is a simplified, less expensive version of the company's formulas; The company launched in Target at the end of 2020, and more recently expanded the line to include styling products.
Function of Beauty's Pro products were developed exclusively for Sephora with the help of professional stylists, and feature proprietary bond-building ingredients. The collection includes shampoos and conditioners for four different hair types, as well as Function of Beauty's treatment pods, called Hair Goal Concentrates. Like the Target line, these treatments can be mixed and matched and poured into Function of Beauty products for customizable hair goals, like frizz taming and added shine. The Pro products retail for $4 to $28.
Alexandra Papazian, CEO of Function of Beauty, told Modern Retail that as the company scales fully-customizable products in retail, Function of Beauty is creating different lines that fit the needs of each retailer's customer base. She added that for Sephora — which has been growing its premium haircare assortment — Function of Beauty Pro makes sense since that customer is usually willing to pay more for luxury hair products.
Papazian said the company, which operates its own factory, developed the new line to be salon quality. On the other hand, the Target collection acts as an accessible entry point to the brand. For instance, an 11 oz. shampoo base is sold for $9.99 at Target. In comparison, a customizable shampoo subscription starts at about $21 on the brand's DTC website.
"We think of DTC as the top of the brand pyramid, which allows for the highest form of customization," Papazian said. The website uses the company's algorithmic quiz to create shampoos, conditioners and styling products for each visitor. The DTC channel allows customers to customize formulas based on hair texture and goals – even allowing the choice of the product's color, fragrance and bottle label. "Of course this level of customization is a privilege, where you can even get your name printed on the bottle."
Indeed personalization is arguably the brand's biggest draw, but that level of customization isn't feasible in a retail setting. The solution for Function of Beauty was to create concentrate pods to mix with the base products. This way, Papazian said some level of tailoring "is accessible to all across every channel."
Personalized beauty formats are also becoming increasingly important for retailers, as they try to cater to Gen Z shoppers. Last year, Oddity Tech — which went public in July — launched its second customizable beauty brand, hair and skincare brand SpoiledChild. Function of Beauty marks Sephora's first foray into customizable haircare. Earlier this year, the retailer tested the concept with skincare, in partnership with AI-powered brand Proven.
Amber Williams, vp of brand strategy at marketing agency Front Row, which works with beauty brands such as Makeup By Mario and La Mer, said customization is taking hold across various consumer categories. "For hair care, the rise of texture-specific solutions in retail environments from brands like Shaz & Kiks, Amika, Ouai, and K18 Hair illustrates the sophisticated expectations of personalization from shoppers across generations and ethnic backgrounds," Williams said.
She added that "despite the complicated formats that sometimes accompany a 'made-for-you' collection sold online, a retail experience remains important for brands to execute customization at scale.
With the success of the Target partnership and now the Sephora debut, Papazian said that Function of Beauty will continue to consider exclusive lines for each new retailer it enters. "DTC will remain our flagship channel," Papazian said. "But over time and with scale, we see retail becoming a bigger part of the business."