Why Blue Bottle is rolling out its first capsule collaboration with Nespresso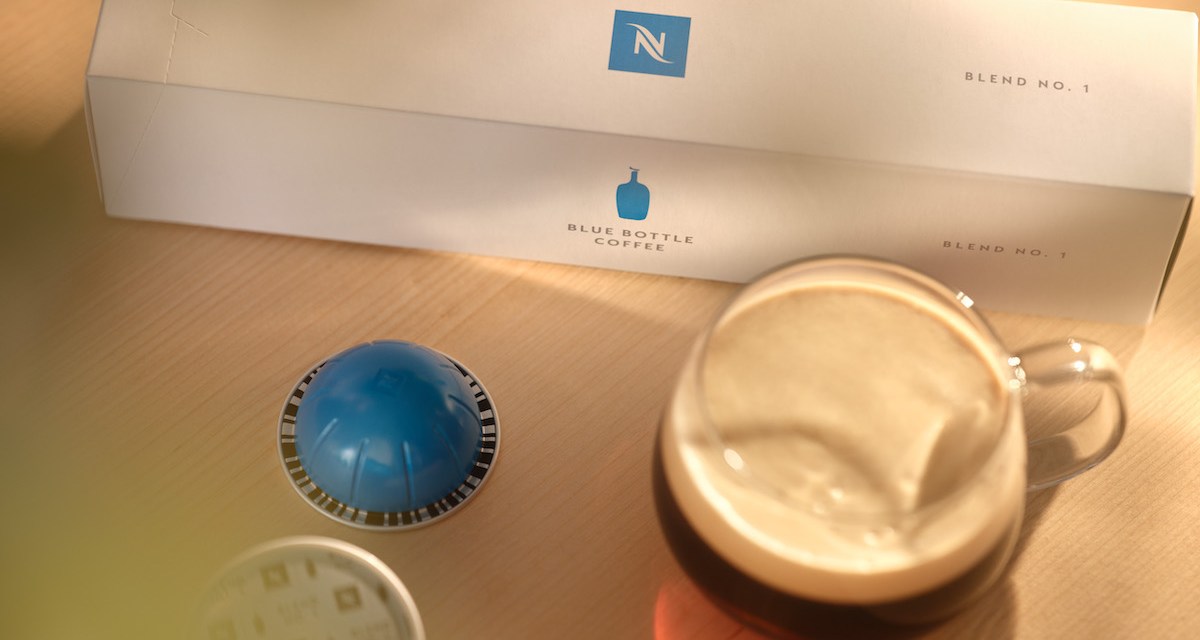 Nespresso
Nespresso and Blue Bottle have teamed up to create a first-of-its-kind single-serve capsule, representing another step toward the mass market for Blue Bottle and a power play by parent company Nestle to win over young American consumers.
The brands this week started rolling out Blend No. 1, a limited-edition mild blend made from a mix of coffee beans from Ethiopia and Uganda. The capsule, designed to fit Nespresso's Vertuo machines, comes in Blue Bottle's signature color. Tastes will be available at select Nespresso boutiques in the United States starting Oct. 6, with the product fully launching on Oct. 18.
Nespresso CEO Alfonso Gonzalez Loeschen told Modern Retail the goal with Blend No. 1 wasn't to simply put Blue Bottle coffee in Nespresso form. Rather, the brands had both their coffee masters work on the blend for a period of over three years, coming up with at least half a dozen iterations before settling on the final blend. And as the name suggests, there might be future blends to come.
"We started to see a bit of a dance between the two brands," he said. "There was a shared philosophy for both our brands. It starts with quality, uncompromising quality and responsible sourcing, as well as meticulous attention and passion for detail."
The launch marks another way that Nespresso is aiming to win over young customers, following the launch of its affordable and colorful Vertuo Pop machines. It's also made headway putting out more iced coffee blends, and partnered with Starbucks on a limited-edition blend earlier this year. Nespresso in the first half of the year saw single-digital growth overall, but double-digit growth with continued market share gains in North America, according to its most recent earnings.
And for Blue Bottle, which Nestle acquired by buying a majority stake in 2017, the collaboration looks to drive broader appeal. The 20-year-old brand came up during the third wave of coffee as a trendy Bay Area coffee cart before opening its first cafe. Now, Blue Bottle operates more than 100 cafes worldwide that feature its minimalist clean aesthetic, up from 29 in 2016. Online, it offers beans, instant varieties and has a subscription model.
Both brands will advertise the blend on social media, primarily Instagram, including a video unveiled on October 18.
Blue Bottle CEO Karl Strovink said that his company began to collaborate with Nespresso on the blend during the pandemic when cafes were closed and both were considering the future of in-person coffee.
"It was not a mandate," he said. "It was extra time on the part of both brands that really created this, and it was a lifeline of sorts for some folks at Blue Bottle."
Brenden Witcher, vp and principal analyst with Forrester, said Nespresso's focus has been on positioning itself as a high-quality brand that caters to its customers. Coming up with new products is a way to innovate and keep the brand's offerings fresh, he said. And that's a particularly important trait in coffee, where in-home brands like Nespresso are competing against the on-the-go convenience of Starbucks.
"If you're not going to be a convenience buy, you have to have something else that attracts customers," he said. "It's a nice niche for them, and it does place them squarely in their own category."
Andrew Hetzel, team leader focused on coffee at consultancy Landell Mills, said the launch makes sense given the ownership of both brands — and Blue Bottle's increasing moves into more ways to find itself into homes.
"It's a natural extension as Blue Bottle becomes more integrated in the Nestle family," he said.
Blue Bottle, which purchases specialty coffees at Fair Trade prices or higher, has typically been recognized as a high-quality brand, Hetzel said, but it typically doesn't source the most expensive coffees in the world. That fits well with Nespresso, he said, in terms of being able to scale. Overall, though, both brands stand to benefit from the collaboration, as having the Blue Bottle name in its catalog may help Nespresso win over consumers who are familiar with the brand, Hetzel said. 
"They very carefully curated the design of their shops and made them trendy and cool, and made the beverages look good as well as taste good," he said. "That sort of approach fits well with Nespresso who has always styled themselves as an upper-tier solution."
From a product perspective, the Blend No. 1 capsule is the first single-serve capsule that Blue Bottle has been a part of. It's not alone in akin the leap from cafe to single-serve — Intelligentsia, a Keurig Dr. Pepper brand, got the treatment last year — while Peet's, Starbucks and Dunkin are widely available as K-Cups.
But to Gonzalez Loeschen and Strovink, the Blend. No 1 aims to appeal to consumers looking for a higher-quality cup at home. The Vertuo system works by reading the capsule to determine temperature and length of brew time, as opposed to a single method of serving regardless of what's inside.
"Any coffee brand can make a pod," Strovink said. "Part of the lure here is to make sure that specialty coffee can traverse different formats."