While Foot Locker fumbles, Dick's Sporting Goods sees growth from footwear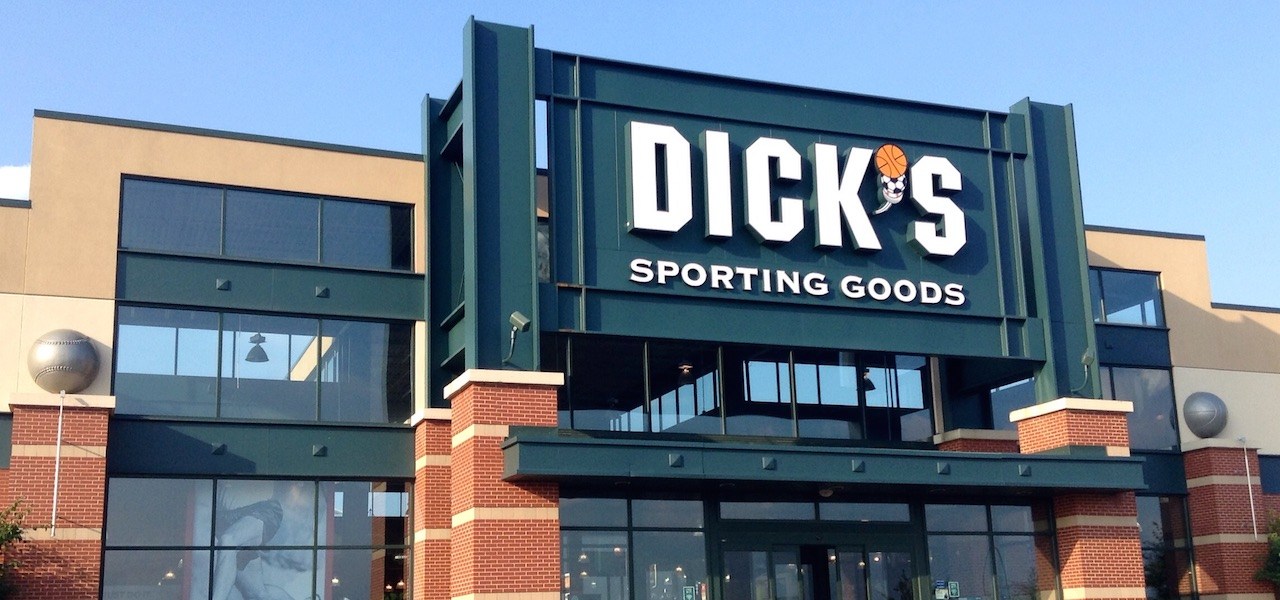 When it comes to revenue, Dick's Sporting Goods began the year with a slam dunk. And footwear played a big role in its success.
On Tuesday, the retailer reported that net sales for its first fiscal quarter jumped 5.3% year-over-year to hit $2.8 billion, while its net income shot up 17% to reach $305 million. Its comparable store sales also increased 3.4% from the same time a year ago.
Demand for discretionary categories like sporting goods has slowed, but Dick's has managed to hang onto momentum in a way its other competitors have not. Foot Locker, for example, lowered its yearly guidance last week, citing lower tax refunds and a slowdown in demand. While Dick's acknowledged "macroeconomic uncertainties," it is optimistic about the rest of the year and is maintaining its outlook for 2023. The key to its success, the company said, is a combination of a strong product assortment, engagement with athletes and innovative store formats. Footwear, too, is proving extremely popular with customers in stores and online.
"Our strategies are working and resonating with our athletes," President and CEO Lauren Hobart said on Tuesday's earnings call. "We remain enthusiastic about our business and our long-term growth plan. As the largest U.S. sporting goods retailer, we have robust runway for growth and are well positioned to continue gaining share in a fragmented $140 billion industry."
Dick's sells thousands of items across several categories, from apparel to patio furniture to kayaks. However, footwear is turning out to be one of its most successful categories. Today, it's a "key part" of Dick's merchandising strategy, Hobart said.
"Footwear was a very solid, very strong contributor to us over the course of the quarter," she explained. "We think footwear is the engine that drives the train. Footwear is a really important part of our entire assortment, and so we're not looking at a time where it becomes less of a driver to topline sales."
This past quarter, Dick's converted 20 stores to include premium full-service footwear. Dick's aims to have 75% of its stores offer this by the end of the year.
Recent deals with other retailers have also helped boost Dick's product assortment and sales growth. In February, Dick's bought the sporting goods company Moosejaw from Walmart for an undisclosed sum. In November 2021, Nike announced it would integrate its loyalty program within Dick's membership program to offer a more connected shopping experience, as well as exclusive Nike styles and in-store events. Today, Dick's relationship with Nike "is at an all-time high," Hobart said.
Seth Basham, managing director of equity research at Wedbush Securities, told Modern Retail that Dick's stands out to customers because it offers products that few retailers have. "In terms of the product assortment, they are getting more narrowly distributed merchandise, which is in demand," he explained. "So that's helping drive consumers to engage with them."
Dick's is also making headway on growing its retail footprint. Much of its store strategy revolves around House of Sport — giant stores that also feature rock climbing walls, batting cages and putting greens. Dick's has three House of Sport locations across the country but is on track to open nine ahead of the back to school season. Dick's is also beginning construction on more than 10 additional House of Sport locations that will open throughout 2024.
"House of Sport is redefining sports retail and over the long term will be a significant part of our growth story and the primary driver of our square footage growth," Hobart said. She pointed out that House of Sport delivers "much higher sales and profit" than other avenues, and that Dick's is on track to hit 75 to 100 House of Sport locations nationwide by 2027.
Basham said he was pleased with Dick's earnings, and that they are "certainly stronger than the market feared." Looking ahead to next quarter, Basham is keeping an eye out for whether the slowdown in consumer spending catches up with Dick's, as well as how Dick's might respond in an increasingly-promotional environment.
Overall, he said, "they're doing a great job… They're taking market share and they're holding their margins better than people expected. So, it's a relatively good story here in a bleak consumer spending environment."