Why retailers like Nike and Dick's are tying their loyalty programs together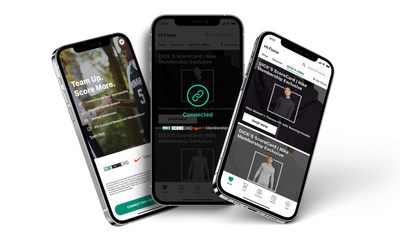 Dick's Sporting Goods X Nike
Retailers are increasingly teaming up to let their customers earn and redeem reward points at multiple places where their products are sold.
In most cases, this is happening in instances where retailers have a wholesale or shop-in-shop partnership. Last month, for example, Nike and Dick's announced they would be integrating Nike's loyalty program within Dick's membership to support Nike exclusives on Dick's e-commerce site. Two store-in-store partners also made similar announcements: Kohl's and Sephora, as well as Target and Ulta. Shoppers at Sephora at Kohl's or Ulta at Target earn points at both retailer partners on a single purchase via integrated loyalty accounts.
The method can benefit both retailers and their consumers. It combines two customer bases and strengthens the brand-retailer relationship while lowering the number of apps a consumer needs to access different loyalty programs. Moreover, the method could strengthen brand and retailer's access to first-party data by getting access to data from a pooled set of customers. However, in a time where advertising and targeting costs are rising, brands may be wary of giving up more control over their customer data.
Better together
In the first step of Nike and Dick's loyalty integration, the companies jointly announced that Dick's Scorecard members can integrate their Nike Membership accounts on Dick's app. Members get access to exclusive collections and products — like a new Blazer sneaker launch — and special events at Dick's "House of Sport" stores.
The two companies don't inherently need each other to succeed: Nike ranks number three on Similarweb's top apparel retailers by site traffic list, just below Shein, while Dick's ranks number five in the sports category. In iOS shopping app downloads in the U.S., meanwhile, Nike ranks sixth while Dick's ranks 37th, according to App Annie.
However, Nike is Dick's most popular vendor, accounting for 19% of the retailer's total sales, according to Dick's 2020 10-K. By contrast, none of the retailer's other 1,300 vendors account for even 10% of total purchases, according to the same 10-K. At Nike, meanwhile, wholesale retail accounted for 61% of the brand's total sales in its most recent reported sales quarter.
Nike has been honing its retailer partnership to a more limited set, and loyalty integration helps the brand strengthen ties with the wholesalers it is keeping around. For Dick's, the focus on loyalty gives its consumers access to exclusive products and events that other Nike wholesaler partners might not have access to.
"If you're not really gas, grocery or general merchandise… consumers are probably only shopping at those brands one, two or three times a year," said Tom Caporaso, CEO of loyalty provider Clarus Commerce. "Intertwining the two programs gives folks one reason to go to Dick's."
"We're helping consumers connect with sport and our products whenever, however and wherever they shop Nike," said Sarah Mensah, Nike's vp and gm, North America in the press release about the partnership. 
Similarly, Kohl's and Sephora have combined forces on loyalty as they roll out their shop-in-shop partnership to 850 locations by 2023. A loyalty member who shops at Sephora-at-Kohl's can get points at Kohl's as well as Sephora for the same purchase and use its Sephora points at Sephora-at-Kohl's locations and standalone Sephora locations.
"One of the aspects, I think, which also makes this partnership unique is how we're thinking about the loyalty programs," said Kohl's CEO Michelle Gass during the retailer's second-quarter earnings event. "A customer buying Sephora at Kohl's has the opportunity to get both their Beauty Insider points and Kohl's Rewards [points] and as we're bringing customers in, we're actually seeing very nice adoption of Beauty Insider."
Target and Ulta, who announced their shop-in-shop partnership in July and started rolling out the model in August, follow a similar model. A beauty consumer in Target can buy a Ulta shop-in-shop product and get points from both retailers. However, "Ultamate Rewards" points can only be used at Ulta.com and standalone brick-and-mortar locations, though "Circle Points" can be funneled back into Ulta-at-Target purchases.
"When you shop Ulta Beauty at Target, you get the benefits of both Target Circle and Ultamate Rewards," said the company in a press release about the partnership. "Combined, the two programs already have more than 100 million users."
The data question
Loyalty programs partially exist to reward repeat purchasers and brand loyalists, but they also are important first-party data sources for brands. Using data points like purchase history, age, location or demographic, brands and retailers can target their consumers with better messaging and marketing.
An integrated loyalty model could lead to more consumer data if brands and retailers pool information about their separate consumer bases together. One Wisconsin shopping mall earlier interviewed by Modern Retail said one of its goal was to integrate all its online operations — including loyalty — across brands and pooling customer data together.
But it's up to the two or more brands integrating their programs to decide what data they want to share with each other. In its press release announcing the partnership, Nike and Dick's did not say how the data sharing between the two loyalty programs would work.
Nike has been on a quest to get more of its retail partners to use its loyalty program for a couple of years now. In 2019, Foot Locker announced that it would let customers use the Nike app to check out at one of its newest stores. The two partnerships, however, aren't exactly analogous; in that instance, Nike said it wouldn't share personally identifiable information from NikePlus members such as names or phone numbers with FootLocker, but would share insights from the NikePlus app "so that together both brands can serve consumers better." Still, data sharing can vary depending on how loyalty programs are structured.
Additionally, brands and retailers may have different priorities for the types of data they are collecting and how they plan to use it. In brand-retailer matchups where one is bringing more sales power than the other, there may be less incentive to share. "With cookies going away in the next 18 months," explained Caporaso, this first-party data may be more important than ever.
"For co-op loyalty programs is that information really getting back to those individual brands, versus the program?" asked Caporaso. "I think the trade-off your probably drive [is] more customer engagement… but you might not be able to get to that data and it's not specific to your brand."