Earnings
// August 16, 2022 ■ 4 min read
Walmart makes progress on inventory glut during second quarter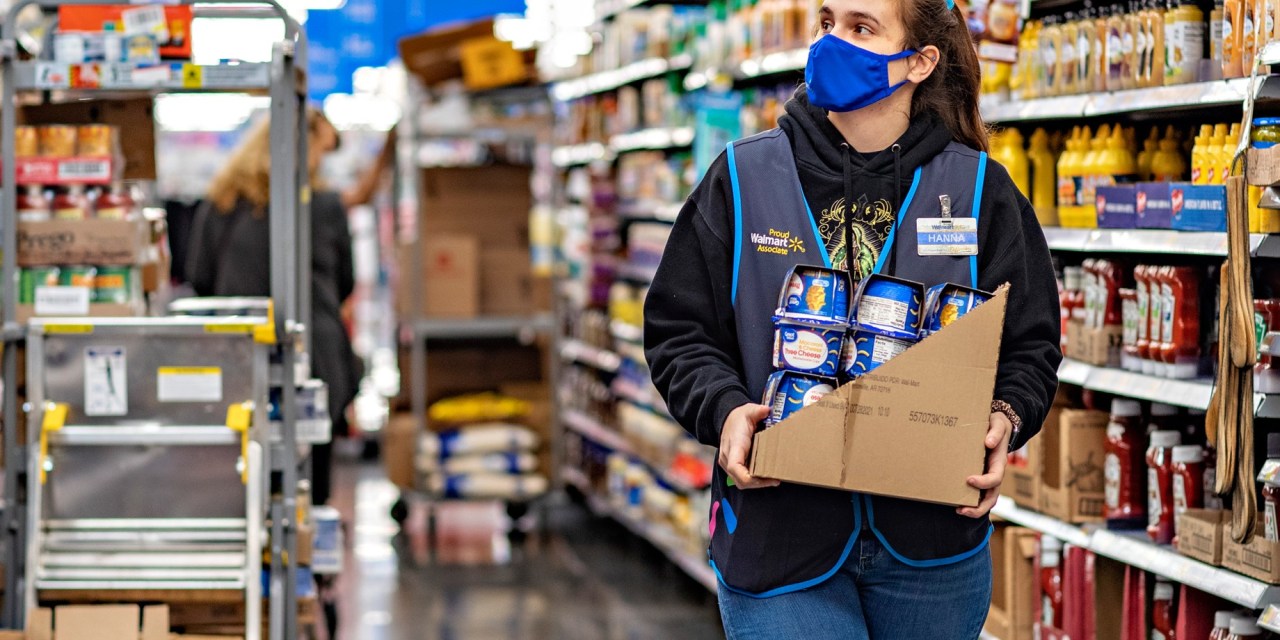 Walmart
After being forced to roll out more markdowns to clear its inventory, Walmart is making inroads.
Walmart's inventory for its U.S. business grew 26% in the second quarter compared to last year. But, that is a 750 basis points improvement from first-quarter levels. In the grocery business, Walmart's in-stock levels have improved by around 250 basis points. The company's total revenue also grew 8.4% year-over-year in the quarter to $152.9 billion.
"We estimate that only about 15% of our total inventory growth in Q2 is still above optimal levels," John David Rainey, Chief Financial Officer at Walmart, said during a call with investors and analysts. "Our actions in Q3 will allow us to make significant progress toward rationalizing absolute levels and mix which will enable our stores to be well positioned ahead of the holiday season."
Despite grappling with the impact of excess inventory and shifting customer spending, Walmart reported that it is steadily resolving some of the issues impacting its bottom line. The retail giant is battling headwinds on several fronts, including inflationary pressures and mismatched demand. Executives said it may still take several quarters to work through inventory backlogs.
Earlier this year, Walmart and other big-box retailers were experiencing higher inventory levels due to consumers spending less on categories that trended over the pandemic and more on travel and entertainment. In order to make more room for in-demand products, Walmart had to roll out deep discounts.
Executives said Walmart spent the second quarter clearing through apparel and summer seasonal items. Walmart also said the company has canceled billions of dollars in orders. However, its bottom line took a hit from the elevated markdowns. 
The retailer's operating income for the quarter dropped 6.8% to $6.9 billion. "We've made good progress to reduce inventory levels where we focused, and taken markdowns," Walmart CEO Doug McMillon said in the earnings call. "The aggressive approach we took to move through apparel, in particular, put financial pressure on us but it helped relieve pressure on our stores and through our supply chain."
R.J. Hottovy, head of analytical research at Placer.ai, said that although Walmart's markdowns might impact its margins in the near term, discounting helps Walmart attract customers to its stores, especially as consumers look to stretch their budgets.
"It's all about visitation frequency and keeping your customers continually come back to the store as opposed to going to another channel," Hottovy said. "Right now, this kind of strategy makes a lot of sense." 
Apart from discounts, some retailers have turned to liquidators or off-pricers to clear out excess goods. Much like Walmart, Target said in June that has also canceled its upcoming orders as part of its plan.
Amid the rising cost of goods, Walmart was also able to acquire even middle and higher-income customers. The retailer's comp sales rose 6.5% in the second quarter and grew 11.7% on a two-year basis, driven by strong grocery sales and higher average ticket size. Walmart's e-commerce sales were up 12% year-over-year and 18% on a two-year basis. 
"It does seem like inflation has become a big factor for a lot of consumers. And as a result, they're seeking out value price channels," Hottovy said. "Walmart is one of the beneficiaries of that."
Sean Turner, CTO and co-founder of retail tech solutions firm Swiftly, said Walmart is attracting customers that are trading down to more affordable items.
"What that means is we're seeing a lot of pricing pressure that's even impacting customers earning over $100,000 a year that are going to Walmart in order to find savings and deals," Turner said. "That drove strong comp store sales for Walmart."
After lowering its full-year outlook last month claiming that it expects profits to fall by up to 13%, Walmart offered a rosier forecast. The company now expects operating income to drop 9% to 11%. It also expects comp sales for Walmart U.S. to grow 3%, excluding fuel, in the second half of the year.
Despite Walmart's rosier forecast though, experts said the economic environment is difficult to predict. Though there are signs that inflation may have reached its peak, it might take time for costs to come down. Additionally, spending at the moment is still directed towards travel and entertainment, rather than consumer goods.
"I think they ended up doing well compared to their adjusted guidance," Turner said. "If they can continue to perform here that'll set themselves up better than their peer group for the next couple of quarters."