To energize the brand, Bravado Designs initiates rebranding and category expansion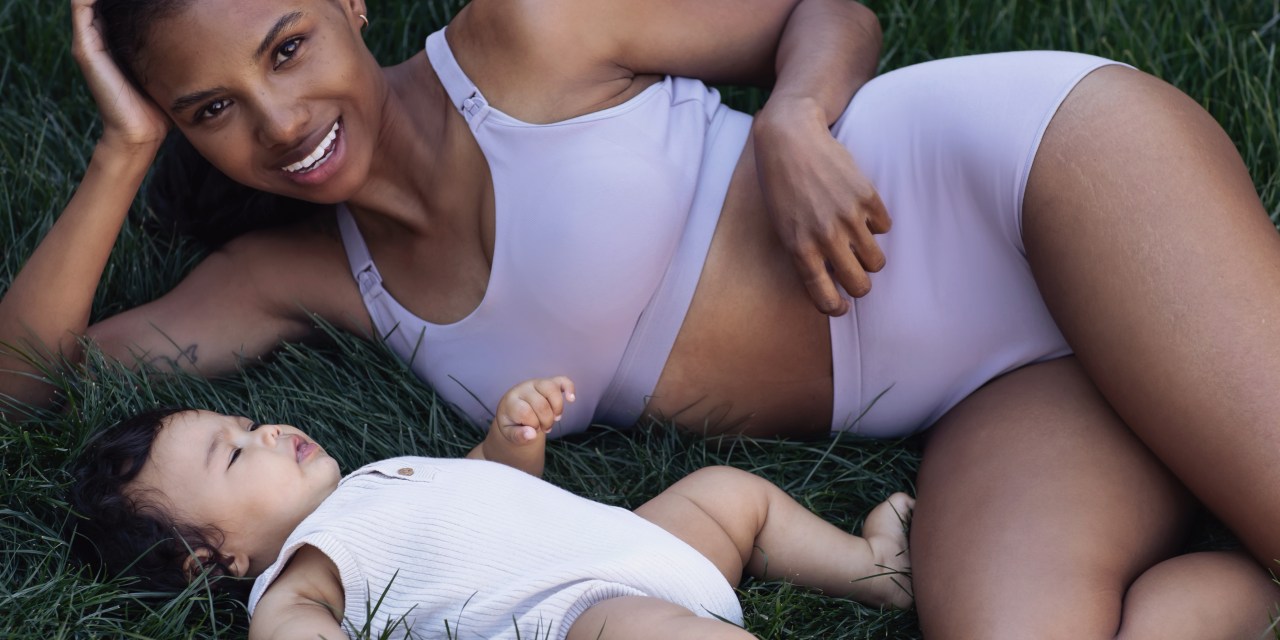 Bravado Designs
After 30 years of business, maternity brand Bravado Designs is giving its brand a refreshed look and feel.
"We were very dated," said Nicole McCasey, president of Bravado Designs. "It was 30 years old and it looked 30 years old."
The company has been working on its rebrand for the last 10 months, and it officially went live in late September. It updated its color scheme, logo, photography and tagline, among other elements that could influence the way customers see the brand. Alongside the rebrand, Bravado Designs released new products and expanded to new categories like swim and bags.
Bravado Designs was founded back in 1992 by two moms who wanted to develop bras that both looked good and had a great fit. While the company has a long history of offering maternity and nursing intimates, Bravado Designs wanted to be more relevant to modern shoppers by refreshing its brand image and expanding its product range. The company is expecting a revenue growth of 12% in 2023 over 2022, and it is forecasting an 18% to 20% growth next year.
For the last 10 years, McCasey said that the company's brand has really hinged on three styles of nursing bras. "Part of our strategy is really to diversify going forward because we know that the needs of moms are much broader and deeper than just three nursing bras," she said. McCasey added that it wants to launch products that address the needs of moms. "So sometimes those bras don't necessarily meet her demands, whether it be fit, function, support or aesthetic."
The brand's products are sold in 47 countries with North America being of its main markets. It has a broad wholesale distribution in the U.S., which includes partnerships with retailers like Target, Nordstrom, Kohl's and Macy's. Bravado Designs has 19 SKUs and is launching 10 new products this fall. Roughly about 20% of its revenue comes from DTC and 80% comes from wholesale.
Just recently, it launched two new maternity bras, called Intrigue and Tranquil, which quickly became a hit. "For the new products that we have launched, in just six weeks of sales, [they are at] are at 50% of our best-selling style," McCasey said. "It way outpaces what we had forecasted and our expectations for the product." The new products are currently available in independent retailers like Town Shop in New York and Carry Maternity in Toronto.
The company is also expanding into new categories that would help address some of the pain points of its customers, including swim and bags. The company recently launched two new styles of bags this month, a hospital tote and a diaper backpack. In the spring of 2024, it is set to launch a small swim collection, which includes nursing swimwear.
"What we've really written into our brand promise is that we want to equip moms for all their adventures," McCasey said.
Melissa Minkow, director of retail strategy at digital consultancy firm CI&T, said that companies typically initiate rebrands when the brand is no longer resonating with their target audience. By executing a rebranding effort, she said that brands could gain access to new audiences.
"Typically, when you see a rebrand happen, it's because something culturally has occurred that has made the brand either no longer relevant or taboo in the way they've presented themselves," Minkow said. She added that rebranding efforts also "allows you some free rein to go into different categories that would have been off limits before."
Lately, legacy brands both big and small have been initiating major rebrands. Nordstrom Rack said it was rolling out a rebrand to differentiate itself from competitors and even updated its logo. In an attempt to make a comeback in the U.S., fashion label Esprit is rolling out a rebrand in 2023 by leaning into Gen Z's love for vintage style.
Minkow said that rebranding can be pricey and risky. She said people might not feel a connection with the refreshed brand. Rebranding also requires a significant amount of resources and investment to execute.
Bravado Designs' McCasey said that it is still too early to tell how the people are responding to the rebrand. For now, the company said it is getting positive responses from customers on social media.
"The snowball is going and the rebrand coupled with our new product launches are a huge piece of what will take us into the next 30 years," McCasey said. "We're certainly celebrating the foundations that have been built in the first 30 [years] and planning for the next."