'This is our showtime': How candle companies prep for their biggest season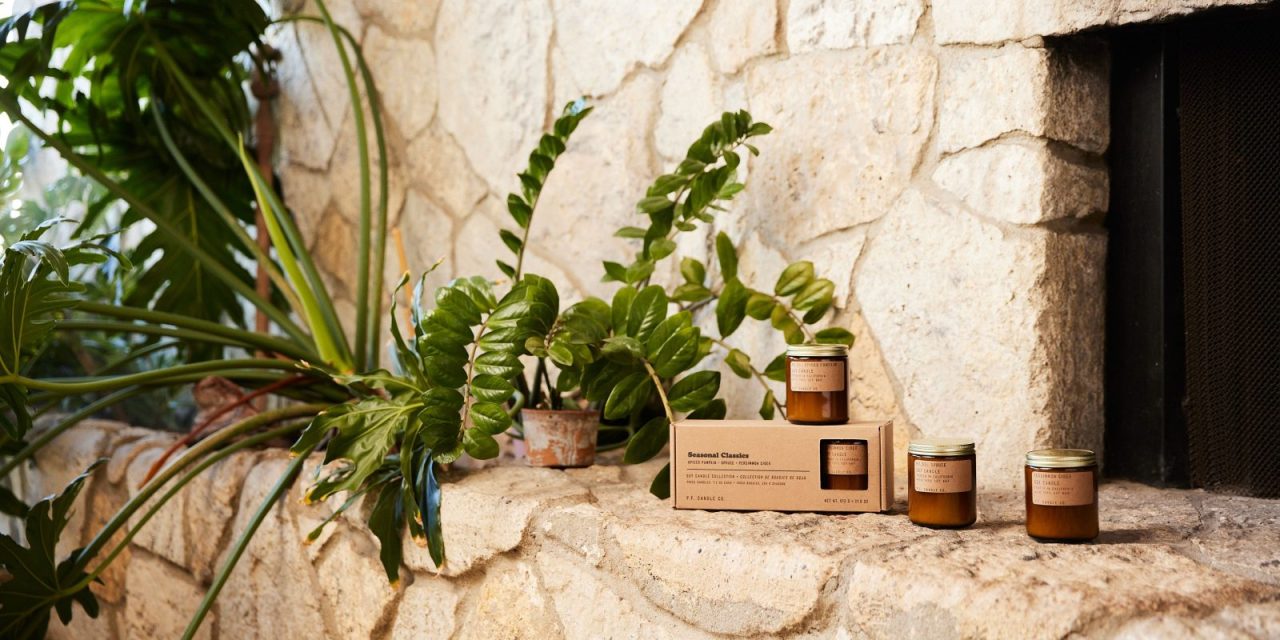 P.F. Candle Company
At P.F. Candle Company's Los Angeles manufacturing hub, the scents of autumn are wafting through the August air. Production runs have been increased by as much as 30% to prepare for sales from September through March — otherwise known as candle season.
"This is our showtime," said founder and creative director Kristen Pumphrey. "This is an important time of year for us. We essentially spend the whole summer getting ready."
As much as 45% of P.F. Candle's annual sales are generated during the fourth quarter alone. And it's far from alone — candles and other home fragrance brands report high sales lift during "candle season" as people head indoors and add more fragrance to their home. The National Candle Association says about 35% of all candle sales occurs during the Christmas and holiday season. Some high-end brands, like Nest, couple the season with promotions.
The business of seasonal scents requires candle brands to estimate potential demand to make sure they're not saddled with too much excess inventory at the end of the season. While pumpkin is always a top seller, Pumphrey said, it ends abruptly on October 31. "Then I'm like, don't run anymore, sell it out! Because the sales drop off rapidly."
Ranger Station, a candle brand based in Nashville, Tennessee, specializes in outdoorsy scents year round. But it sees an average sales lift of 85% from summer to fall, and another 170% from fall to winter. Founders Steve and Jordan Soderholm told Modern Retail that they tend to see woodsy, smokey and amber notes become more popular scent profiles as temperatures drop.
"People are trying to create an atmosphere in their home versus being outside," Jordan said. "And a candle is a lot of people's first step into creating that atmosphere, like a candle and a vinyl and maybe something to drink or eat."
This year, Ranger Station is launching "The Anti-Pumpkin Club" candle. Soderholm had tried for several years to get a pumpkin scent right. But he felt the concoctions didn't meet the bar for a realistic scent — either it didn't smell enough like a pumpkin, or it was too sweet. Instead, he leaned into the nature-scented roots of the brand and came up with a limited-edition version of the brand's existing pine candle for fall.
"It's like, let's keep the pumpkin to the pumpkin spice latte. And let's fill our homes with what the fall actually smelled like, which is it's a season of all the leaves have fallen off the trees," he said.
The popularity of fall scents extends beyond candles into other areas. Enviroscent is a fragrance brand that specializes in non-toxic air fresheners. Vice president of marketing Carl Henrickson said the key with seasonal scents is to sell them early, as customers start stocking up on fall fragrances in August.
"I think Starbucks kind of showed the way for a lot of brands in terms of just the pumpkin spice craze," he said. "One thing we've learned is with every season people are ready for the next season before it comes. You almost can't go too early."
Enviroscent begins selling its vanilla bean and pumpkin chai scent in August. In September, it will put out a honeycrisp apple and cardamom, followed up by a balsam fir and spruce in October.
Preparing for the season begins months in advance with calculating potential demand based on last year's sales performance. Henrickson said this is a critical part of making limited editions, as the demand for seasonal products falls off as quickly as it arrives. And starting early also helps accommodate for any supply chain delays that could impact the success of a short-lived season; Enviroscent thinks about the seasons in 12-week increments.
"Come January, those fall and holiday scents, people aren't too interested in them. So we really do a lot of math, and take our best estimate of where the business will be at the time fall and the holiday rolls around, and how much demand there will be. And we're never 100% right. But we get better at it every year."
Candle season also merits experimentation with different scents and packaging to give customers something new to try out. For this year, P.F. Candle put out a persimmon cider candle that aims to be a more transitional, late-summer scent, with a ripe fruity scent mixed with mulled spices. It's also putting out a limited-edition green glass jars.
Ultimately, candlemakers say that the most successful seasonal scents create a comforting atmosphere that evokes nostalgia of pumpkin patches, family gatherings and the change of the weather.
"These fragrances and the scents have been around, and then people just go back to them as a memory of something they've experienced in the past," Neuberger said.