Research Briefing: Intimates brand Parade agrees to purchase, as more DTC brands see wholesale as stable growth channel 
Parade
Welcome to the Modern Retail+ Research Briefing, your weekly curation of retail, technology and marketing research insights. Modern Retail+ members have full access to the research below.
In this edition, we share focal points from Modern Retail's recently released report on how more DTC brands view wholesale as a stable channel for growth.
Interested in sharing your perspectives on the future of retail, technology and marketing?

Apply to join the Modern Retail research panel.
64% of direct brands expect spending on wholesale partnerships to increase in the next year
Earlier this week, direct-to-consumer intimates brand Parade agreed to be acquired by Ariela & Associates International, a U.S.-based lingerie company that sells to both retail customers and wholesale clients. And it's another example of how important wholesale is for DTC startups striving for real growth. Parade launched with underwear in 2019 before later moving into adjacent categories — such as bralettes, bodysuits and sleepwear — and by August 2022 the startup brand was valued at $200 million.
Prior to the acquisition announcement, Parade had begun moving into other sales channels too, such as ramping up its physical retail presence. In December 2021, the brand opened its first standalone store in New York City's Soho neighborhood. And, in August 2022, it started selling at 25 Urban Outfitters locations via store-within-stores, and through the retailer's website.

Now, with Parade's acquisition by Ariela, the brand will move firmly into the wholesale channel. Wholesale has become a much more important part of the DTC growth playbook over the last year, according to findings from a recent Modern Retail+ and Glossy+ Research survey.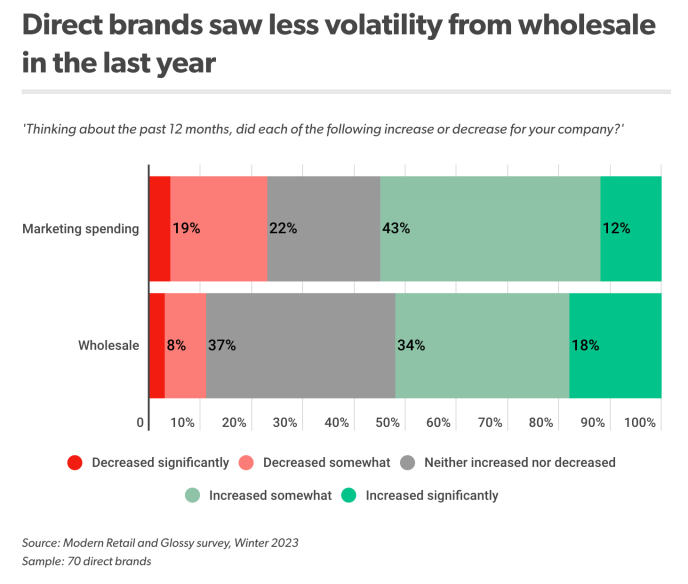 When we asked 70 direct brands about the performance of sales channels and marketing spending over the last year, wholesale appeared to be the one with the least amount of volatility. Only 10% of respondents said they spent less on wholesale partnerships last year, compared to over 20% who said they spent less on marketing.
It appears things will stay the same in the coming year. According to the survey, fewer direct brands plan to decrease their marketing spending. But, more of these brands said they are going to significantly increase their wholesale expansion, compared to those that said they greatly increase marketing budgets.
Key findings:
Twenty-seven percent of respondents said they expect spending on wholesale partnerships to "increase significantly" in the next 12 months, while 22% expect marketing spending to do the same.

Eighteen percent of respondents said spending on wholesale partnerships "increased significantly" last year, while only 12% said marketing spending grew at that same clip.
Research Rewind: Kate Spade owner Tapestry acquires Capri Holdings, as Kate Spade pairs with influencers to boost brand
Last Thursday, Tapestry, Inc. announced its $8.5 billion acquisition of Capri Holdings Limited and gave legs to the once farfetched notion of a leading global fashion group birthed in the states. Once the deal goes into effect next year, one U.S. company will own six major fashion brands bringing in a combined $12 billion in annual revenue. Tapestry will add the Versace, Jimmy Choo and Michael Kors brands to its existing portfolio that includes Coach, Kate Spade and Stuart Weitzman.
Modern Retail+ Research recently took a deeper look at how one of those brands, Kate Spade, used influencers to revitalize its brand as part of a larger case study on how brands have paired influencers and events to boost awareness.
In February, Kate Spade New York unveiled its fall 2023 collection with a New York Fashion Week presentation in which it invited influencers to engage with its new collection. The brand partnered with fashion influencers Charles Gross and Madeleine White to co-host a livestream, and it also posted content created by White and Gross — who have 4.1 million and 1.3 million TikTok followers respectively — on its TikTok, Instagram and X (formerly known as Twitter) accounts.
The livestream was well received by FacebookWatch viewers, with 120 reactions, 106 comments and 17 shares, and the social media posts garnered positive results as well.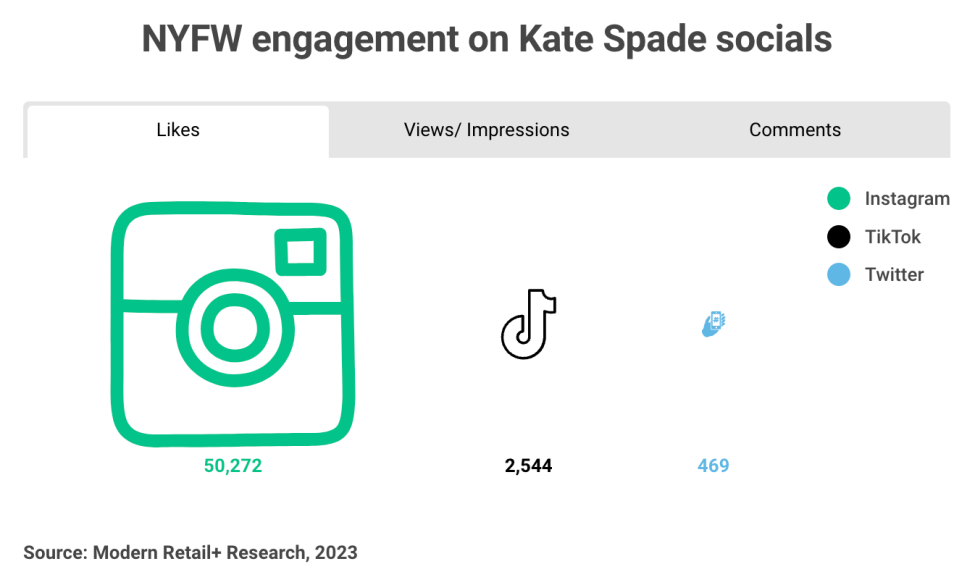 Key findings:
The Kate Spade brand's social media posts received strong engagement — especially on Instagram, where the content received more than 50,000 likes. It also drove more than 64,000 views on TikTok and 163,000 X (formerly known as Twitter) impressions.

Kate Spade aimed to revitalize its brand with a fresh collection presented to fashion influencers who align with the brand's legacy image, but also speak to a younger demographic that the brand is trying to target. That's especially true on TikTok where the majority of users (71%) are between 18-24 years old.
See research from all Digiday Media Brands:
Modern Retail+ Research
Digiday+ Research
Glossy+ Research