Quick-service restaurants like Chipotle and Cava are trying to maintain their digital growth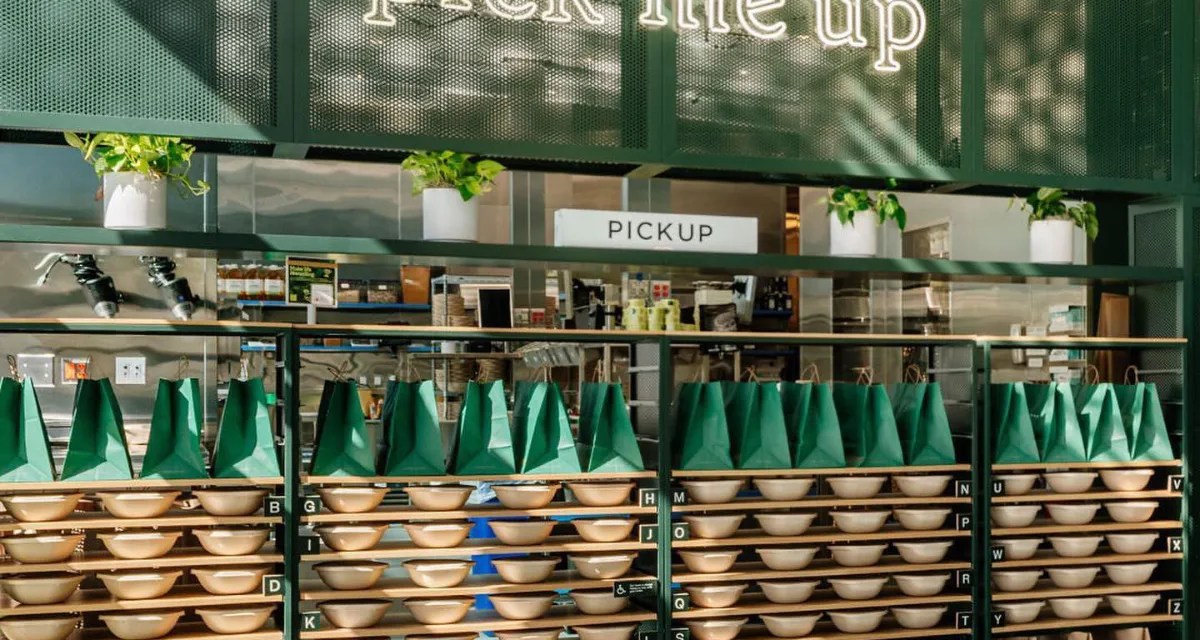 Sweetgreen
Online ordering was a major source of revenue growth in the pandemic era for quick-service restaurants. But now, these companies are finding they need to make new investments to maintain their digital growth.
In 2020, for instance, Chipotle's digital sales accounted for 46.2% of its $2.8 billion in revenue. Now, that number has dropped to 36.6%, Chipotle disclosed in its third-quarter earnings a couple weeks ago. Still, fast casual chains like Sweetgreen, Cava and Starbucks continue to generate substantial sales through digital and pickup orders. It helps that fast casual concepts are relatively inflation proof, as people tend to trade down to these places from higher-end restaurants. But now that they are faced with a slower rate of digital growth, these chains are focused on making investments to help make this line of business more viable — whether it be through limited-edition items, rewards programs or even automation to help drive down costs.
A boost from seasonal and limited-time items
Rotating menu items are one of the ways quick-service restaurants help foot traffic spike, and in turn this boosts pick-up orders. This tactic has been largely embraced by companies like Starbucks and Chipotle, which use their rewards-centric mobile apps to drive customers to their stores. 
Chipotle reported during its third-quarter earnings that revenue was $2.5 billion, up 11.3% year-over-year. Chipotle CEO Brian Niccol attributed the growth to last year's price increases and said the recent return of the carne asada has helped keep traffic strong this fall.
Seasonal items are one of the things boosting in-store digital orders, according to credit card data collected from October 2020 to October 2023 by Affinity Solutions' Consumer Purchase Insights. Last week Starbucks, reported that the pumpkin spice latte and other fall items helped drive an 8% increase in same-store sales during its fiscal fourth quarter earnings. Affinity reported that in 2023, so far Starbucks' online sales are up 10% year-over-year.
Affinity Solutions CEO Jonathan Silver also said that people are more likely to spend on festive treats and special outings during the holiday time, which includes visits to coffee shops like Starbucks for limited-time drinks like the popular Peppermint Mocha latte.
Silver also attributed Starbucks' consistent digital growth to Americans' evolving commuting patterns, which have now had a couple of years to settle. "Our data shows that online ordering is up from the past few years as more workers are returning to the office," Silver said. "We know convenience is a huge purchase factor for consumers, and online ordering makes it seamless for workers to quickly pick up their order in the middle of the day."
A long term bet on ordering ahead
As one of the chains that pioneered in-app orders, Chipotle faced slow down in online delivery coming out of the pandemic. But the company continues to invest in tools geared toward improving the process of picking up and delivering orders – such as automating burrito bowl assembly with robots' assistance during peak times. Chipotle also continues to open locations with its "Chipotlane," a drive-thru that's exclusive for picking up digital orders; That included 54 new stores during the third quarter.
Mediterranean fast casual chain Cava, which went public in June, also continues to benefit from online sales. In the latest quarter, Cava's revenue is up a whopping 49%, to $173.8 million, thanks to the opening of 95 new locations. Same-restaurant sales growth rate of 14.1%. According to the company, Cava's digital revenue mix accounted for 35.5% of total revenue this past quarter; The digital mix is made up of app, website and third-party marketplace orders. 
Meanwhile, despite a bumpy debut, Sweetgreen is still investing in its mobile app. On the company's most recent quarterly earnings call, on November 3, CEO Jonathan Neman said Sweetgreen is in the process of expanding its digital ordering capabilities. Total digital sales represented 58% of Sweetgreen's third quarter revenue, with approximately two-thirds of those sales coming from its owned digital channels.
Up until late September, Neman said the rewards membership program Sweetpass was only available for pickup orders. Now Sweetpass members can scan their app to earn and redeem awards at the register. The pass also seems to be helping bring back dormant Sweetgreen customers. "Through strategic enrollment programming with new lapsed and low-frequency customers in the second half of 2023, we increased our Sweetpass Plus subscription membership by 25%, putting us on pace to achieve our internal 2023 Sweetpass Plus enrollment targets," Neman said.
Brad Jashinsky, director analyst at Gartner, said digital sales — particularly in-store pick-up — seem to be growing on a case-by-case basis among quick service restrictions
Jashinksy said now that Covid restrictions have been lifted for a substantial amount of time, digital growth is proving to be different for each fast-casual chain. "I don't ever see digital sales or delivery ever getting back to lockdown levels," he said. But despite foot traffic and increased prices helping these companies stay in growth mode, Jashinsky said digital revenue remains important for unlocking opportunities like tailored marketing and gathering first-party data. 
"As we continue getting back to the office, these chains have to figure out how to incentivize people to order ahead of time — whether it be through exclusive items, deals or reward points," Jashinsky said. He added that there are other creative ways restaurant chains can drive online pickup orders. For instance, companies like Domino's have aggressively pushed carry-out orders, which has boosted its digital orders. Domino's is also rolling out a delivery service partnership with UberEats this fall.
Still, restaurants that cater to specific demographics and times of day will continue to face hurdles in getting people to consistently order their lunch or treats.
Jashinksy pointed to WeWork's bankruptcy filing as another blow to established office habits. Regionally, cities like San Francisco have high office vacancies as remote work continues to be embraced. "I think we'll continue to see winners and losers in this area," Jashinsky said.