Pattern Brands sees its first store as a way to woo future acquisitions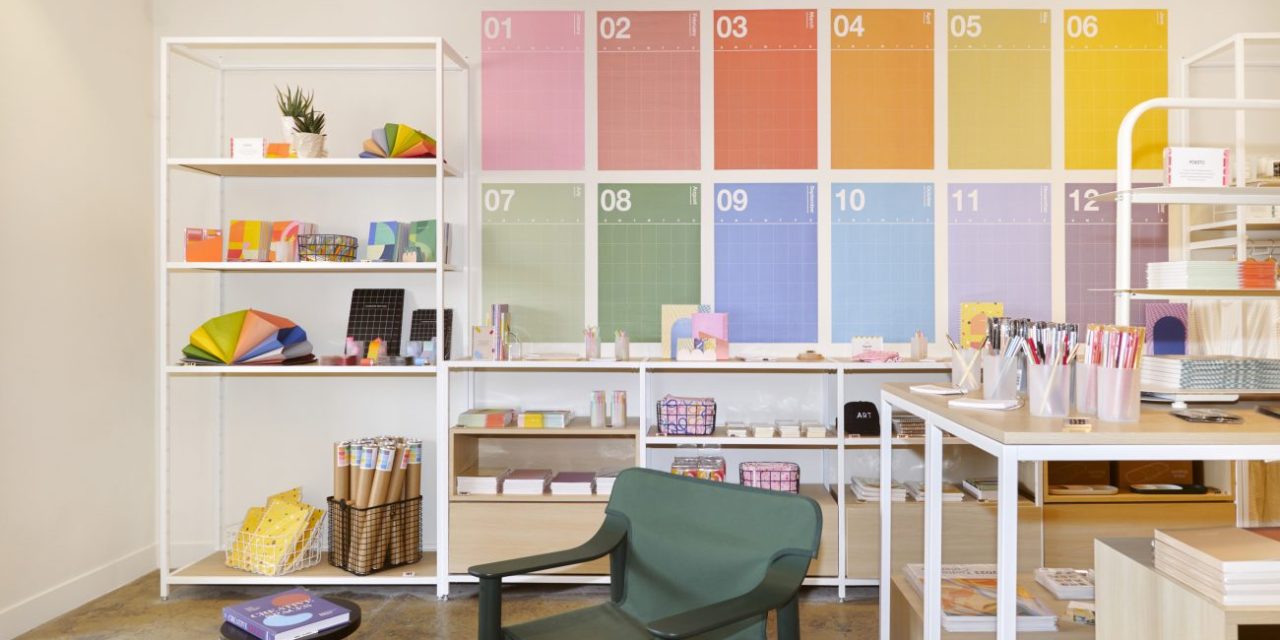 Pattern Brands
The first brick-and-mortar store from DTC holiding company Pattern Brands opened this winter in Santa Monica bearing the brand name Poketo, a recent acquisition that specializes in stationary and housewares.
It's the latest example of a direct-to-consumer business making the jump to physical retail at a moment when, despite an e-commerce shopping boom, shoppers are interested in heading back to in-person experiences. High-end apparel brand M.M. La Fleur opened its first permanent storefront in the fall, while housewares brand Our Place launched its first and second stores in Los Angeles over the past three months.
In addition to being Pattern's first go with physical retail, it's a chance for the digital roll-up company to show off its six different housewares brands and how they all blend together. The space not only showcases Poketo products but its whole line of brands such as Letterfolk and Open Spaces home decor, plus GIR kitchenware.
As Pattern sees it, this assortment puts the brand's ethos on display for future acquisition targets or wholesale partners.
"What's nice about this brick and mortar location is it's a place where an entrepreneur and a brand owner can really see what we're doing in person," said Nick Ling, co-founder of Pattern Brands. "I think that bringing [the brands] together on one platform enables them to scale in a very interesting way." 
Pattern Brands aims to acquire and grow other home brands under its umbrella, focusing on brands that offer high-quality products. It acquired Poketo and housewares brand Yield, in July 2022 shortly after a $25 million Series B funding round, then added towel brand Onsen in September.
Pattern doesn't publicly share revenue or sales figures. But Ling said the brand experienced "significant" growth in 2022. In 2023, it aims to continue to make more acquisitions, and expand its wholesale reach. At present, the brands are available online — and while Ling wouldn't share projections for the retail shop he said the goal is to make physical retail a larger part of the business in the future. 
"What's different there is that we're able to show our products within the context of the home we're creating with Pattern in general," Ling said. "That's a really exciting experience, to not just see it on the shelf, but see it in the context of how we're imagining it as well."
Drawing in customers
Ling said the opportunity to go brick-and-mortar presented itself following the Poketo acquisition. That brand already had a physical its own store at another location in Los Angeles, and Ling said Pattern wanted to continue to serve those customers while introducing them to the rest of Pattern — leading to the choice to keep the Poketo name.
He also hopes the store will inform future in-person expansion plans. 
"You've got to acknowledge different people are shopping in different ways, versus forcing them just to buy through one of those channels individually," Ling said.
Kimberley Drobny, CMO at Theatro said there's an appetite for consumers to shop in-store following the lockdown pandemic lockdowns. But it's incumbent upon brands to make sure that they're offering a good experience that matches what they've come to expect online, she said.
The 2023 Retail Customer Experience Survey from Theatro found that 91% of shoppers still do at least half of all their shopping in physical stores. Roughly one in five shoppers say they are at a retail store daily.
The right atmosphere
To launch the store, Pattern is working with Leap, which specializes in launching brick-and-mortar platforms. It handles the lease, store design, employees and day-to-day operations, in exchange for an operating fee paid by the parent brand. 
Rebecca Fitts, assistant vice president of real estate at Leap said that more DTC brands like Pattern are getting into physical retail because they're looking for ways to grow their customer base and overall revenue.
"They come to a financial point in their business of, 'Here's what the data is telling us, here's what feels right'," she said. 
The next step is getting the location and design secured. In the case of Poketo, located on the bustling and tree-lined Montana Avenue in Santa Monica, Fitts said the design of the store aims to reflect the minimalist, fun aesthetic of Pattern.
Inside, the store aims to have the layout of a "condensed home," – an entryway, a seating area and scented bathroom display. Warm lighting, minimalist fixtures and creamy-hued walls provide a neutral yet inviting backdrop for the bright-colored wares. 
"This is a way to showcase the brand," she said.