Organic and gluten-free bread brand Rudi's Bakery inches into the frozen category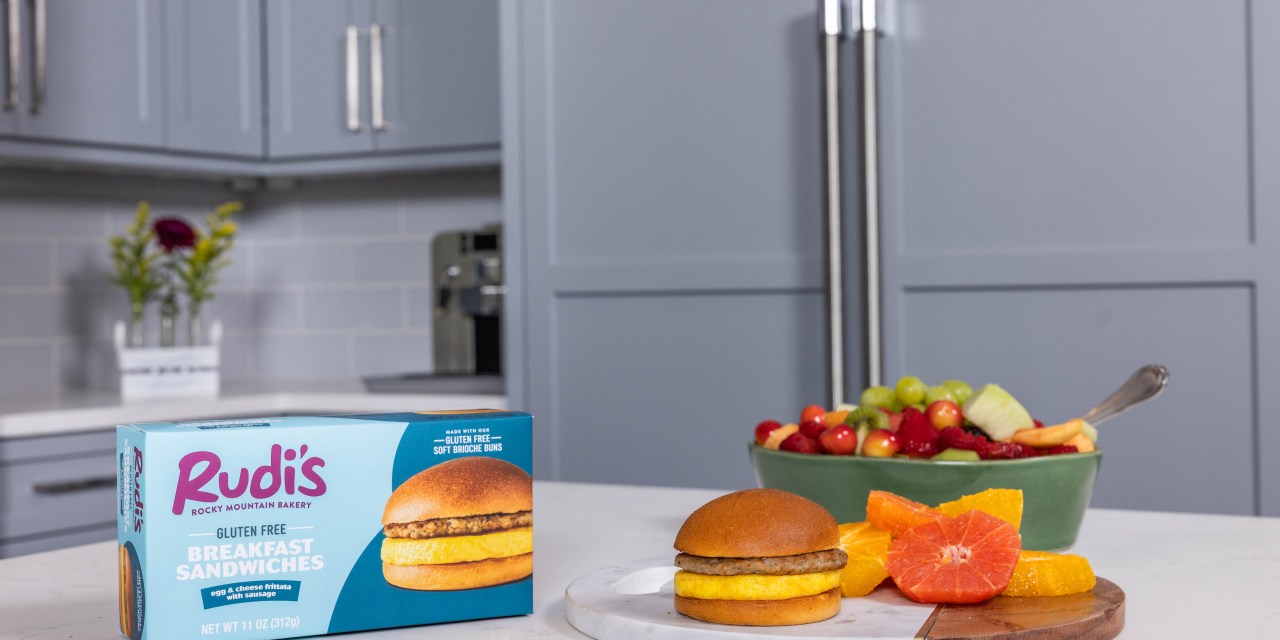 Rudi's Rocky Mountain Bakery
Rudi's Rocky Mountain Bakery, a 50-year-old brand that made its name in the bread space, is expanding to the frozen category.  
The company is releasing 12 new SKUs in the frozen category, which include an assortment of Texas toast, breakfast sandwiches and Sandos (PB&J sandwiches). Rudi's Bakery kicked off its move into the frozen category this month by rolling out its new gluten-free Texas toast products in Whole Foods. The company will begin producing the rest of its planned frozen products in December.
Frozen food has been a hot category since the pandemic pushed people to stock up on their pantries. Rudi's Bakery wants to capitalize on this growth by offering healthier alternatives to frozen meals. In two years, the company hopes to have a 50-50 revenue split between its frozen and bread categories, and in four years, it projects to generate 75% of its revenue from frozen goods.
"So many of the really big brands that are frozen, that are addressing the shortcut need, don't have clean ingredient labels," Rudi's CEO Jane Miller said. "We thought, actually, we have a great opportunity here to capitalize on frozen, capitalize on shortcuts, capitalize on the better-for-you [category], which has been our heritage."
Rudi's first launched in 1976 as a small local bakery in Boulder, Colorado. Rudi's had gone through several owners over the years. Charterhouse Equity Partners acquired Rudi's in 2005, then acquired by Hain Celestial in 2014, and in 2020, it was acquired by Promise Gluten Free. In 2013, before Hain Celestial purchased Rudi's, its revenue was $60 million. Miller confirmed that Rudi's was three times bigger in 2014 than it is now. Today, Miller said the company starting to pick back up with a projected 20% growth by the end of this year versus 2022. 
"Over the last eight years, it's been in a little bit of a state of decline," Miller said. "It's really been from a variety of owners."
Aside from its upcoming frozen products, Rudi's currently offers 30 SKUs — including a variety of bagels, sliced bread and English muffins, among others. Its products are currently available in 6,000 retail locations, which include Whole Foods, Harris Teeter and Kroger. In January, Sprouts Farmers Market will also be carrying four of Rudi's Texas toast SKUs.
"I'd really like to see us become a real bakery powerhouse," Miller said. "I mean, really be seen as a leader in natural organic in terms of having shortcuts, easy to use, very convenient products for today's modern family."
Over the next 12 months, Miller said, Rudi's Bakery will be focused on building distribution for its 12 new frozen products. She added that the company is mainly focusing on brick-and-mortar distribution for its new SKUs at the moment. To encourage trial, the company plans to do product sampling and offer coupons. It will also be doing product reveals on social media.
Dan McCarthy, assistant professor at Emory University's Business School, said that entering a new category is typically a revenue expansion tactic. Healthy frozen food, in particular, has been gaining traction lately. For example, Mosaic Foods — which sells healthy frozen meals — has seen a 200% year-over-year growth from 2021 to 2022, Matt Davis, co-founder and CEO of Mosaic Foods, previously told Modern Retail.
"They're looking to create new revenue streams for themselves," he said. "If you move from selling one major product line to two, there's just that much more opportunity to bring in more revenue."
However, McCarthy said entering new categories can be financially challenging. In some cases, category expansions require investments in new production lines, new distribution channels and new marketing campaigns.
Rudi's Miller said that the company didn't have to make any major changes to its operations because its supply chain is already suited for frozen products. She added that the only adjustment it made was bringing on a co-manufacturing partner to assemble the frozen sandwiches.
At this time, Rudi's is focused on the upcoming rollout of its frozen SKUs. In 2025, Rudi's will have a new round of frozen products to be released. The company is also trying to tackle sustainable packaging.
"We're just really excited to have Rudi's maybe get back to its former glory, where it was the number one organic business and the number two in gluten-free," she said.