Nike misses profit expectations as high markdowns hurt margins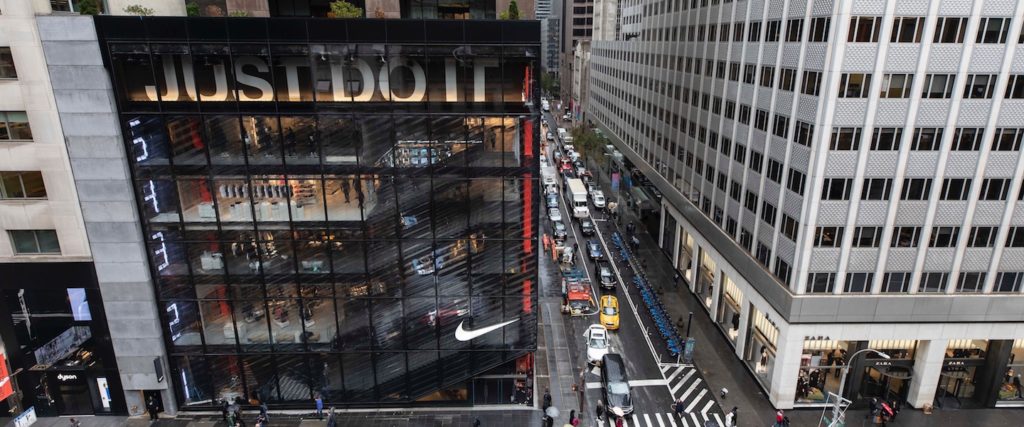 Nike is celebrating what it deems "a milestone" fiscal year in sales, although it acknowledges that "higher markdowns" ate into its profits for the quarter ending May 31.
On Thursday, Nike reported $12.8 billion in fourth-quarter revenue, a 5% jump over the prior year. Its inventory levels, which have plagued the company for quite some time, are unchanged in value from a year ago — which does represent progress compared to the heightened numbers of previous quarters. At the same time, as GlobalData Retail pointed out, inventories are running 23% higher than they were in 2021. Nike also missed profit expectations, and its quarterly net income shrank 28% from the same time a year ago — causing its shares to drop in after-market trading.
On the whole, the latest earnings are a win for Nike amid concerns of a slowdown in consumer spending — although investors are wary about the year ahead. Footwear and equipment remain strong categories in North America, although apparel sales have dipped 2% year-over-year. Nike is continuing to ride a wave in China, where overall sales were up 16% from a year prior.
"Today, we're excited and confident with the opportunity we see in front of us, and looking to fiscal 2024 and beyond, we will continue to expand our competitive separation," CEO John Donahoe said on an earnings call.
Notably, the latest earnings are Nike's first since announcing it was re-establishing wholesale partnerships with Macy's and Designer Shoe Warehouse, as Modern Retail reported earlier this month. Nike exited both retailers in 2021 as part of a larger effort to grow its direct-to-consumer business. Nike's fiscal fourth quarter results don't include any sales from those renewed partnerships, because neither will materialize until October.
At the same time, the most recent results reflect a fresh relationship with Foot Locker. In March, Foot Locker executives said the retailer was "revitalizing" its relationship with Nike, one of its top brands. Wholesale continues to make up a greater portion of Nike's revenue than direct-to-consumer, although Nike's quarterly revenue from wholesale dipped 2% year-over-year and its DTC revenue jumped 15% year-over-year.
Donahoe did not call out Macy's, Foot Locker or DSW by name in his prepared remarks. He did say that over the past five years, Nike has "created greater focus and differentiation, working with fewer large multi-brand partners." Still, Nike is invested in its DTC business, he said, and the company "continue[s] to invest in Nike store concepts to create new distribution and serve growth opportunities not currently being addressed by our wholesale partners."
When asked about these partnerships in the question-and-answer portion of the earnings call, Donahoe said that Nike's marketplace strategy "remains the same as it's ever been." "Our marketplace strategy is driven by the consumer," he said. "Consumers have said to us they want a consistent and seamless experience." Donahoe said that DTC will "continue to be our fastest-growing channel" but that Nike will "continue to expand our marketplace strategy to enable access to as many consumers as possible and drive growth."
Jessica Ramírez, senior research analyst at Jane Hali & Associates, believes that Nike's wholesale turnaround could stem from two causes: Cutting down on inventory and keeping up with competitors. Nike, like other footwear and apparel companies, battled higher inventory levels for months. The more Nike partners with wholesalers, the more it can transfer some of that inventory to them.
Additionally, the sneaker landscape has changed since Nike began cutting ties with wholesale partners in 2017. With DTC, Nike created a "halo effect" around its brand, Ramírez explained, but other footwear brands have grown in strength, size and sales — especially during the pandemic. These include Hoka, On, Asics and New Balance. As Nike returns to wholesale, she said, "there's been a lot of brands that have grown and are also at wholesale… Nike needs to have its name sitting amongst what is the competition now — and it might not be in the same way as it was before."
To help with inventory, Nike held markdowns this last quarter, which it said contributed to a lower gross margin, along with "higher product input costs and elevated freight and logistics costs" and "continued unfavorable changes in net foreign currency exchange rates." In a note, GlobalData Retail Managing Director Neil Saunders wrote that he believes "further markdowns and write-downs will be needed as Nike enters its new fiscal year, which will heap further pain on the bottom line."
"Overall, Nike is a solid brand, and it is not suffering from an existential crisis," he continued. "However, it isn't on the front foot either and has to accept that the year ahead will be one of resetting, retrenching and reformulating the way it does business."