Levi Strauss & Co. leans on diversified products, DTC sales to counteract wholesale slump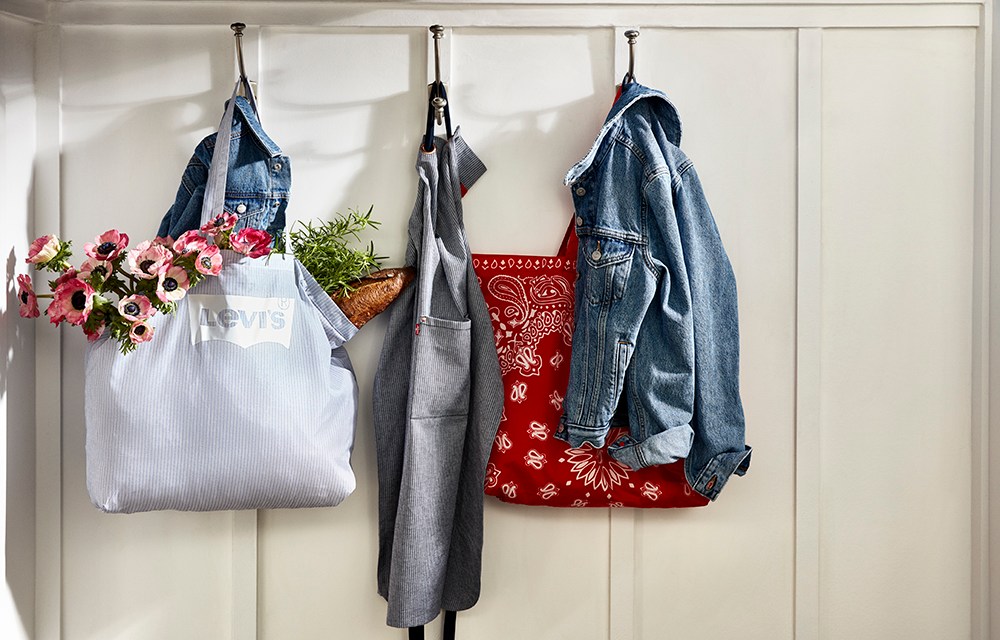 Target x Levi's
Levi Strauss & Co. is steadily expanding across categories — and betting on direct sales — as it works to overcome a slowdown in U.S. wholesale.
Speaking on an earnings call on Thursday, CEO Chip Bergh acknowledged that Levi "continue[s] to drive denim trends," but that the company is seeing growth in various areas. This is particularly apparent in its women's business, which benefitted from "newly-launched dresses, cargos and overalls," Bergh said. "We remain enthusiastic about our opportunity to significantly grow these businesses as we continue to diversify our offerings," he added.
Even with this expanding mix of products, it's a challenging time for Levi. In particular, the company is battling "continued softness" in U.S. wholesale, Bergh said. He attributed this to two factors: increased pressure on price-sensitive consumers, as well as supply chain challenges in Levi's U.S. distribution centers.
To help with this, Bergh said, Levi is taking "surgical price reductions" at a select number of stores. It will not, however, enact price reductions on U.S. mainline full-price stores, the majority of its U.S. wholesale assortment or its international businesses, "where we continue to demonstrate strong pricing power," Bergh said. Overall, Levi's wholesale net revenues for its second fiscal quarter decreased 22% year-over-year.
Levi actually made slight gains in wholesale during its first quarter. However, it is not alone in having difficulties now, Jessica Ramírez, senior research analyst at Jane Hali & Associates, told Modern Retail.
"Across the retail industry, wholesale is seeing difficulty, because the consumer isn't spending as much at the moment, but also, a lot of the wholesale retailers are being very cautious with how much inventory they take in," she said. "They want to continue to keep it in line to not have the glut that they had last year and to be able to manipulate a little bit of the promotional environment."
One bright spot for Levi was its DTC business, whose sales comprised a "record" 44% of total sales in the first half of the year, Bergh said. Quarterly net revenues for DTC increased 13%, largely driven by e-commerce and mainline and outlet stores. Levi's net revenue for the second quarter was less rosy, totaling $1.3 billion, a 9% year-over-year decrease.
However, Levi is confident in its direct channels, as well as its growing product assortment. While Levi has offered items besides jeans for years, it's starting to gain even more share of the market as consumers gravitate toward different styles, silhouettes and fabrics.
In January, Bergh revealed that nearly 40% of Levi's 2022 revenue included clothing in categories such as chinos, active leggings, tops and dresses. This past quarter, sales for Beyond Yoga, which Levi acquired in 2021, jumped 28% year-over-year, signaling continued interest in jumpsuits, tanks and workout clothes made from stretchy fabrics. Levi is also pouring resources into growing its accessories department, which includes tote bags, beanies, backpacks and belts.
Ramírez told Modern Retail that she applauds Levi for staying up to date with an interest in non-denim products. "They are a denim company, and they're really stepping out of their comfort zone," she said.
Ramírez added that while Levi has begun adding other apparel and materials, "they haven't created a huge category" of non-denim. "There isn't necessarily a lot of inventory in that assortment," she said. "It's quite small, but it's clearly showing results… I think the fact that it's good product and they've come at it with very in-line inventory has been a win for them."