'Let's get a deal done': Confessions of an REI union organizer fighting for a contract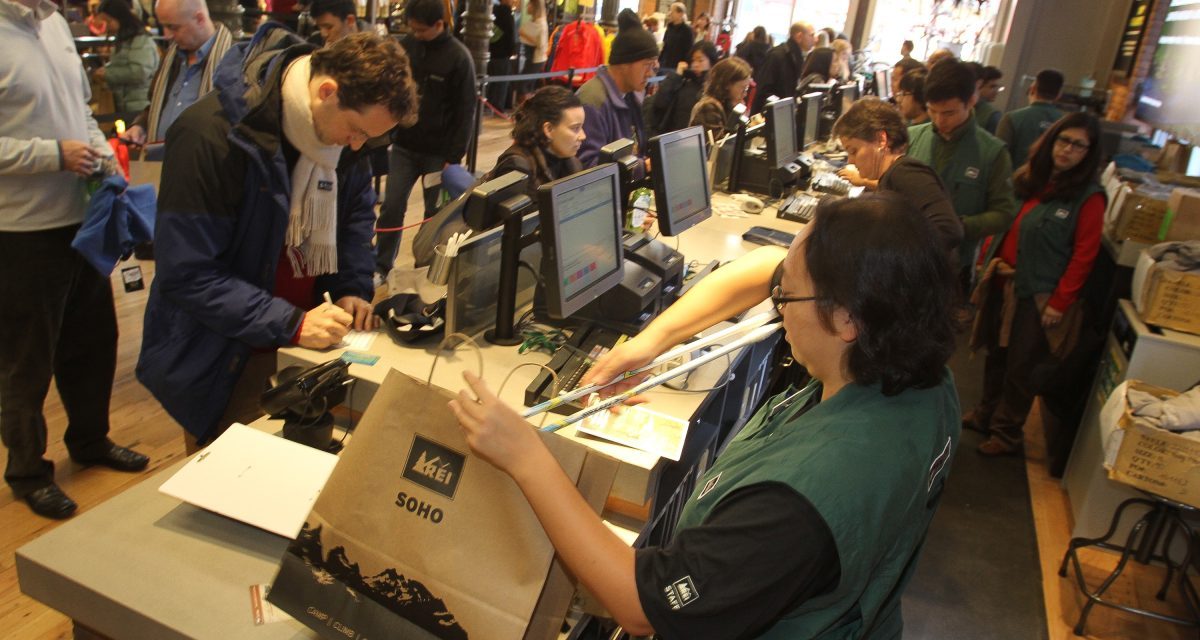 REI
Unionized workers at eight REI stores are accusing the outdoor co-op of stonewalling their attempts to secure a contract nearly two years after organizing began — a move that they say is at odds with the company's progressive culture and stated values.
Last week, unionized stores filed 80 labor charges with the National Labor Relations Board against REI over allegations of anti-union behavior and bad faith bargaining. It's the latest chapter in a labor fight that started with the unionization of REI's flagship store in SoHo in March 2022 in a vote of 88 to 14. Seven more REI stores have successfully unionized since. But no stores have secured a contract.
The unionized workers allege that REI is intentionally dragging its feet and point to the company's bringing in Morgan Lewis, a law firm that Amazon has also used in union negotiations, in July. The workers say that at that point, REI management stepped away from the table to let the lawyers handle it in a way that's stalling the talks. They also allege that there have been changes to work schedules and layoffs that have been retaliatory against people who supported the union effort.
In the latest edition of our Confessions series, in which we offer anonymity in exchange for candor, Modern Retail spoke with a worker involved in the organizing efforts at one of the stores about why the union is still fighting for a contract. This worker, a cyclist from a cold climate, started at REI in early 2022, drawn in by the prospect of working a job that involved the outdoors and for a co-op. This worker said they believe a contract is a better path to ensure fair worker treatment amid a potentially harassing retail environment, specialized skill sets to help customers with safety gear and basic work tenets like hours guarantees.
"We actually need things written into a contract, not just policies," the worker said.
A spokesperson for REI said the co-op disagrees with the union's contentions and that it is "committed and engaged in good-faith bargaining with stores that have chosen union representation and will continue to participate fully in the negotiating process." But overall, the company has said that unions aren't necessary for its employees.
"As a forward-thinking company, we recognize the role that unions could play and believe in the right for any employee to consider union representation," REI said. "However, we do not view union representation as the best path to improving work situations for REI employees. We are committed to creating an employee experience that is so compelling that the need for a union is not necessary."
But the organizer who spoke with Modern Retail said employees who support unionization joined the company because of its culture and pledge to do things differently, like being governed by a 14-member co-op board and supporting diversity in the outdoor industry. Those values, the worker said, aren't reflected in its negotiating tactics.
"There's literally former Amazon executives in some of the highest levels of decision-making, which is not the same business," the worker said. "Never-ending growth is not the REI business model, and they're trying to make it."
This conversation has been edited for clarity and length.
Why did the REI workers decide to move forward with the NLRB charges?
There was input from all of us as workers. And it is very clear to us, based on how the bargaining process changed, that there is not a real intention to get to a resolution with the current council and the current process in place.
We also trade on a public image of caring about marginalized communities, caring about workers rights. REI has a workers rights like protocol for their manufacturing standards, which includes supportive collective bargaining for manufacturing workers, but they don't include that for us. They don't think a union is good for us, but it's good for the people who sew the clothes that REI sells. It's a very weird thing.
REI does not have to do this. It's not like some of the other companies where there is a shareholder push to make sure that there's not union density so that they can maximize profit …That just doesn't exist here. So this is a very strange choice that they could just choose to not make.
What would you like to see happen between the union and the co-op?
Actually negotiate with us. Have REI's actual employees at the bargaining table, so that we can have that collaborative conversation that's the norm in every industry. That is the thing that I think would be really beneficial. I think that helped the process flow, because we were making significant progress before the change in law firms happened. And I think that there was an intention to stop that progress.
The second thing is, ultimately, [to] negotiate towards settling this contract for all unionized stores. Let's just get a deal done and move on.
What are the hopes for a contract?
Hours guarantees are our priority in any type [of store]. That's a very common thing that people need, and also the businesses need at the end of the day. You need a regular supply of staff, and having extreme precarity just enforces the churn and burn that retail engages in. And, we're highly specialized, so we need even more stability than average retailers need. I think it would benefit both the employer and employee experience — more predictability and scheduling. And we are obviously negotiating for higher wages, a pathway to full-time and those types of things.
And then there's enforcing the inclusivity [matters]. Sexual harassment and racial issues are huge issues in retail, they're massive issues. The outdoor industry is an extremely white industry. And REI is committed to changing that. Both from a business standpoint, but also just from a moral standpoint, we believe that having proper diversity in hiring and actual equity policies in place will not just allow us to recruit people that look like the communities that they serve, but also retain them. It's not enough to get diverse candidates in the door. You have to create systems to support them and provide meaningful reactions when hostilities happen in the workplace, and actually have policies negotiated over to ensure they're safe working conditions.
What other changes would you like to see happen at REI?
It's better for everyone involved in the retail industry, or any part of any industry to just negotiate and try to get to a deal, rather than engage in this long drawn-out battle with employees — because, ultimately, no one wants resentment. No one wants the hostility. No one wants to engage in public spats like this, that's not a thing anybody wants to do. And it's cheaper and simpler and easier for everyone involved just to get to the table and get to a deal.