Kurt Geiger to open its first stores in Mexico as it plots Latin America expansion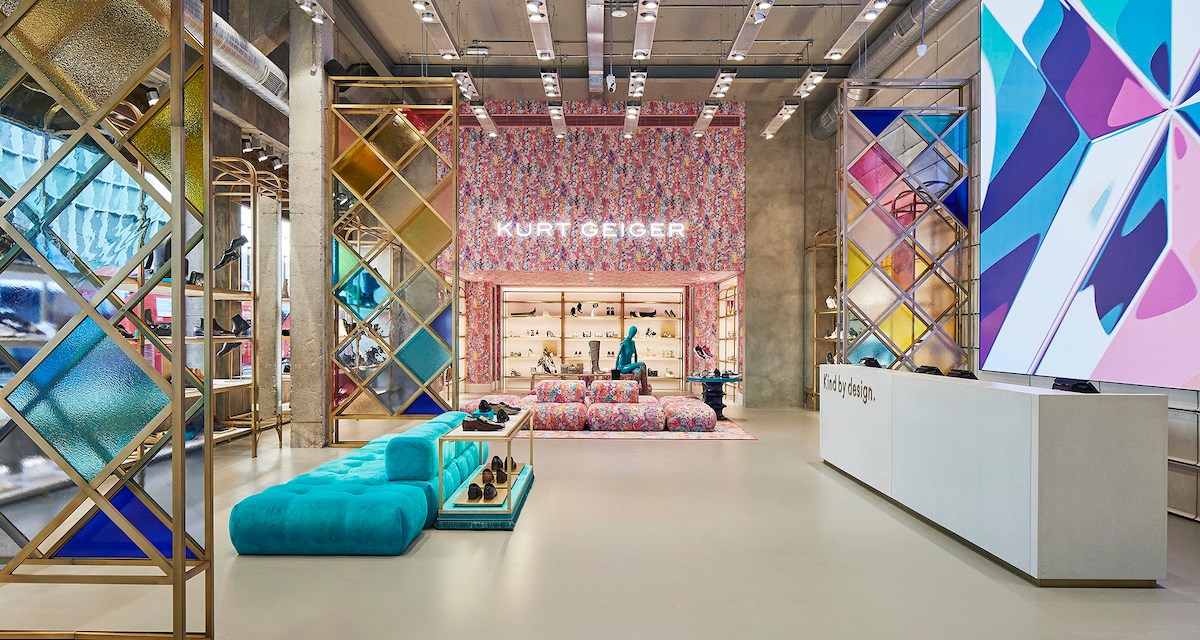 Kurt Geiger
U.K.-based fashion brand Kurt Geiger is opening its first stores in Mexico this week as part of its larger plans to expand in Latin America.
The brand will open two Kurt Geiger London locations on Friday in Mexico City — one in the business district of Santa Fe and one in the shopping mall Perisur. The following week, it will open another location in Monterrey, the second-largest city in Mexico. All stores will be run under a franchise agreement with the luxury department store network El Palacio de Hierro.
Kurt Geiger has rapidly increased its global footprint over the past five years. In 2018, the brand expanded into North America and other parts of Europe through deals with wholesalers and department stores. In 2019, Kurt Geiger launched in three of El Palacio de Hierro's department stores, but initially only with handbags, its best-selling category.
Demand in Mexico was "quite unbelievable," Steven Sousa, Kurt Geiger's chief international officer, told Modern Retail. "How quickly that scaled, it was probably the quickest growth I saw anywhere in the world," he said. "We would have deliveries drop, and they would be sold out within a week or two."
A 1960s British brand known for its rainbow-colored bags and eagle motif, Kurt Geiger is on track to bring in more than $40 million EBITDA on nearly $500 million in total revenue. The brand has changed hands many times throughout the years, most recently coming under Cinven in 2015, and is now rumored to be for sale. (Kurt Geiger declined to comment on this.) In June, Kurt Geiger secured £150 million in new funding from Wells Fargo Capital Finance U.K. and the U.K.-based private credit fund Blazehill Capital.
While the U.S. is Kurt Geiger's number one market today — its sales there are on track to hit north of $200 million this year — Sousa said the brand has maintained "spectacular" momentum in Mexico over the past several years. According to Sousa, Mexico is responsible for the most sales on Kurt Geiger's global website out of any other country, and the brand's seven partner locations on the U.S.-Mexico border are the biggest-selling locations in the entire U.S.
Kurt Geiger's CEO Neil Clifford echoed this sentiment on the Modern Retail podcast in August, saying that in Mexico, "we can't keep in stock." Today, the brand is getting ready to ramp up its existing footprint in the country, while also exploring expanding to other Latin American markets, possibly places like Brazil or Chile.
Sousa believes Kurt Geiger has taken off in Latin America because of the brand's fashionability and lower price points than other luxury brands. Kurt Geiger's handbags retail for around $300, while its shoes retail for around $150. "We're very colorful, we have a lot of embellishment on our product and I also think that the price value proposition that we represent is great," Sousa said. The new stores in Mexico will carry a variety of the brand's products, including handbags, men's and women's shoes, jewelry and accessories like scarves and hats.
Omar Troncoso, a partner at Kearney who leads the firm's Mexico office, told Modern Retail that it makes sense that most brands would choose Mexico as "landing territory" for entering Latin America. Mexico is largely economically-stable in terms of retail sales growth, although sales did drop more than expected in August. Mexico has 13 trade agreements in place, as well, signaling its openness to foreign brands.
The luxury market in particular is growing "amazingly fast" in Mexico, Troncoso said. Kearney expects that sector to have 12% to 15% growth in 2023, although down from what it grew in 2022. However, the number of Mexicans with more than a million dollars in savings is growing 22% each year, Troncoso explained. "Those facts make Mexico very, very attractive," he added.
In addition to its new Mexico stores, Kurt Geiger is interested in opening stores in other parts of Latin America. Earlier this month, Kurt Geiger launched with a small department store in Panama City called Felix Maduro, and "two weeks in, they're selling out of our products," Sousa said. Because so many of Kurt Geiger's sales come from Mexico, as well as other parts of Latin America, "I'm feeling quite bullish about expansion into Central America and then South America," he said. "I'm aggressively thinking about that right now and how we execute that well."
In North America, Kurt Geiger is in some 400 department stores through Nordstrom, Bloomingdale's and Dillards. It is in the process of opening four stores in the U.S. starting in February 2024, in Florida, Texas, California and New York. Going forward in Central and South America, Sousa sees the brand having more success with standalone stores, rather than department stores. Like its new stores in Mexico, he envisions these as franchise stores.
Dave Marcotte, senior vice president of cross-industry/cross-border and technology at Kantar, said that Kurt Geiger stands to benefit in Latin America, as "a European brand will have more of a cachet than an American brand in Latin America." "Emphasis on their origin and emphasis on the quality of workmanship, the whole conversation we have normally with luxury branded goods, is very effective in Latin America," he said.
At the same time, Marcotte added, European brands coming into Latin America will have to think about expansion differently than they did in Europe or in the U.S. Sometimes, he said, brands are "used to the European community and one set of laws… That's absolutely not the case in Latin America. You have different countries, each one with very different laws. So, you have to pay attention."
As far as its growth in Mexico and Latin America, "I get very excited about that market," Sousa said.
"I've really never seen such an amazing reaction from the consumer to a brand that maybe they never heard of before, you know what I mean? And so I find it super exciting because I think of all the opportunity."