Inside beverage company Buchi's efforts to make its supply chain more sustainable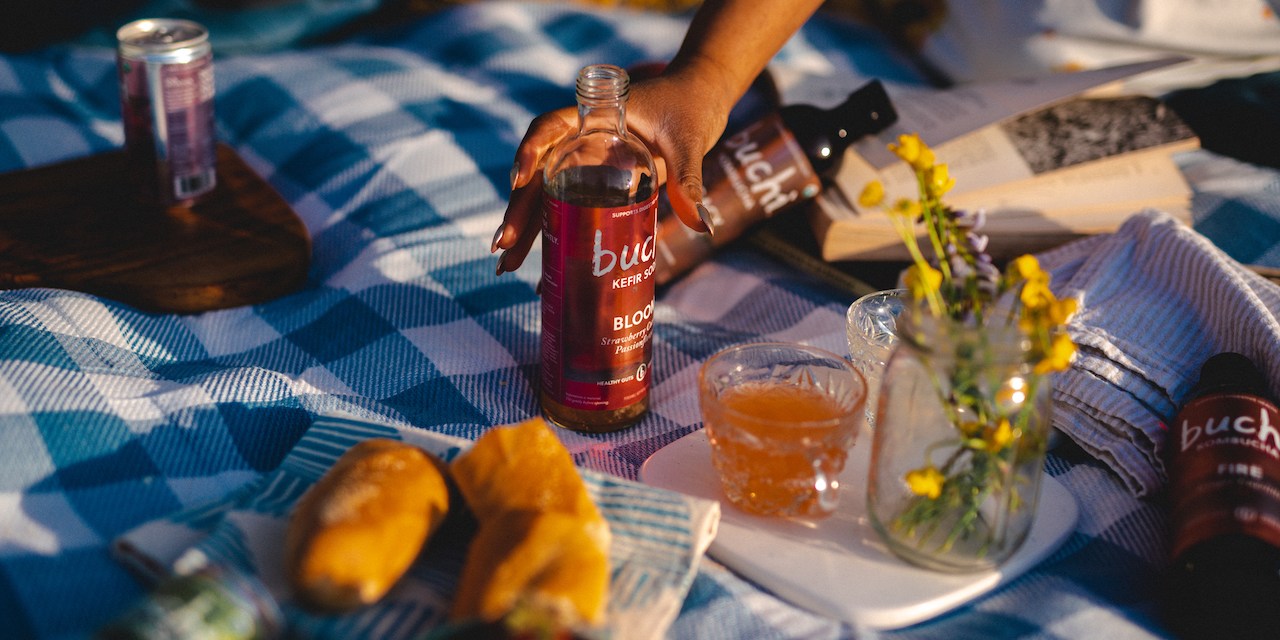 Beverage brand Buchi has overhauled its distribution channels to better reflect the company's sustainability mission. 
The brand is owned and operated by FedUp Foods, a North Carolina-based functional drinks manufacturer. FedUp debuted a commercial facility in 2016 to brew and package Buchi in-house alongside other private label brands. 
Now, as a B Corporation, Buchi is going back to its roots by scrapping direct-to-consumer and Amazon sales, both of which the company launched during the pandemic. Instead, the company is shifting its focus to a more green distribution model as it expands nationally through partnerships with grocery chains like Whole Foods, Wegmans and Publix. While eliminating online sales reduces acquisition costs, shipping emissions and packaging waste, it also frees up capital to launch new product lines.
According to Buchi, dropping DTC sales also comes as in-person grocery returns are in full swing. Beyond saving costs and adapting a more sustainable fulfillment strategy, the in-store distribution strategy is also meant to build up brand awareness. The move is part of the brand-manufacturer's efforts to scale capacity while minimizing waste and carbon emissions. In the past few months, FedUp also introduced other eco-friendly initiatives, such as using locally-sourced bottles and cases, transitioning to solar-powered facilities and reducing propane and water use during the brewing process.
Scrapping an expensive, wasteful DTC model
Buchi stopped taking orders via its DTC website and shut down its Amazon store earlier this month. Andreas Schneider, chief development officer at FedUp Foods, said that as a manufacturer with an in-house brand, the company has more control over production and distribution. FedUp Foods makes probiotic beverages for several retail chains and private label brands. The company declined to name the specific retailers due to confidentiality clauses. FedUp's latest brand collaboration — a sparkling beverage created with fashion brand Sky High Farm Workwear — launches exclusively in Erewhon this week.
The company did not disclose whether online sales declined over time, but confirmed the rebound of in-store sales, alongside with the addition of new retail clients, also contributed to Buchi's decision to discontinue DTC. The decision also allowed the company to focus more of its efforts on new Buchi product lines hitting stores this year, such as probiotic soda Wild Pop and Living Energy, a nootropic-based energy drink.
But ultimately, Schneider said, Buchi's decision to drop DTC and Amazon sales also fit into the company's sustainability goals, as it allowed the company to cut back on extra cold chain packaging, as well as its carbon footprint. "We loved shipping products directly to shoppers, but it was not as efficient as sending it to our retailers," 
Having become a B Corp in 2020, Schneider said Buchi is trying to raise its sustainability standards by becoming a regenerative fermented beverage company. Alongside the new national distribution model, the company has also adopted minimal waste initiatives across its facility and supply chain, including recycling and composting kombucha SCOBYs at a nearby farm and working with regenerative supply partners and warehouses.
"From a sustainable supply chain perspective, the biggest lever we can pull is with our trucks," Schneider said. "We have our own cold storage here in Asheville and work with warehousing partners around the country that retailers can pull inventory from." This year, FedUp Foods acquired a second facility location, featuring dry storage and cold storage, to help triple production capacity. 
Schneider said that being the co-packer for a lot of these retailers gives Buchi an advantage in dictating carbon-neutral distribution. "Between the private labels and our own brand, we work with almost every major retailer in the U.S., and are able to show them why we're doing things this way," he said.
Reducing waste across the supply chain
Sourcing from organic farms is another major focus for the company. For example, the ginger, sugar and turmeric used in products are all grown through regenerative farming. Sugar is sourced from Native Green Cane Project farms, which yield 100% carbon neutral inventory from the fields to U.S. warehouses.
"We work with a co-op of farmers and pay a premium that's then invested back into the community," Schneider said. The company also transitioned to using aluminum cans and sourcing glass bottles within the U.S. and in 2022 partnered with One Tree Planted.
"Another metric we measure is our waste water reduction," Schneider explained, such as trying to reduce the gallons of water it takes to brew products compared to industry standards. "We use 10% less water than the brewing industry average to produce a gallon of kombucha." 
While making all these changes is a substantial investment, Schneider said it's a long-term bet to attract brand partners and retailers. Schneider said that retailers are looking to work with sustainably-minded manufacturers on private labels, which has become a great marketing opportunity as more shoppers become interested in more ethically-sourced products.
However, a company's commitment to sustainability can be difficult to measure and assess.  "It's tempting to try to find a magic number, like carbon credits, but that doesn't tell the whole story of the regenerative ecosystem," he said. "The impact doesn't always fit nicely in ESG buckets."  
Justin Bean, sustainability consultant and author of "What Could Go Right: Designing Our Ideal Future to Emerge from Continual Crisis to a Thriving World," said that more shoppers — and, in turn, retailers — are thinking about where and how their products are being made. This long-term trend is impacting industries as disparate as fashion and food. "There is an organic transition that's happening, with companies knowing being sustainable is good for their business and often results in better customer relationships."
In consumer packaged goods, in particular, Bean said, traceable ingredients and ethical labor are two of the most important pillars. "We're moving further to traceable supply chains, and for smaller companies it's a really smart strategy to start sourcing and scaling sustainably early," Bean said. At the same time, Bean said that many corporations use metrics like ESG and carbon credits to be able to market themselves as carbon neutral. 
For Buchi, the long term investment in a sustainable business model is both an ethical and a business strategy. Schneider said the company is also aware that it makes for a slower growth trajectory than other CPGs. "Typically, sustainability sounds good until you report lower profits to investors," he said. "To be able to scale this type of operation, you have to cultivate investors who are willing to go with it."