Q&A
// March 9, 2023 ■ 5 min read
How Patagonia Provisions is building out its product portfolio with its first-ever acquisition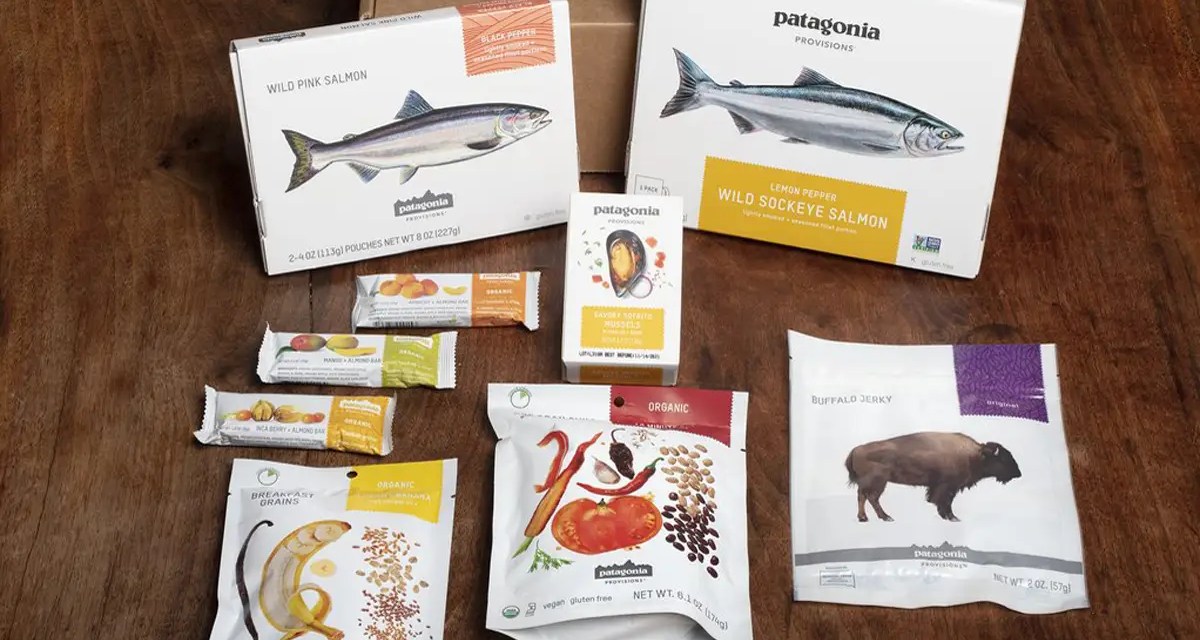 Patagonia Provisions
This week, Patagonia's food and beverage division announced the acquisition of cracker brand Moonshot. This acquisition is Patagonia's first in two decades, and helps expand Patagonia Provisions' growing CPG line – which includes tinned fish and seafood.  
In an interview with Modern Retail, Paul Lightfood, Patagonia Provisions' general manager described the acquisition as a way to further Patagonia's efforts to work with farmers to produce food sustainably.  "You could get to zero emissions when making apparel, but it's a lot of hard work," Lightfood said. "But food could be better than zero, because its production can be regenerative with the right farming practices." 
Patagonia's provisions division was created in 2012, and began selling its first product, wild salmon jerky, at retailers in 2013. The overarching thesis behind Patagonia Provisions, according to Lightfood, is the idea that, "if we're going to save our planet, food could be and should be the most important lever that we can pull toward that mission." Today, its assortment has expanded to include over 30 SKUs, ranging from $6 seasoning blends, to $8 canned mussels, to $10 smoked venison links.
This sustainable approach also informs which organizations Patagonia Provisions partners with. The division is currently working with growers of Kernza, a trademarked grain that's harvested from intermediate wheatgrass, that's being used in Patagonia Provisions' pantry staples like pastas, and soon, beer. 
Moonshot itself was created by a software company called Planet Forward as an in-house project. The cracker line launched in 2020 and is now sold at grocers nationwide, having expanded to Target last summer. The company touts itself as a climate-friendly snack brand, and uses regenerative and organic practices to farm and mill wheat. The deal came from Moonshot's business values naturally aligning with Patagonia's. That said, Lightfood said Patagonia Provisions won't be going on an acquisition spree anytime soon. 
In this interview, Lightfood discussed what the better-for-you category means to Patagonia, and how the new acquisition will help gain market share in the cracker aisle. This interview was edited for clarity and length.
Patagonia Provisions has been around for about a decade. What types of initiatives and products have you focused on since 2012? 
For the first several years in the marketplace, we created some truly innovative products within a climate-friendly supply chain. We think that access to good food is important. However, the environmental impacts aren't reflected in the cost of most of the standard American diet, which is a shame. But we'd rather sell more expensive products than to operate in a way that wasn't consistent with our values. 
That said, our products are somewhat premium, but not super premium. That's how our apparel is too. Making things responsibly often costs more. Hopefully, in the case of apparel, you'll have a jacket for seven years and it's a good value. And with nutrition and health, we think people should pay a fair price both for the planet's health and their own health. With better-for-you, I like to lump it alongside it being better for the planet. Now it's about scaling the Patagonia Provisions business in a way that's commercially successful. 
You've expanded the product portfolio in the past few years to include pantry and snack items. How has the assortment evolved?
Seafood was and is the biggest part of our business. Now we're selling mackerel, mussels and anchovies from Spain. Those fish are being harvested by our standards, and not causing harm to oceans. That's really important to the company because we've always cared a lot about fisheries and ocean ecosystems. So we're trying to create alternative conditions for nutritious seafood. That remains our most important and successful venture. 
We're also a pasta company now. We have one item that's a Kernza grain fusilli, and that's expanding to six more next year. We're now also in the testing phase of making beer from Kernza – that will go live this summer, and it could be a blockbuster. And with Moonshot, we're now getting into crackers that help convert farmland wheat to be regenerative.
Moonshot is the first-ever Patagonia Provisions acquisition. How did the deal come about?
We had actually just become a Planet Forward customer, and we were talking about using their software for our ingredients and products. They were talking about this business they had internally, which was Moonshot.
It's run by a terrific group of women, who've created this amazing business. They have a really awesome ecosystem of suppliers around the Skagit Valley in Washington. The two farms and the mill are doing a great job with renewable energy, and are integrating co-packers as well. They're taking market share away from mainstream cracker brands at a rapid pace, and we were just blown away by how successful it was. So that got us excited about it.
With this new product line, what's your strategy for retail distribution?
The Moonshot team has done an amazing job in growing the brand. But our two most important customers are Whole Foods and Target, who have been amazingly supportive and continue to be so. Chasing doors is not going to be the highest priority. We'd rather be deeper and narrower with partnerships. Will continue with those two partnerships, and you'll probably see us at other retailers who really care about the brand and brand blocks and will give it the support it needs to be nurtured and thrive. 
As for growing the portfolio, I doubt you'll see more deals from us this year. Moonshot has been a bit of a unicorn, and couldn't help being excited and jumped at the opportunity. But for the most part, our role is pretty clear, which is to create market opportunities that motivate farms to invest in practicing and converting to regenerative production.