In quest for global growth, Vuori opens new flagship store in New York City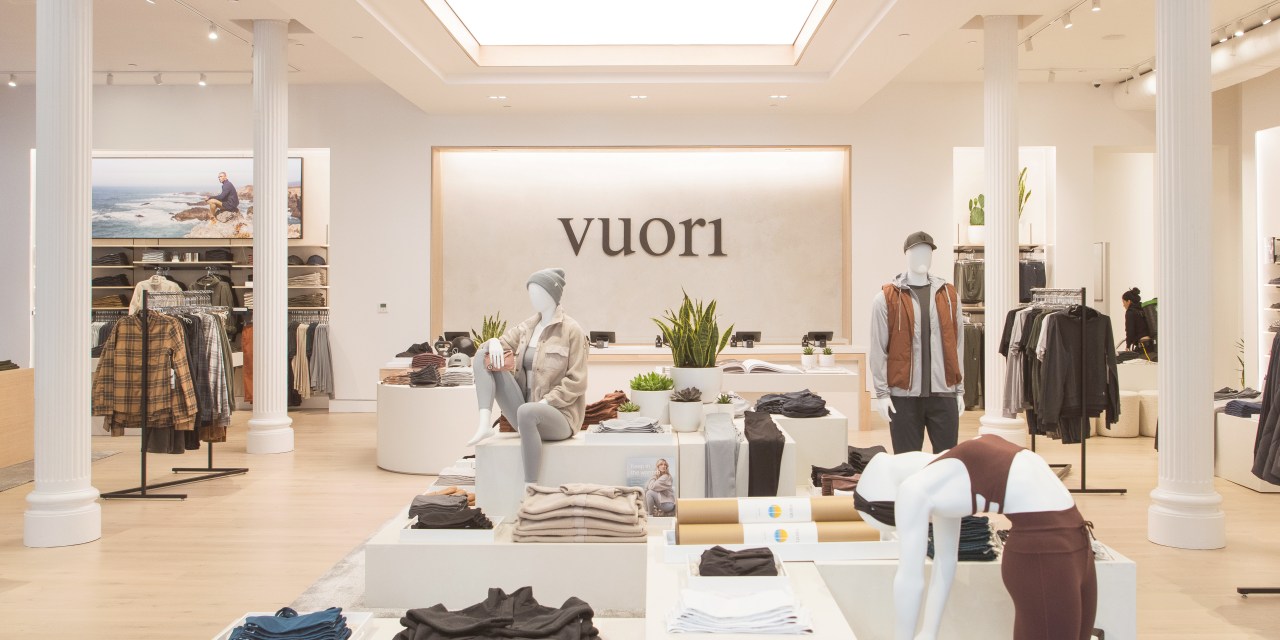 Vuori
Despite the challenges some retailers have faced from the pandemic, Vuori is charging ahead on its in-store strategy. This week, the Southern California activewear brand opens a new flagship store on the East Coast, in the Soho neighborhood of New York City.
Launched in 2015 and profitable since 2017, Vuori — which operates as a direct-to-consumer business — is focused on growing its domestic and international footprint. Last year, it received a $400 million investment from SoftBank Vision Fund 2, which valued the company at $4 billion. Last month, the brand opened its first store outside the U.S., in London's Covent Garden. Within the U.S., it hopes to open 100 new brick-and-mortar stores by 2026, buoyed by the success it's seen from customers looking for a more traditional retail experience.
"Over the last year, we've really put our foot on the gas pedal and have accelerated our retail strategy," Nikki Sakelliou, Vuori's chief marketing officer, told Modern Retail. "I think there were a lot of question marks going into Covid…  Because everything shifted to e-commerce so significantly, we sort of put a pause on our retail store build. But then once we were able to open them mindfully across the country… we realized that people were still coming in, they were still shopping and [stores] were performing better than ever."
Vuori's Soho storefront is open and airy, with a skylight, elevated furnishings and more dressing rooms than other locations. While the layout of some of Vuori's other stores delineate one-half for men's fashions and one-half for women's fashions, the Soho location places a larger emphasis on blending the two throughout the store. It also carries newer product offerings, including yoga accessories like blocks and mats. Crucially, at 5,000 square feet, the Soho location is Vuori's biggest store to date.
"As our product line continues to grow, we find that our customers want more and more," Sakelliou said. "They don't want a limited experience. So we've really expanded the square footage of our retail stores… This will sort of be the test of, what does the new square footage strategy look like for Vuori moving forward?"
When it launched, Vuori only sold men's clothing. Its hero product was a $100 pair of joggers, meant to appeal to Southern California athletes, mostly runners, surfers and yoga enthusiasts. As the company has grown, it has launched more product lines to appeal to more types of athletes — for example, in July it launched a line of clothing designed for racket sports like tennis.
Vuori was initially more centralized on the West Coast, due to its headquarters in California. Today, it has stores across eight U.S. states, not including New York. Before the year's end, the company will open an outlet in Cabazon, California and stores in Chicago, Dallas, Scottsdale, Corte Madera and Las Vegas. It hopes to open a second London brick-and-mortar location next summer, as well as stores in China, Australia, Canada and Japan. Earlier this year, Vuori expanded its e-commerce to seven international markets: the United Kingdom, France, Germany, Ireland, Australia, Canada and the Netherlands.
To better cater to customers, Vuori has also grown its retail and visual merchandising teams to make sure "we have the right team to be able to scale," Sakelliou said. According to LinkedIn, the company hired Anthony DiMaggio as its vice president of development and Katie Kridel as its senior director of real estate earlier this year.
The global activewear market has spiked in recent years and is expected to be worth nearly $547 billion by 2024, according to Allied Market Research. Within the U.S., revenue from activewear sales jumped 39% from January through April 2022, versus the same period in 2019, according to The NPD Group.
Even before the pandemic, though, activewear "started to get crowded," Jessica Ramirez, senior research analyst at Jane Hali & Associates, told Modern Retail. Major players such as Lululemon have expanded their offerings over the years, while companies including Dick's Sporting Goods and Kohl's have launched private activewear labels. DTC brands such as Tracksmith and Alo Yoga have also gained traction, battling alongside Vuori for their share of the market.
For years, companies have been fine-tuning their fabrics and incorporating new technology to make apparel "more breathable, more comfortable and less wrinkly," Ramirez said — and to differentiate their products from competitors. On social media, for instance, Vuori emphasizes the durability and comfort of its fabrics. A recent post advertising the EcoOuterlands Sherpa jacket says the item is "casual, cool and cozy" and "features incredible heat retention and ultimate softness."
In a similar vein, Sakelliou thinks Vuori's brick-and-mortar stores are popular with consumers because "they can touch and feel the product."
"When you can have that amazing tactile experience of being able to feel the difference in the quality of our products, it really resonates with our customers," she said.